Grey's Anatomy Writers Were Left Scrambling After Katherine Heigl Exited Before Izzie's Resolution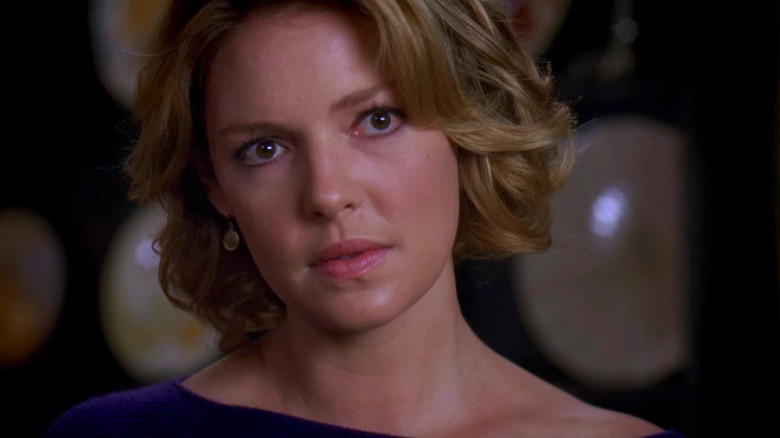 ABC/Netflix
Throughout the first six seasons of "Grey's Anatomy," viewers are engrossed in the rocky relationship between Izzie Stevens (Katherine Heigl) and Alex Karev (Justin Chambers). While they manage to overcome unfaithfulness, hallucinations, and even a cancer diagnosis, their breaking point comes shortly after they said "I do," when Izzie gets fired for a mistake concerning a patient. Rather than confide in her husband, she leaves Seattle. Alex decides he'd rather have someone who is less of a flight risk, and that's the last time Izzie is seen on the show.
According to "Grey's Anatomy" showrunner Krista Vernoff, there was supposed to be a resolution to this plotline, with Heigl slated to return for one more episode. But that didn't happen. Vernoff told the Los Angeles Times, "The day before it was supposed to start prepping or shooting, I can't remember, we got a call that Katie [Heigl] wasn't coming. Just wasn't coming. Wasn't going to do it. It became my job to stay up all night for multiple nights and reimagine a script that didn't include Izzie. And for years ... the fans scream at us, 'How could you?' Well, that's the behind-the-scenes story."
However, from the standpoint of Heigl, that's not the full backstory of Izzie's abrupt exit.
Katherine Heigl says Grey's Anatomy showrunners were aware of her exit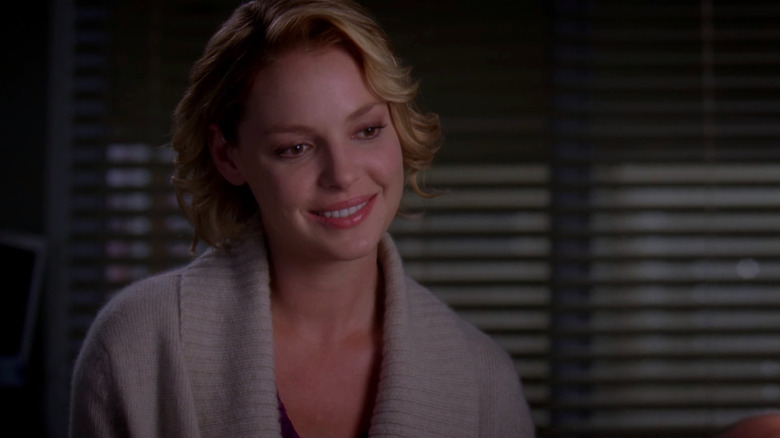 ABC/Netflix
From Katherine Heigl's perspective, her exit from "Grey's Anatomy" didn't happen quite as Krista Vernoff explained. Heigl told SiriusXM host Bevy Smith that her decision to leave had been brewing for some time due to the strenuous work days, which she said could sometimes last 17 hours. "I was up here at a level of intensity that was not healthy for me, and I just kind of fled in a panic." Former co-star Ellen Pompeo has voiced her support of Heigl and agreed that the schedules were tedious.
Additionally, Heigl and her husband Josh Kelley had recently adopted their first child, Nancy Leigh "Naleigh" Mi-Eun Kelley. While away from the show on family leave, Heigl realized she no longer wanted to work such a hectic schedule. In fact, she told The Daily Mail that "Grey's Anatomy" creator Shonda Rhimes was fully aware of her wish to leave Izzie behind: "So before I was due back, I spoke again to Shonda about wanting to leave. Then I waited at home until I was given the formal OK that I was off the show. The rumors that I refused to return were totally untrue."
While fans may never know for sure what actually went down regarding the Heigl situation, they do finally enjoy an Izzie-Alex resolution in Season 16, even if it's off-screen.