Why Susan Ryeland From Magpie Murders Looks So Familiar
The Anthony Horowitz novel "Magpie Murders" became a sensation upon its release in 2017 thanks to its inventive, wickedly smart deployment of classic mystery novel tropes and nesting meta-narratives. The story follows a book editor named Susan Ryeland, who receives an unfinished manuscript by popular novelist Alan Conway and finds herself drawn into a real-life mystery after Conway dies by an apparent suicide. The novel was well-received enough to spawn a whole series, with a second novel, "Moonflower Murders," arriving to bookshelves in 2020.
In 2022, fans of "Magpie Murders" got to see it made into a similarly acclaimed TV series, which aired on Britbox and later BBC One in the U.K. The six-episode first season featured "Game of Thrones" alum Conleth Hill in the role of Alan Conway, and Tim McMullan as the detective in Conway's novel, Atticus Pünd. 
As for the part of Susan Ryeland, who serves as the center of Horowitz's series, "Magpie Murders" enlisted a veteran of the British stage, whose contributions to television and cinema have been immeasurable — Lesley Manville. From "The Crown" to "Phantom Thread," here are some projects fans may have seen Manville in before.
Lesley Manville rose in the film world with her Mike Leigh collaborations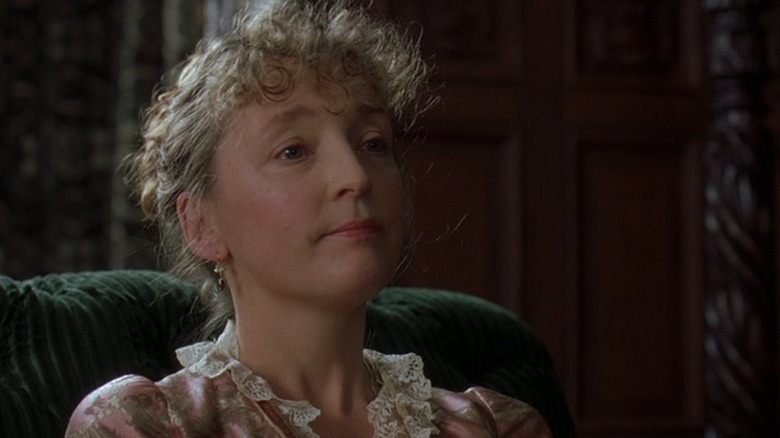 Pathe UK / USA Films
Lesley Manville was born in Brighton, East Sussex in 1956. She had her beginnings as an actor in theatre, appearing in various plays from 1978 onward as part of the Royal Shakespeare Company. She'd also meet  Mike Leigh, with whom she would strike a fruitful creative partnership that would lead to her rise as a highly respected and revered film actor.
Manville's first collaboration with the legendary filmmaker came in 1988, when she had a supporting role in Leigh's "High Hopes," playing the character of upper-middle-class neighbor Lætitia. Eight years later, she appeared as a social worker in "Secrets & Lies," which was followed by her most substantial role in a Leigh film yet. She played Lucy "Kitty" Gilbert, the wife of W. S. Gilbert (Jim Broadbent), in 1999's "Topsy-Turvy." The 2000s saw Manville continue to collaborate with Leigh in a regular capacity, with a starring role in "All or Nothing" and a smaller role in "Vera Drake."
In 2010, Manville got her greatest chance to shine in a Leigh film yet as Mary Smith in "Another Year." Manville's fearless, complex, gut-wrenching rendition of a woman bereft of any hope earned her long-deserved plaudits, including her first BAFTA nomination. 
She earned her first Academy Award nomination for Phantom Thread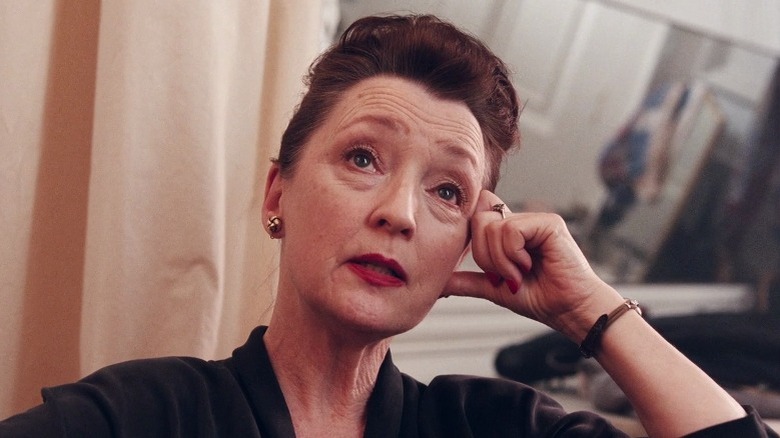 Focus Features / Universal Pictures International
Although Lesley Manville is one of her generation's most acclaimed British actors, an Academy Award nomination eluded her until 2018, when she finally snagged a well-deserved one for her masterful supporting turn in Paul Thomas Anderson's "Phantom Thread." An outlier in Anderson's oeuvre, Anderson's eighth film is a lush, classically composed, lavishly costumed period piece set in 1950s London. This doesn't mean it isn't every bit as twisted and freaky as Anderson's other films, and Manville's character plays a great part in that.
"Phantom Thread" tells of the budding relationship between fashion designer Reynolds Woodcock (Daniel Day-Lewis) and waitress Alma Elson (Vicky Krieps), who becomes his latest muse, leading to relentless mind games and power plays. Manville plays Reynolds' sister, Cyril, the no-nonsense, domineering manager of his fashion house, whose emotional sway over Reynolds is supplanted by Alma's as the latter ventures beyond the rules imposed on her lover's previous "muses." The transfixing, funny work done by Manville in the role instantly became one of the high marks of her career.
She was one of the leads of Hulu's underrated Harlots
One of the things that Lesley Manville became known for in the 2000s and 2010s was her frequent participation in television projects — more specifically, shows airing on BBC and its affiliates. With appearances on series like "The Cazalets," "North & South," "Cranford," "Mayday," and "River," Manville became one of the network's most recognizable faces. Between 2016 and 2019, her starring role as widowed mother Cathy Walker on the popular family sitcom "Mum" made her a household name and allowed her to add two more BAFTA nominations to her tally.
Meanwhile, in the United States, one of the TV roles Manville is best-known for is "Harlots." Airing on Hulu, "Harlots" is a feisty ensemble-drama set in the world of London brothels in the late 18th century, where working class women find an opportunity to ascend socially and economically here. 
At the top of the industry is Manville's character, Lydia Quigley, the madam of a high-end brothel. "Harlots" is largely centered around the rivalry between Lydia Quigley and her former employee, Margaret Wells (Samantha Morton), who now runs a brothel of her own that threatens to upend Lydia's hegemony. 
She played the titular traveler in Mrs. Harris Goes to Paris
Even after all the memorable film performances she's given over the decades, Lesley Manville has had relatively few chances to headline film projects centered primarily around her, but 2022's "Mrs. Harris Goes to Paris" is a notable exception. The Anthony Fabian-directed period drama, which became a certified box office hit within its market bracket and went on to collect an Oscar nomination for Best Costume Design, stars Manville as Ada Harris, a London cleaning lady who is fascinated with a client's Dior dress, so she endeavors to buy one for herself.
Largely structured as a vehicle for Manville, the film gives her a rare opportunity to display all of her enormous star power while also demonstrating her command of the craft by the way she renders an outwardly simple, nearly fantastical character with nuance, depth, and compelling interiority. Although "Mrs. Harris Goes to Paris" is a feel-good movie with a somewhat idealistic view of its social milieu, Manville ensures that Ada's journey rings true. The film received a largely positive critical response, and even the critics who weren't too hot on it made sure to shower raves upon its star. 
She currently stars as Princess Margaret on The Crown
2022 was a momentous year for Lesley Manville. In addition to her appearance on "Magpie Murders" and the success found by "Mrs. Harris Goes to Paris," she also had major roles on BBC One's "Sherwood" and Starz's "Dangerous Liaisons." That's not even getting into the fact that 2022 was the year fans finally saw her take on Princess Margaret in "The Crown."
True to its tradition, the Netflix historical-drama about the lives of the royal family over the course of Queen Elizabeth II's reign introduced a major time jump and went through a complete ensemble overhaul between Seasons 4 and 5. Just as Helena Bonham Carter picked up the baton after Vanessa Kirby ended her time in the role of Margaret, Manville stepped in to play the older Countess of Snowdon on the series' final two seasons.
In the theater of power and private pathos of which "The Crown" is made up, Margaret was positioned from the start as a sort of ensemble breakout, her relative lack of centrality to 20th-century British history belying a complicated and tempestuous personal life. "The Crown" Season 5 finds Margaret reconnecting with her former lover and looking back on a life of great expectations left unfulfilled by the rules of royal engagement, and Manville perfectly captures the character's time-tempered, crepuscular melancholia.