Star Wars Visions S2 Finally Gives Us A Look At Hanna City In All Its Glory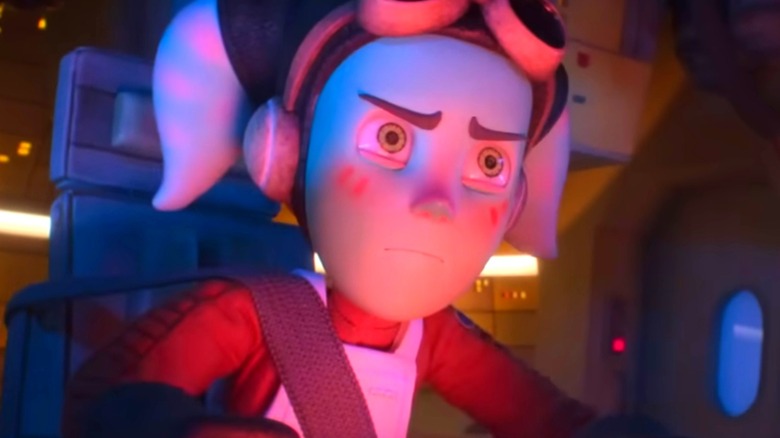 Disney+/Lucasfilm
Following a strong first season, "Star Wars Visions" Season 2 has arrived on Disney+ just in time for the unofficial May the 4th holiday. Like the first batch of episodes, this season brings with it a range of stories from various incredible animation houses, amounting to a string of episodes that truly has something for everyone. Even Aardman Animations of "Wallace and Gromit" and "Chicken Run" fame got in on the fun this time around, giving viewers an entertaining segment that includes an animated look at an important yet often overlooked "Star Wars" location: Chandrila's Hanna City.
The short titled "I Am Your Mother" sees a young pilot named Annisoukaline Kalfus (Charithra Chandran) and her mother Kathina (Maxine Peake) brave what's supposed to be a fun recreational race. Things go awry when the competitive and posh Van Reeple family makes the event personal. Throughout the episode, Hanna City is on full display, from its towering structures to its bustling streets. It comes across as something of a blend of Coruscant and Tatooine with its superstructures, packed skylanes, and busy street vendors.
It's all well and good that we've finally seen Hanna City in "Star Wars" TV media, but what's the big deal? Well, the locale holds great importance in the wider canon.
Hanna City becomes a key location after the Battle of Endor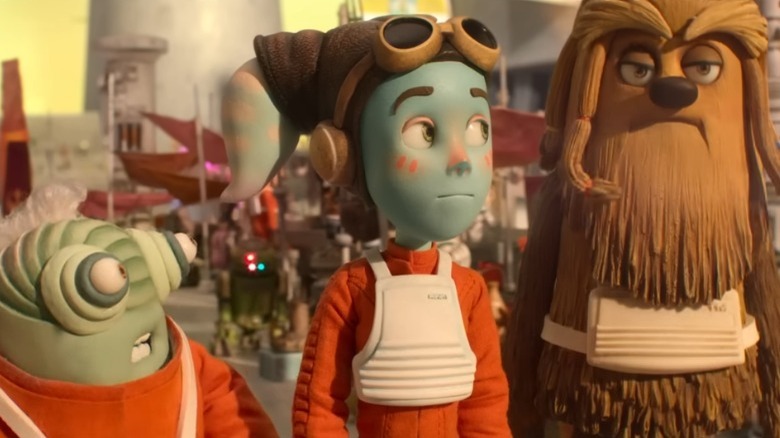 Disney+/Lucasfilm
Long before appearing in the second season of "Star Wars Visions," Hanna City debuted in "Star Wars" canon in the 2015 novel "Aftermath" by Chuck Wendig. It continues to pop up throughout the "Aftermath" trilogy, and for good reason. The city is the capital of the planet Chandrila, the home of famed Rebel Alliance figurehead Mon Mothma and her husband, Perrin Fertha, who also served as governor of Hanna City. After the Battle of Endor and the eventual fall of the Galactic Empire, Mothma declared that it would serve as the capital of the newly reestablished Galactic Republic and host the Galactic Senate.
Hanna City has also popped up in other books, such as Daniel José Older's "Last Shot" and "The Princess and the Scoundrel" by Beth Revis. It also features in the "Hare-Brained Heist" story focused on Lando Calrissian and Jaxxon T. Tumperakki from the "Star Wars Adventures" comic book series. Moving back to TV, it never ultimately makes an appearance on the program, but Hanna City is mentioned briefly during the first season of "Andor," which only makes sense given how prominent Mothma and Fertha are throughout the season.
If you're hoping to get a glimpse at Hanna City, you're in luck. The second season of "Star Wars Visions" is currently streaming exclusively on Disney+.