Yellowstone: How Lainey Wilson's 'Smell Like Smoke' Can Make Emmy History For The Show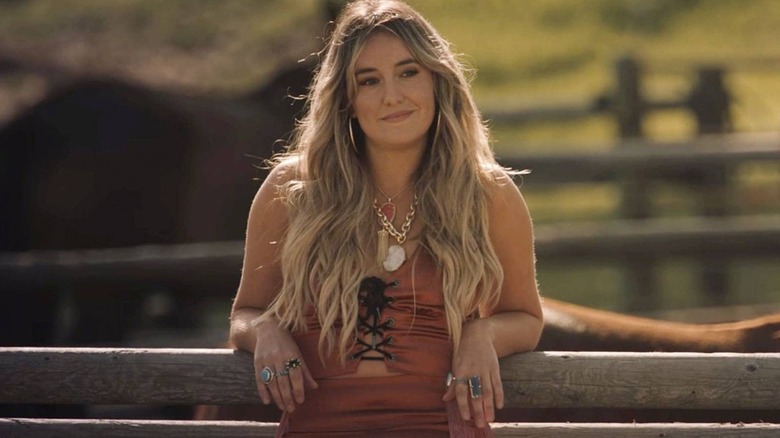 Paramount Network
From Nashville to Hollywood, Lainey Wilson is quickly making a name for herself. After topping the charts, she landed a prime spot on one of the highest-rated shows right now — "Yellowstone." Wilson plays Abby, who's appropriately a musician, and she even gets a chance to show off her pipes by performing "Smell Like Smoke" in Season 5, Episode 3 of the series.
Despite being one of the most popular shows on the air, "Yellowstone" has largely been snubbed by the Emmys. It's only nabbed a single nomination during its run, but that may change as Variety reports that Paramount Network has submitted "Smell Like Smoke" for consideration in the outstanding music and lyrics category. It remains to be seen if it'll even get nominated, but it would be a nice feather in Wilson's cap to have an Emmy to her name in addition to all of her Country Music Association Awards. And it would finally make "Yellowstone" an Emmy-winning series.
Lainey Wilson thought Smell Like Smoke encapsulated the Dutton women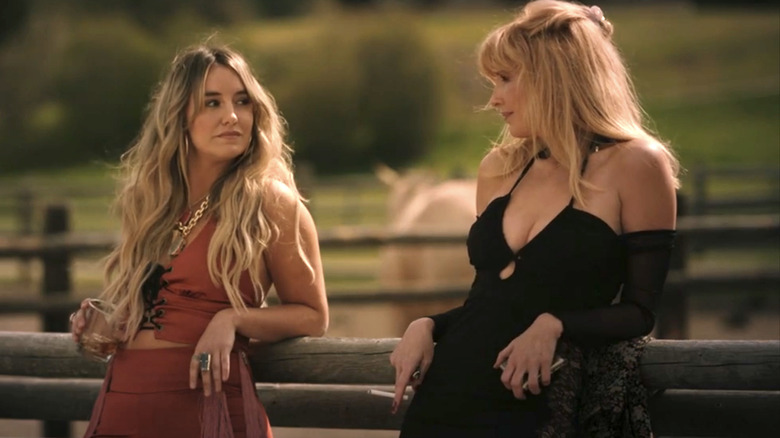 Paramount Network
Season 5 may be the first time Lainey Wilson physically appeared in "Yellowstone," but her song "Workin' Overtime" was used in Season 2 of the program. Wilson related to Variety how the opportunity to show up on the series came about, and it all started with a phone call from creator Taylor Sheridan. She related, "He asked what I thought about him creating a character for me. He said I'd play a musician and could wear all my crazy clothes and sing my songs, but I'd go by the name 'Abby.'"
Wilson was more than up for the challenge, even if she did get a little scared to the point of almost quitting. Not only did she knock her role out of the park, but she created a catchy tune that according to her, centers on the four pillars of "Yellowstone" — cowboys, faith, self-assurance, and heartbreak. For her, it was an ideal anthem for the women of "Yellowstone," especially Monica (Kelsey Asbille) and Beth (Kelly Reilly). Wilson went on to explain, "We thought a song about owning tough times in a proud, matter-of-fact, light-hearted way would tie in well with the way the show makes the down-and-dirty look sexy and fun."
The Primetime Emmys are set to take place on September 9 and 10 later this year, so it'll be a while until fans learn whether Wilson's an Emmy winner. For now, she can take solace in being part of the immense legacy of "Yellowstone."