Gran Turismo: The True Story Behind The Movie
PlayStation's "Gran Turismo" movie marks the next big cinematic video game adaptation to hit the scene, but it's taken shape a bit differently than some fans would have expected. Rather than bringing the fictional world of the game to life, the movie follows Jann Mardenborough (Archie Madekwe) as he goes from playing "Gran Turismo" to becoming a full-fledged race car driver.
That might be an unexpected plot synopsis for those familiar with the "Gran Turismo" franchise, but it's actually because the movie is based on a true story. Jann Mardenborough is a real person, and he really did use his gaming experience to make the jump from being a "Gran Turismo" fan to forging a career in real-life car racing. As recorded through an oral interview with Mardenborough himself, History's article "From Bedroom Gamer to Professional Racer" tells the full story of what really happened — and just like the race track, it's got quite a few twists and turns.
Jann Mardenborough gamed to fame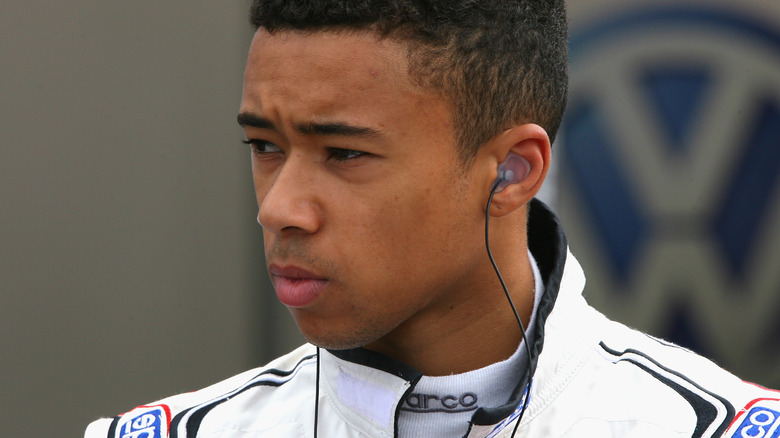 Darrell Ingham/Getty Images
As the movie suggests, Jann Mardenborough's epic career story really did begin with his teenage self casually playing "Gran Turismo 5" on the PlayStation 3. Mardenborough managed to beat out the competition and place highly on the online leaderboards for GT Academy Time Trial, eventually resulting in his acceptance as a contestant on the reality TV show "GT Academy." There, Mardenborough was tested with learning to drive real-life race cars and more. "I had never experienced anything like this, and it was by the far the most demanding week of my 19-year-old life," the star said in his History profile.
Still, Mardenborough was not done proving himself. He won "GT Academy" and scored a sponsorship with Nissan in the process. From there, he evolved from being a gamer who could operate race cars to a full-blown professional race car driver, going toe-to-toe with the best of the best from throughout the industry. Throughout the 2010s, Mardenborough raced in all sorts of notable events across the world, including the 24 Hours of Le Mans.
Despite Mardenborough's meteoric rise, the race car driver was once faced with tragedy. During a 2015 race at Nurburgring Nordschleife in Germany, Mardenborough's car lost traction with the road and crashed into the surrounding stadium, killing one spectator and injuring others. While Mardenborough was deeply affected by the incident, he has nonetheless remained committed to his profession. "Forever I will have this weight on my shoulders," he said. "Every time I step into a car, and with everything I do, I try to best represent myself and my family name and all the people around me, in the best way I can."