Alan Rickman's Role In The Galaxy Quest Reboot Should Only Be Filled By His Harry Potter Co-Star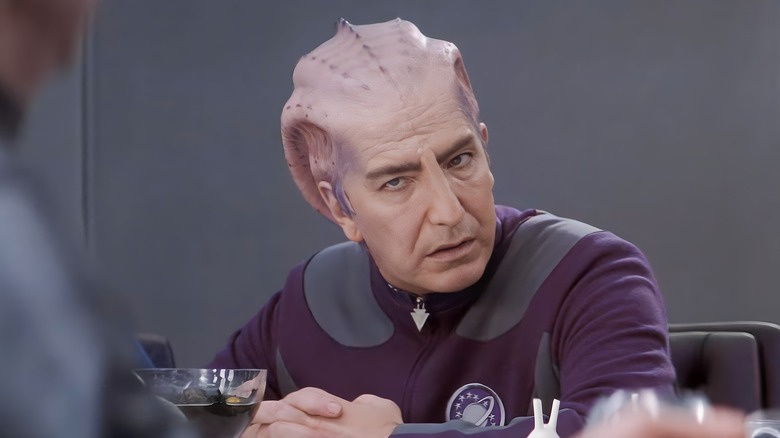 Dreamworks
For at least the second time since the original movie's 1999 release, there are rumors circulating about the potential release of a "Galaxy Quest" television series. 
The cult classic film starred Tim Allen, Sigourney Weaver, Tony Shaloub, and Alan Rickman as the has-been cast of a classic sci-fi TV show who are roped into a real-life, highly dangerous space adventure after an alien race mistakes them for the heroes they once played on TV. Word of a "Galaxy Quest" series first started bubbling up more than a half dozen years ago, but the project was scrapped after Rickman died of pancreatic cancer and Amy Powell was fired as president of Paramount TV.  More recently, Paramount + has re-energized the hopes of the film's fanbase with talk of a new series, helmed by the film's director, Mark Johnson, and potentially involving "Succession" writer Georgia Pritchett and Simon Pegg ("Paul," "Shaun of the Dead"). 
Filling out the creative team is not the biggest hurdle to clear before filming can begin, though. Rickman's death has left two huge casting holes to fill: his part as classically trained actor Alexander Dane, and his role-within-a-role as Dr. Lazarus on the movie's fictional TV series.
There is one actor, though, who would fit perfectly into both halves of Rickman's vacant slot, and his name is Daniel Jacob Radcliffe.
Daniel Radcliffe's casting would be a perfect tribute to Alan Rickman's legacy
Warner Bros
Daniel Radcliffe is the man for the job. The "Harry Potter" veteran is at the peak of his powers, fresh off his masterful performance as musical parody king "Weird Al" Yankovic in "Weird." Furthermore, there's an emotional connection here that would mean the world as far as a "Galaxy Quest" continuation goes, because Daniel Radcliffe and Alan Rickman both appeared in all eight "Harry Potter" films, and Radcliffe walked away from those experiences with a deep admiration for his co-star and countryman. 
When Rickman died, Radcliffe — who was just 12 when he was cast as the half-blood wizard — wrote a touching tribute to his friend, praising Rickman's talent, loyalty, and dedication to his craft. "As an actor he was one of the first of the adults on Potter to treat me like a peer rather than a child," Radcliffe wrote, according to ABC News. "Working with him at such a formative age was incredibly important and I will carry the lessons he taught me for the rest of my life and career. Film sets and theatre stages are all far poorer for the loss of this great actor and man." 
 It would be a fitting tribute to the man who ushered him through those important years to bring those lessons to fruition on a "Galaxy Quest" series.
Daniel Radcliffe has come a long way since he worked with Rickman on Harry Potter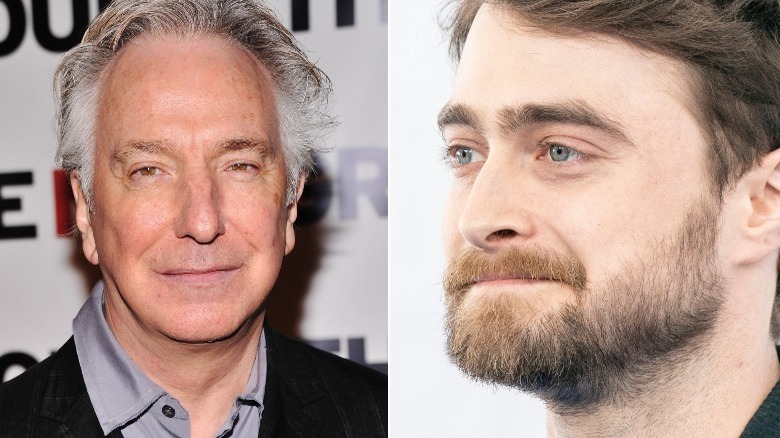 Stephen Lovekin/Getty & lev radin/Shutterstock
There are plenty of obvious logical reasons to cast Daniel Radcliffe as a replacement for Alan Rickman in a "Galaxy Quest" series. Both men hail from London and share a gentle, thoughtful manner. Although the character of Alexander Dane was a classically trained theater actor who was slumming it on a commercially successful sci-fi television series (and wasn't shy about letting his co-stars know it), Radcliffe got his acting education on the set of the "Harry Potter" movies, largely under Rickman's tutelage. 
Their relationship was not all candy apples and lullabies, however. Some of the same testiness that Alexander Dane showed toward his "Galaxy Quest" co-star Jason Nesmith (Tim Allen) — commander Peter Quincy Taggart on the fictional show within the movie — seeped out in diaries Rickman kept during the filming of the "Harry Potter" films. The Huffington Post reported that Rickman wrote that Radcliffe was an intelligent and thoughtful kid, but also added, "I still don't think he's really an actor but he will undoubtedly direct/produce." The journals were published last year as "Madly, Deeply: The Diaries of Alan Rickman." 
Radcliffe took these comments humorously, though, and he appreciated Rickman's kinder sentiments, using the words "lovely," "nostalgic," and "sweet" when commenting on the diaries. And obviously, while Rickman's forecast proved inaccurate, nobody could've predicted that Radcliffe would grow to become one of the most unusual and exciting actors we have today, embracing the inherent weirdness of such roles as a flatulent corpse in "Swiss Army Man" or the demonic antihero of "Horns." Nowadays, the idea of him signing up for "Galaxy Quest" is actually less unusual than the parts he usually takes on.
Replacing Alan Rickman is a big job for any actor, but Daniel Radcliffe would pull it off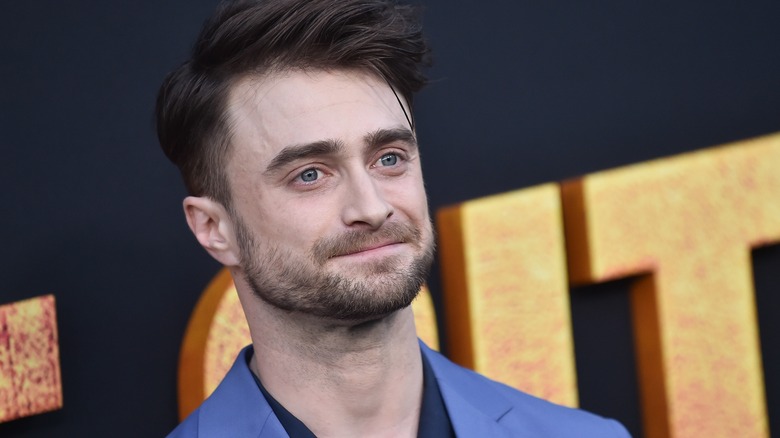 DFree/Shutterstock
Daniel Radcliffe will have to access some of Alan Rickman's acerbic side to bring Alexander Dane faithfully to the small screen, but as someone who worked so closely with Rickman for years — and had him as a mentor, no less — he would certainly give it his all. It would be a delight to see Radcliffe snap impatiently at his fictional commander or some delusional cosplaying fans, and he could easily carry Rickman's haughty Londoner accent and manner forward into the dual role of Alexander Dane and Dr. Lazarus. 
Rickman was a unique personality and talent who can never truly be replaced, and the nature of the role-within-a role presents a daunting challenge for whoever steps into his spot. However, Radcliffe not only has the accent to match, but after working with Rickman on eight films, he undoubtedly has catalogued his friend and mentor's mannerisms well enough to create a new Lazarus that could pay a proper tribute to Rickman. 
At this advanced point in his career, Radcliffe has also gathered enough of an acting toolbox of his own where he could channel Rickman's ghost without making the character a distracting imitation of his departed friend. In the words of Dr. Lazarus himself: "By Grabthar's hammer, by the sons of Warvan, give Daniel Radcliffe this part."