Who Plays Joy Palmer On Succession?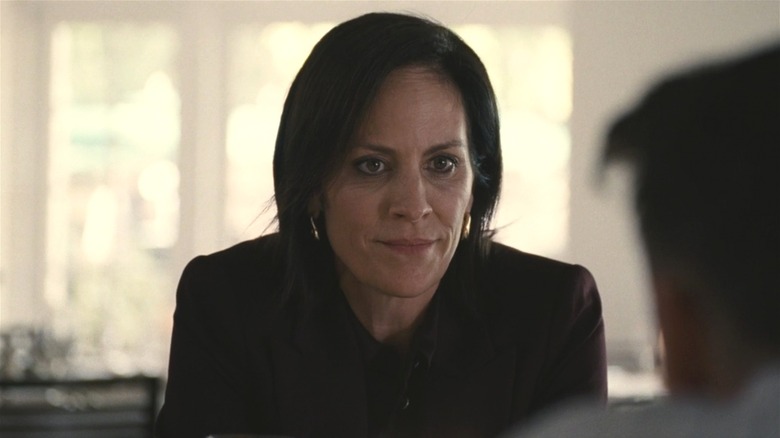 HBO
Season 4, Episode 6 of "Succession" — titled "Living+" — sees Kendall (Jeremy Strong) and Roman Roy (Kieran Culkin) leaning into their leadership roles as co-CEBros at Waystar Royco. For Kendall, it means prepping a showboating presentation that rivals his ostentatious Season 3 birthday party. Roman, meanwhile, attempts to channel Logan's (Brian Cox) impulsive streak by going on a firing spree.
Roman, increasingly preoccupied with the notion of subordinate disrespect, dismisses everyone in his path. Well, maybe he does — the firings are so capricious it remains to be seen if they're legitimate. That's certainly the case when he fires Joy Palmer, an executive at Waystar Studios, played by Annabeth Gish. "You are a weak monarch in a dangerous interregnum," Gerri (J. Smith-Cameron) warns afterward, "And I think you need to reconsider." For her subordination, Roman sends her packing too.
With Joy already seeking outside counsel following her meeting with Roman, there's a chance that "Living+" isn't the last we've seen of veteran performer Gish.
Annabeth Gish has been acting since the '80s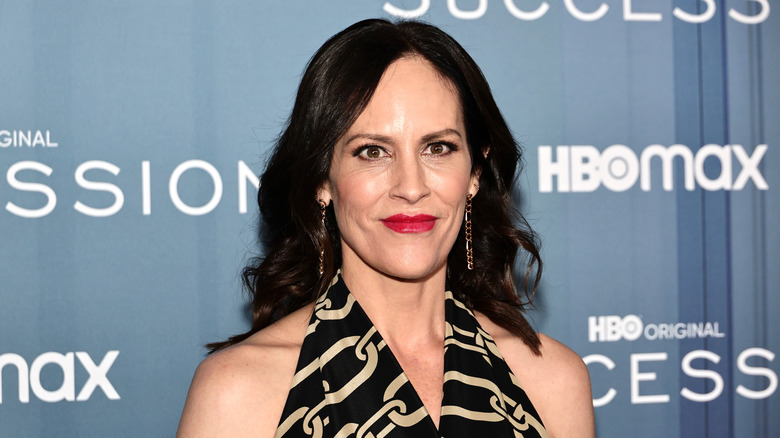 Jamie Mccarthy/Getty Images
Annabeth Gish got her start acting in the 1980s when she appeared in films like "Hiding Out" and "Mystic Pizza." More film roles followed in the '90s, and Gish turned in memorable performances in "Nixon," "Beautiful Girls," and "SLC Punk!" She also dipped her toes into the world of superhero movies as Susan Sparks in "Steel," starring Shaquille O'Neal.
Aside from her film work, Gish also has a notable list of television credits. One of her best-known roles is Agent Monica Reyes in "The X-Files." Gish debuted the role in Season 8 before becoming a series regular in Season 9. She also returned as Reyes for Seasons 10 and 11. Her other recurring roles include appearances in "The West Wing," "Pretty Little Liars," "Sons of Anarchy," and "Halt and Catch Fire." Most recently, she appeared as Deirdre Mayfair in "Mayfair Witches."
Gish has also developed a working relationship with showrunner Mike Flanagan, with whom she collaborated for his series, "The Haunting of Hill House" and "Midnight Mass." She'll appear next in Flanagan's forthcoming miniseries, "The Fall of the House of Usher."