It's Always Sunny Season 16 Is Going Back To Its Roots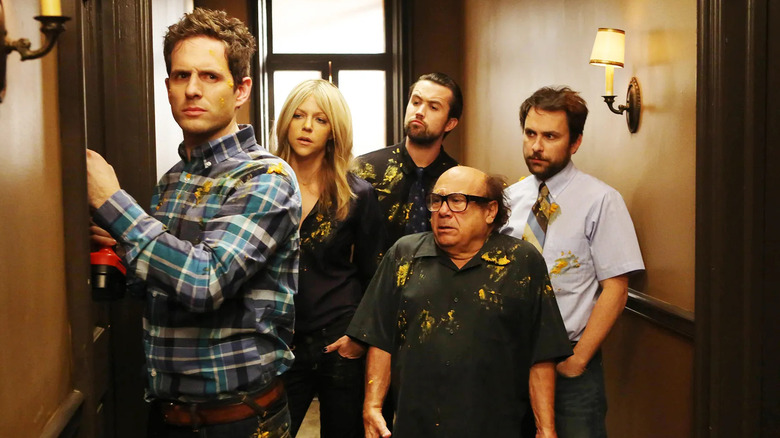 FXX
A show that spends 15 seasons on the air needs to keep constantly innovating and reinventing itself, and the minds behind "It's Always Sunny in Philadelphia" know that all too well. Created by Rob McElhenney alongside Glenn Howerton and Charlie Day — all three of whom also star on the show — "Always Sunny" has been airing since 2005 between FX and FXX, and it's managed to keep things interesting and deranged for its run so far. Whether they're experimenting with the format in "The Gang Hits the Slopes" or "Being Frank," bringing in new directors in "Flowers for Charlie," or debating current issues with their signature bizarre panache in "The Gang Solves the Bathroom Problem," these three know how to keep things weird. 
And now, fans are glad that, after Season 15, Season 16 promises to return to one of the show's best comedic wells. In February 2023, McElhenney tweeted a photo from set that included side characters Artemis (Artemis Pebdani), The Waitress (Mary Elizabeth Ellis), and Gail the Snail (Mary Lynn Rajskub) wearing matching bowling shirts — which is a welcome sight after Season 15. 
That particular season certainly wasn't bad, but two episodes were mostly flashbacks, and the end of the season took place mostly in Ireland, making it a huge departure from what viewers are used to. This photo, however, indicates a welcome return to form, because "Always Sunny" has some of the best and most unsettling side characters in television history, and this snap from set features three of them.
Fans are excited to see these Always Sunny characters return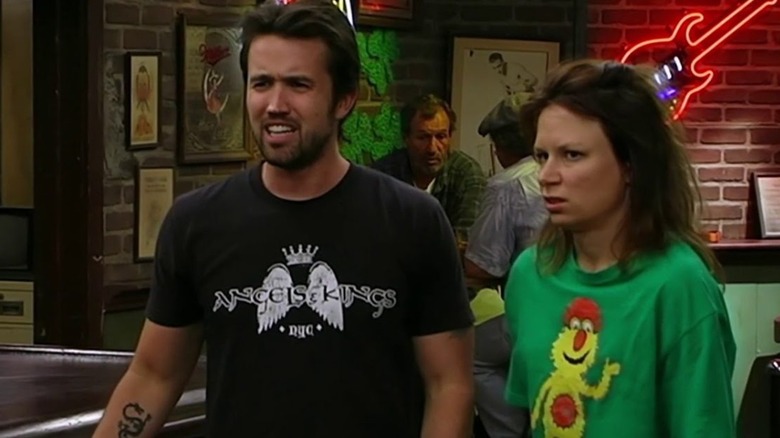 FXX
Responses to McElhenney's photo definitely indicated that fans are excited to see Gail the Snail, Artemis, and The Waitress once again. @TheLachizzle wrote, "Hell yes Gail and Artemis are back!" while @MexicanRNGirl said, "Yes!! Love more of the waitress!!" Other fans pointed out that Kaitlin Olson's Sweet Dee, who also appears in the photo, isn't wearing a bowling shirt that matches anyone else, leading them to hope and wonder if this bowling match is a possible spiritual sequel to the contest seen in "The Gang Beats Boggs."
So who are these characters? For the uninitiated, The Waitress is the object of Charlie's (Day) obsession, despite the fact that she wants nothing to do with him — and in the rare moments that she succumbs, he's not particularly interested (Ellis and Day are married in real life, as are McElhenney and Olson). Artemis pops up from time to time to just be weird and sometimes have extremely gross flings with Dee and Dennis' (Howerton) father Frank (Danny DeVito). As for Gail the Snail, she's a cousin of Dennis and Dee and might actually be the most disgusting of the three, what with her constantly saliva-slurping and questions to the gang about whether or not they want to "go to a rave" early in the morning (because she's "got glowsticks in her car").
Always Sunny is always finding new things to try, even after all these years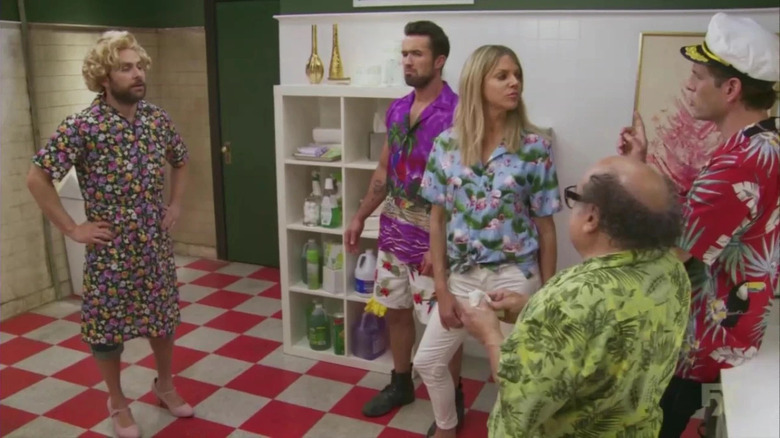 FXX
It feels like, after this long on the air, "Always Sunny" might start feeling a little stale — but this show has been evolving and changing steadily for years and years. They're uniquely good at tackling controversial subjects with absolutely zero sensitivity, which is actually a good thing, but even then, there are some exceptions; a perfect one is the episode "Mac Finds His Pride," where Mac (McElhenney) comes out to his estranged father in a stunning dance sequence that even moves the irascible Frank to tears. 
The truth is, though, that the longevity of "Always Sunny" comes largely from the fact that it lets its characters be absolutely awful and ruin countless lives, never forcing them to change, grow, or learn anything. By rarely ever making a single one of them sympathetic, "Always Sunny" never gets preachy about big issues, which is for the best — and it also approaches them in the dumbest, funniest ways. In the aforementioned episode about the "bathroom problem," the gang argues about who should use which bathroom with the worst possible arguments, discovering, along the way, that Charlie can only go to the bathroom in a dress because his mother used to put him in one to bring him into the women's room as a child. In the end, they mark both doors with the same sign: "Animal S*** House."
Season 16 is currently filming, with no release date just yet.