The Marvelous Mrs. Maisel S5E5: Midge Has Lost Her Creative Way And Needs Susie Back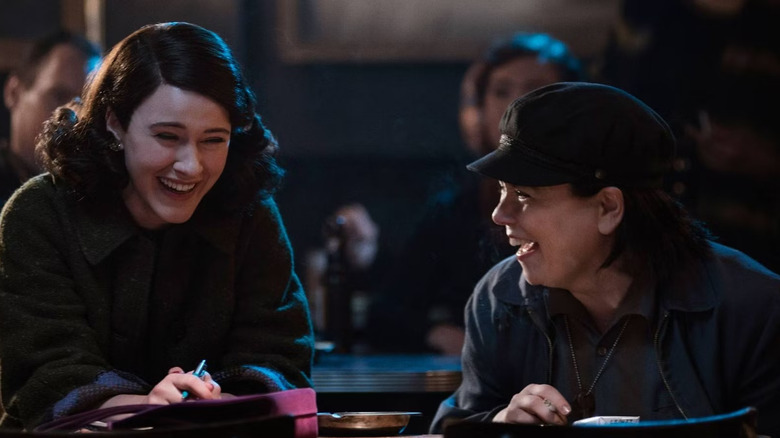 Prime Video
Contains spoilers for "The Marvelous Mrs. Maisel Season 5, Episode 5, "The Pirate Queen," as well as general spoilers for the fifth season.
The flash-forwards employed by Season 5 of "The Marvelous Mrs. Maisel" show us that Midge Maisel (Rachel Brosnahan) definitely manages to break through and become a major force in the comedy world during the early-to-mid 1960s. Unfortunately, by the time the 1980s roll around, Midge is resting on her laurels a bit. She's a legend, sure. She's had high-profile marriages and won Emmys and Grammys. But while she's a multigenerational talent, she's come to be seen as something of a relic, a nostalgia act selling off her clothing for charity and endorsing products like Krusty the Klown, but with more dignity. When Midge comes to visit her ex, Joel (Michael Zegen) in prison, she finds herself signing 8x10s for his buddies. Joel notes that she's the spokeswoman for a line of wigs now, and he calls her out on the obviously commercial and clearly pandering work. Yet Midge expresses equanimity to it.
That's a big sign that Midge is likely unwilling to try challenging, "blue" material after the infamous Carnegie Hall show where she was apparently arrested for obscenity. Midge may have had some successful college tours after that, but what was shocking back in the early '70s barely raises an eyebrow in the '80s. There's no hint she's had any successful new material since then, much less anything that contains the all-too-human edge which has brought her to worldwide attention. It's clear she needs a creative jolt to get her back to the top. The show seems poised to reintroduce Susie Myerson (Alex Borstein) back into Midge's orbit, and not a moment too soon.
Midge has been reduced to gimmicks since being rejected by Susie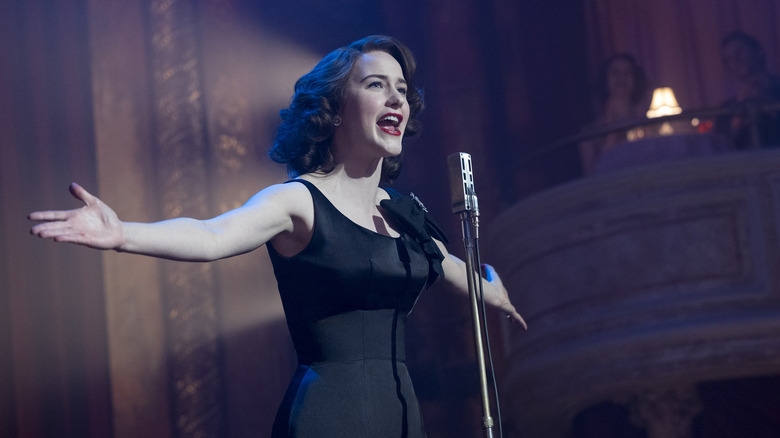 Philippe Antonello/Prime Video
Many of the flashbacks we've gotten so far during Season 5 of "The Marvelous Mrs. Maisel" have suggested that while Midge may have a golden career and the esteem of millions, things seem quieter now. In the 1980s she's on the benefit dinner circuit. Personally, the three failed marriages and numerous affairs she's experienced since becoming famous have left a mark on her and her kids. Esther (Alexandra Socha) is a brilliant scientist who has a negative and neurotic relationship with her mother and seems anxious even though she herself has become successful. Ethan (Ben Rosenfield) lives on a kibbutz with his new wife-to-be, a warrior woman who has little time for Midge's more refined ways. It's pretty clear that aside from Joel, she doesn't have anyone in her life she can trust to be honest with her, no one who's altruistic. She may have a lot of dough (or says she does) but her life's as hollow as plated gold.
Which leads us back once more to that mass auction of Midge's property back in Episode 2. Why is she getting rid of all of her fond memories? Is it because she misses Susie, and is being haunted by the old ghosts of her success? Or is it because what she has in the present can't compare to what she had back then? We all know that Midge is well aware that Susie has done very well without her and is now a mega-successful agent. But the audience is left wondering if managing these high-profile faces is half as satisfying to Susie as helping to launch Midge was.
The fact that Susie's thriving while Midge is coasting by might portend their series-concluding reunion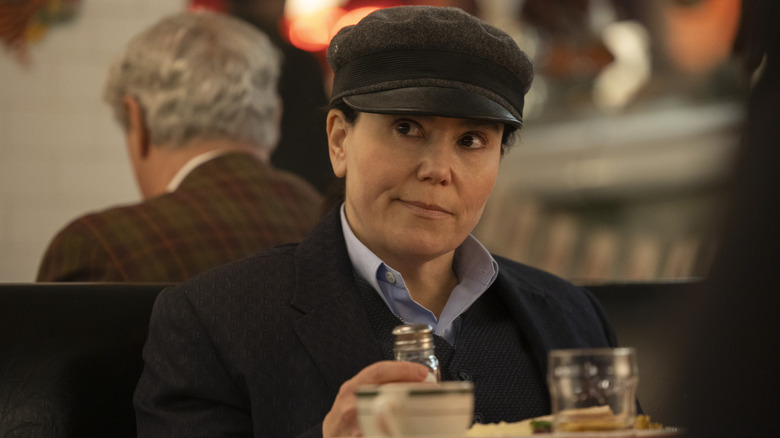 Philippe Antonello/Prime Video
So we definitely know that Susie is thriving as an agent — she's not only managing comedy stars like George Carlin, she's taking care of the career of fleet-footed Oscar-winner Liza Minelli. That's a long way from managing a magician with a camel. 
Susie, in spite of her apoplectic attitude, tends to thrive in conflict. It's conflict that helps get her and Midge out of the Gaslight Café and onto some major stages. Susie is good at filling in what Midge lacks; less a sense of jaded wisdom than an excellent instinct for knowing how to make the right connections and hustle for her client. While Midge's stubbornness helps get her that job with "The Gordon Ford Show," Susie's the one who helps her craft a look and keeps her bolstered when the job goes awkward. One can imagine how each of them is faltering without each other both in the field and outside of it. They're a couple of friends who clearly ought to be writing comedy together.