Breaking Bad: Marie's Occupation As An X-Ray Technician Was All Betsy Brandt's Idea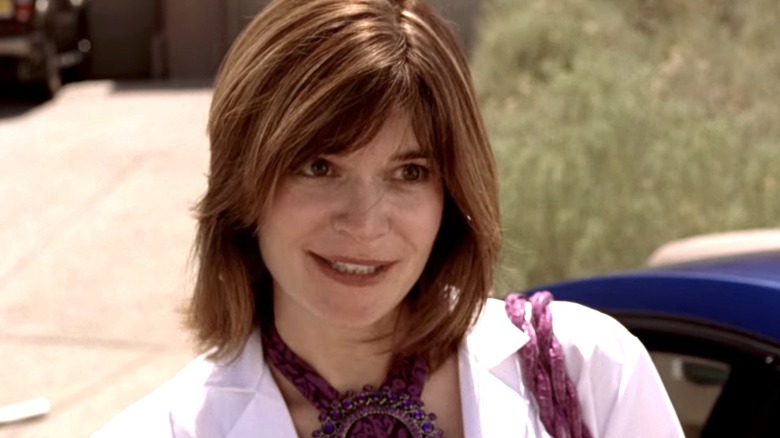 AMC
While Walter White (Bryan Cranston) and Jesse Pinkman (Aaron Paul) are at the center of the drug-making narrative in "Breaking Bad," there are plenty of supporting characters who come into the mix and play vital roles in the ongoings of Walt's criminal behavior. One of those characters is Marie Schrader, played by Betsy Brandt, wife of DEA agent Hank Schrader (Dean Norris) and sister of Skyler White (Anna Gunn). While Marie doesn't have many storylines directly with Walt, she proves to be Skyler's biggest confidante and advocate. Plus, her supportive — albeit flawed — marriage to Hank acts as somewhat of a foil to the marriage of Skyler and Walt.
Viewers mostly see Marie at her (very purple) home, or at the White residence if she's there to visit Skyler or for a family dinner. And Marie's job isn't nearly as essential to the plot as Hank's job is, to say the least, but she does have one: X-ray technician.
Marie's job doesn't ever really come into play in any meaningful way, it merely serves as further insight into her character. However, the fact that it is more of a piece of background information doesn't mean that it wasn't well thought out. And, as it turns out, it was Brandt herself who thought up Marie's occupation and pitched it to creator Vince Gilligan. She revealed this detail at the "Breaking Bad" 10th-anniversary panel at ComicCon a few years ago.
The actress stated, "I went up to Vince and I said, 'What do you think she does for a living?' And he said, 'I don't know, what do you think?' And I said, 'Well, I think that she's an x-ray technician, maybe an insurance adjuster, but I think x-ray technician.' And that's what I got."
Gilligan was happy to go with Brandt's specific suggestion for Marie's job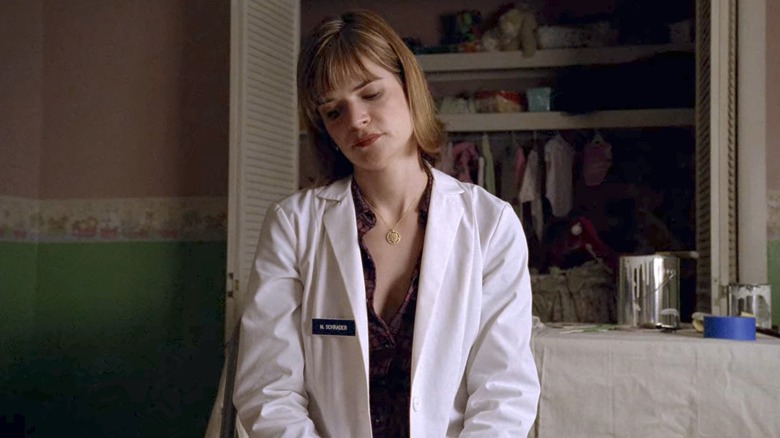 AMC
During the ComicCon panel, Betsy Brandt lightheartedly explained that she suggested to "Breaking Bad" creator Vince Gilligan that Marie be an X-ray technician during the production of the pilot. This is because she figured if he was really busy and overwhelmed, then she would likely get what she wanted — and she was right. Brandt said, "It seemed like if I asked him when he was really, you know, in the middle of everything, you would kind of agree [to anything]."
Gilligan chimed in, "I love the specificity of it!" He then noted that he didn't even remember her bringing up the alternative option of an insurance adjuster because she was so set on the X-ray technician job. "[She said] "I think she's an x-ray technician.' How could you not love that?" Gilligan continued.
Brandt further explained her reasoning, noting that she knew Marie worked in medicine but wasn't a doctor or a nurse. She added, "I wanted her to have a chip on her shoulder and it worked out." Further, the actress knew that because Marie was so obsessed with purple, her style would clash with her job.
"I also thought she would dress up like she was going to the disco when she was around sick people," Brandt said.