Strange New Worlds' Rebecca Romijn Thinks Star Trek Is Great For Children
Marni Grossman/Paramount+
There is no age limit for boldly going where no one has gone before. In fact, one of Starfleet's very own sees the "Star Trek" universe as something young minds would benefit massively from in the long run. It did for Rebecca Romijn, anyway. Long before she stepped up as Una Chin-Riley, Captain Pike's (Anson Mount) Number One in "Star Trek: Strange New Worlds," the original adventures of Captain Kirk and his team were already on Romijn's radar. Groundbreaking staples of popular culture and science fiction are pretty unavoidable, after all. What's interesting, however, is that her discovery of "Star Trek" was similar to some fan stories that she'd eventually be swept up by. 
Speaking to TrekMovie.com, Romijn revealed, "I was introduced to 'Star Trek' by my mom at the age of eight, to 'The Original Series.' And I think a lot of us were. I know Anson was also introduced to 'Star Trek: The Original Series' at the age of eight by his mom." As a mother herself and someone joining this long-running franchise of planet-hopping heroes, she's been quick to notice the good of beaming up the younger generation and the conversations and ideas that can come from it.
Rebecca Romijn believes Star Trek introduces curiosity and exploration in children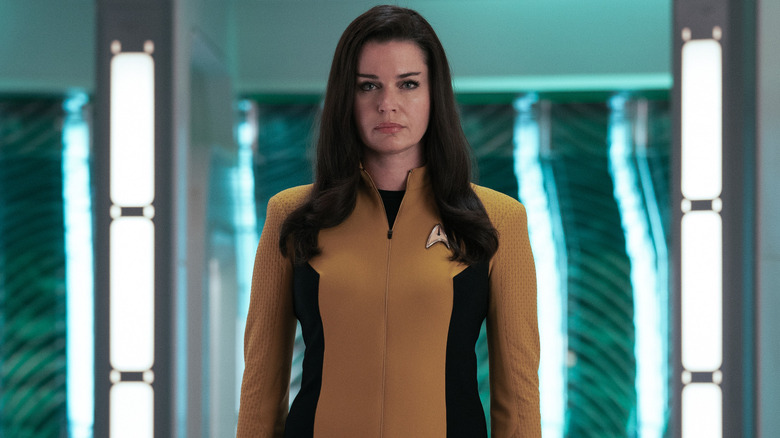 Marni Grossman/Paramount+
After debuting in "Star Trek: Discovery" before venturing off into the spin-off "Strange New World, " Romijn seems to be stuck in the best kind of time loop, as she's learning that her part in this ever-expanding universe is having a similar impact on audiences as the original show did on her. "It sparked a lot of conversation between my mom and me about whether or not we're the only ones in this universe," she recalled. "About acceptance, about people from all different backgrounds coming together and working in harmony, and about exploration and curiosity."
Thankfully, by attending conventions and really seeing the impact "Star Trek" has so many years after arriving in 1966, history hasn't stopped repeating itself. "All day long, everybody I passed said, 'My mom introduced me to Star Trek,'" Romijn recalled. "I just kept hearing that over and over and over again, and I just love that. I hope we do that for a new generation of 'Star Trek' fans." Well, to live long and prosper has always been something "Star Trek" has been good at, after all.