What These Killed Off Breaking Bad Characters Are Doing Now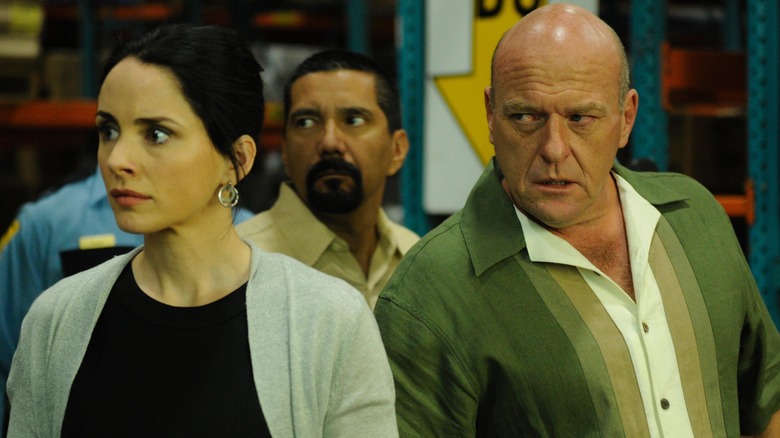 AMC
Few television shows in the entire history of the medium can claim to match the quality, popularity, and influence of "Breaking Bad." It was a phenomenon like none other.
Vince Gilligan's story of a unassuming chemistry teacher with lung cancer transforming himself into a ruthless drug kingpin captivated audiences, airing for five seasons on AMC and proving endlessly re-watchable. This series racked up a staggering 58 Emmy nominations and 16 wins, earning the title of highest-rated narrative television series of all time on IMDb, and frequently tops curated lists of the best TV shows ever made.
The violent, unpredictable nature of "Breaking Bad" also led to plenty of shocking character deaths across the show's 62 episodes. Sometimes, the actors who played these quickly-dispatched characters were well-known; others landed their big break on the show. Below, a (spoiler-heavy) update on what everyone has been up to since they bit the on-screen bullet.
Hank Schrader
As his brother-in-law, Hank Schrader is one of the most prominent people in Walter White's life; as an agent with the DEA, Hank also poses one of his biggest threats. 
Hank survived many harrowing encounters throughout the series, but finally met his match against the overwhelming numbers of Uncle Jack's Neo-Nazi gang. The role was played by Dean Norris, who began acting full-time in the second half of the 1980s. Norris rarely found himself in a role as large as his part on "Breaking Bad," but was involved in many now-classic action movies such as "Total Recall," "Terminator 2: Judgement Day," and "Lethal Weapon 2."
The same year that "Breaking Bad" ended, Norris jumped straight into his next major television role via the CBS sci-fi mystery series "Under the Dome," which he was a part of for all three seasons. He stuck with CBS for a lead role on the sitcom "The United States of Al," then went to TNT for a major role on "Claws," both of which were canceled in 2022. 
Norris briefly reprised his role as Hank Schrader on "Better Call Saul," and had small recurring roles on shows like "The Big Bang Theory" and "Scandal." Meanwhile, his feature film work has included "Fist Fight," Eli Roth's "Death Wish" remake, and "The Hustle."
Steven Gomez
Steven Gomez (AKA Gomie) was Hank's partner in the DEA and personally involved in the hunt for Heisenberg. Right alongside his partner, Gomez was killed out in the New Mexico desert by Uncle Jack's gang of Neo-Nazis. The role was played by New Mexico native Steven Michael Quezada, who returned to the "Breaking Bad" universe briefly in "Better Call Saul" alongside Hank in a pair of Season 5 episodes.
Quezada only began acting in the mid-2000s, and "Breaking Bad" was his first major television role. He hasn't done much TV work since the show concluded, either, outside brief single-episode appearances on the likes of "Documentary Now!" and "The Mindy Project." Quezada has appeared in a handful of small films, as well as the Rob Zombie horror flick "3 from Hell" and the Netflix original movie "Girlfriend's Day," in which he acted alongside old co-star Bob Odenkirk.
Outside of acting, Quezada has plenty of other endeavors to keep him busy, running a parallel career as a standup comedian (his standup special "The New Mexican" dropped in 2022 as a Comedy Dynamics original). Outside of the entertainment industry altogether, Quezada is also heavily involved in politics, serving as a politician in New Mexico since 2013 at the city and state level. He is currently serving a term as the commissioner of New Mexico's second district.
Hector Salamanca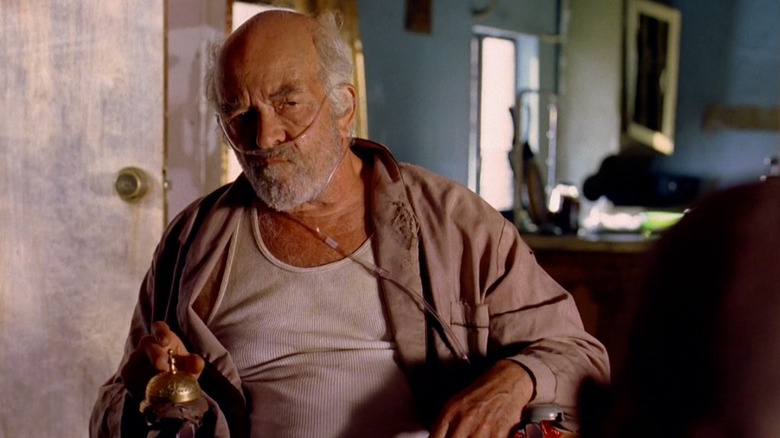 AMC
This wheelchair-bound, bell-ringing eldest of the Salamanca crime family was one of the most captivating characters on "Breaking Bad," and actor Mark Margolis was able to deliver a magnetic performance without speaking a single word outside of flashbacks. With an intense feud between him and Gus Fring, Hector Salamanca ultimately met a fitting end by taking them both out in a suicide-bomb explosion rigged up by Walter White.
Margolis had been acting for many decades ahead of joining the "Breaking Bad" cast, appearing in such notable films as "Ace Ventura: Pet Detective," "Requiem for a Dream," and "Scarface" alongside Steven Bauer (who played one of the top cartel operators in "Breaking Bad"). Margolis is a character actor who rarely ever takes center stage, but "Breaking Bad" gave him a minor late-career resurgence. 
In the years since the show concluded, Margolis has been in movies like "My Big Fat Greek Wedding 2" and "Noah," and in shows like "American Horror Story," "The Affair," and "Your Honor," acting once again with Bryan Cranston. He also returned as Hector Salamanca for a major role in "Better Call Saul," which provided him with far more range in the character, as he was able to walk and speak in the early days of the prequel series.
Krazy-8
Krazy-8, whose real name was Domingo Molina, was one of the first drug dealers that Walter White came into contact with after making the decision to start producing meth. 
Krazy-8 had a history with Jesse Pinkman, and brought his cousin Emilio Koyama in on the deal too. After things went south, Walt blasted the two of them with phosphine gas, later strangling Krazy-8 to death with a bike lock. Though he was a driving force at the start of the series, Krazy-8 was dead and gone by the end of the third episode; the character would return in "Better Call Saul" for a larger role, one that found him popping in and out of the series across Season 2 through 5.
The role was played by Max Arciniega, whom the "Breaking Bad" writers paid tribute to when they introduced a small but instrumental character named Max Arciniega in Season 4: Gus Fring's partner, who was murdered by Hector Salamanca. Arciniega hasn't had too many film roles since "Breaking Bad" ended, with the 2021 western "Old Henry" being one notable exception. Sticking to the world of television, Arciniega has played recurring roles on the shows "Colony," "Full Circle," "Blood & Oil," "Bosch," and the mini-series "Unbelievable." His latest role was a guest appearance on the series finale of FX's "Snowfall."
Gale Boetticher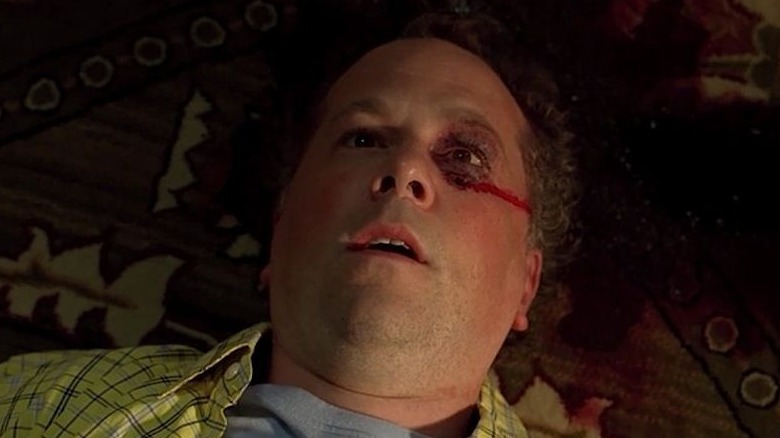 AMC
He might have been the only chemist capable of rivaling Walter White's meth-production expertise, but when Gus Fring became determined to replace Walter with Gale in the super lab, drastic action was in order. 
Since Walter is unable to take Gale out himself, he sends Jesse Pinkman to pull the trigger in the Season 3 finale, taking a major emotional toll on Jesse throughout the entirety of Season 4.
Gale was portrayed by David Costabile, who reprised the role for two episodes in Season 4 of the "Better Call Saul" prequel series. Prior to "Breaking Bad," Costabile was best known for his roles on the HBO shows "The Wire" and "Flight of the Conchords." 
Shortly after his stint on "Breaking Bad," Costabile played major roles on the mini-series "Low Winter Sun" and "Dig," and took on a long-term recurring role on the USA series "Suits." In 2016, Costabile began what would become the largest television role of his career as one of the leads of Showtime's "Billions." Steven Soderbergh's "Side Effects," Michael Bay's "13 Hours," and Steven Spielberg's "Lincoln" and "The Post" all made use of Costabile's talents as well.
Combo
Christian Ortega (AKA Combo) was one of Jesse Pinkman's close friends, and later got involved in Jesse and Walt's early drug dealing operation. He was shot and killed in broad daylight by 11-year-old Tomás Cantillo, the little brother of Jesse's eventual love interest Andrea Cantillo. The character did not return in "Better Call Saul," but was mentioned briefly in the show's final season.
Combo was played by Rodney Rush, in his first-ever acting role. Rush isn't a career actor and has only appeared in a pair of short films since "Breaking Bad" went off the air. Given that the show was filmed and takes place in and around Albuquerque, many roles on the show were filled by local residents, including Rush as Combo. 
Instead of acting, Rush devotes the majority of his time to a combination of music, inspirational speaking, event organizing, design work, charity fundraising, and more. As a hip-hop artist, Rush has released dozens of songs online through Reverb Nation. He is also an aspiring screenwriter and children's book author, though none of his writing has been officially published as of yet.
Andrea Cantillo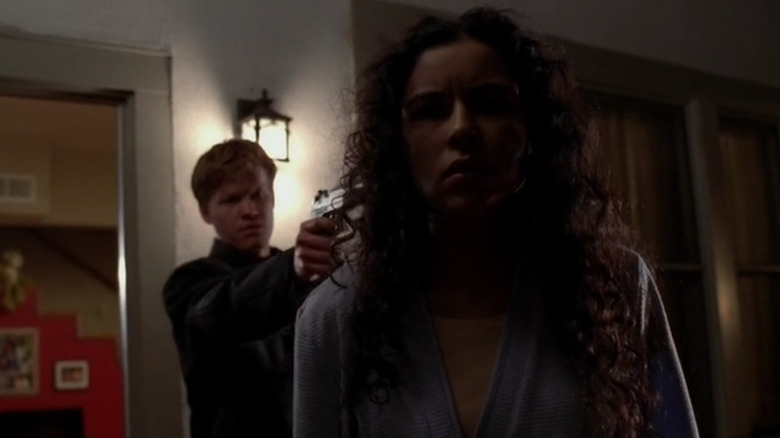 AMC
Mother of Brock and older sister to Tomás, Andrea Cantillo entered into a romantic relationship with Jesse Pinkman after the two of them met in Narcotics Anonymous. Though she was entirely on the outside of all criminal activity in the show, her association with Jesse was her ultimate downfall. As a way to punish Jesse and keep him in line after his escape attempt from the Neo-Nazi compound, Todd killed Andrea (and made it clear that he would go back and kill Brock as well if Jesse acted out again).
Andrea was played by Emily Rios, who began acting in the mid-2000s with one-off appearances on shows like "House" and "E.R." "Breaking Bad" became the biggest role of her career to date, and she has since gone on to appear in small roles on major shows like "Almost Human," "Scandal," and "True Detective." 
She has played larger roles on the FX shows "The Bridge" and "Snowfall," and a notable one in the Oscar-winning film "If Beale Street Could Talk." She was also a voice actor for the video games "Dead Space 3" and "Army of Two: The Devil's Cartel." Rios hasn't appeared on screen since 2021 and currently doesn't have any publicly-announced projects in the works.
Gus Fring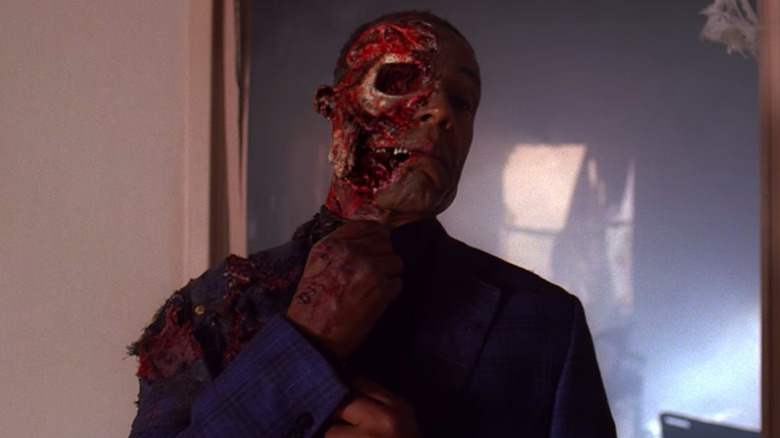 AMC
Gus Fring first entered the world of "Breaking Bad" near the end of Season 2, serving as the main antagonist of Seasons 3 and 4. The cold, calculating killer kingpin finally met his end in Hector Salamanca's wheelchair bomb explosion, as orchestrated by Walter White. Gus returned for Seasons 3-6 of "Better Call Saul," once again making for an intimidating villain and a magnetic screen presence.
This now-iconic character was played by Giancarlo Esposito, whose acting resume stretches back to the 1970s. In the early stages of his career, Esposito could be seen in the likes of everything from "Sesame Street" to Spike Lee's "Malcolm X," playing roles both small and large. Since his departure from "Breaking Bad," Esposito's career has continued to flourish. Some of his biggest television roles include "Revolution," "The Get Down," "Once Upon a Time," "Dear White People" (in which he served as the narrator), and three recent TV hits alongside "Better Call Saul" with "Godfather of Harlem," "The Boys" and "The Mandalorian."
On the film side of the entertainment industry, Esposito has been in many large movies in recent years. From highly-lauded Palme d'Or nominees like "Okja" to YA blockbusters like the "Maze Runner" series, Esposito is versatile enough to bounce back and forth between different scopes with ease. In the near future, he will appear on the big screen again in Francis Ford Coppola's long-gestating epic "Megalopolis."
Mike Ehrmantraut
Blasting his way into "Breaking Bad" as one of the show's most lethal characters — on a cast chock full of lethal characters — Mike Ehrmantraut always stood out. While Mike frequently seemed like he could go toe-to-toe with almost anyone in the entire series, it was Walter White who took him out of the game in an impassioned, reckless moment of violence.
Mike was a huge part of "Breaking Bad," but became an even larger character in "Better Call Saul" as one of its main characters. While "Saul" was still on the air, Mike also popped up in the "El Camino" spinoff movie. In between all of the "Breaking Bad" universe projects, actor Jonathan Banks kept busy with a wide variety of other movies and shows. He joined the main cast of "Community" for the show's fifth season (which also featured "Breaking Bad" creator Vince Gilligan for one episode and had previously included Esposito in Season 3 and 4).
The Oscar-nominated film "Mudbound" featured Banks in a prominent role, and he has appeared in other high-profile movies like "Horrible Bosses 2" and "The Commuter." In recent years, Banks has increasingly embraced voice acting. His gravelly tones can be heard in "The Incredibles 2," "Gravity Falls," "Skylanders Academy," "F is for Family," and as Commissioner Gordon in the video game "Batman: Arkham Knight."
Emilio Koyama
Emilio Koyama was the cousin of Krazy-8 and an old-school friend of Jesse Pinkman. He and Krazy-8 were the first two dealers that Walt and Jesse attempted to work with, and Koyama became the first person that Walter ever killed when he was poisoned by a blast of phosphine gas. His corpse is the one that Jesse tried to dispose of in his aunt's bathtub, leading to the gore-infused hole created in the floor.
In Gilligan's original pilot script, the character was simply named Emilio. When actor John Koyama was cast in the role, the character took on the same last name. After being killed off in the pilot episode of the series, Emilio returned briefly in the penultimate episode of "Better Call Saul," helping to bookend the two shows.
Outside of the "Breaking Bad" universe, Koyama hasn't done too much acting in recent years outside of small, often unnamed and sometimes uncredited bit parts. Koyama's real bread and butter in the entertainment industry has been working as a stuntman, fight choreographer, and stunt coordinator. He has helped create the action sequences for many huge movies and television shows like "The Boys," "Furious 7," "300: Rise of an Empire," "The Book of Boba Fett," and DCEU movies including "Man of Steel," "Batman v Superman: Dawn of Justice," and "Justice League." Recently, Koyama has begun working as a second unit director as well, with the TV show "Preacher" and HBOMax original movie "An American Pickle."
Tuco Salamanca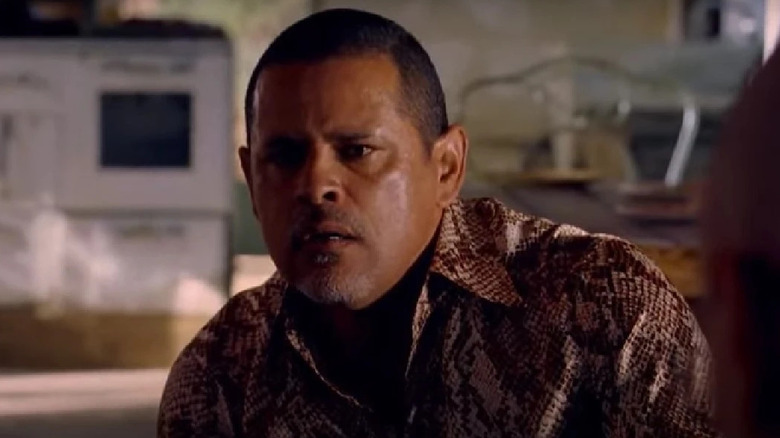 AMC
When Tuco Salamanca entered the story of "Breaking Bad" near the end of its first season, he immediately left a huge impression. Before Todd, Uncle Jack, and even Gus Fring, Tuco was the show's first truly intimidating main villain. Tuco was also the story's entry point into the broader Salamanca family, who would become a dominant force throughout the rest of "Breaking Bad" and "Better Call Saul."
In his first of multiple clashes with the Salamancas, Hank killed Tuco, earning the wrath of his kin. Tuco was played by Raymond Cruz, who later reprised the role in "Better Call Saul," beginning in the show's series premiere. Outside the Gilligan productions, Cruz is perhaps best known as Julio Sanchez, one of the lead characters on TNT's "The Closer," on which he appeared in over 100 episodes. When "The Closer" went off the air in 2012, Cruz jumped straight into the spin-off series "Major Crimes," where he portrayed Sanchez again in 100 more episodes. This one character has taken up the majority of Cruz's time, but he has also appeared in films like "The Curse of La Llorona" and in smaller roles on shows like "Madam Secretary" and "Get Shorty."
Victor
Victor (whose last name was never revealed) was a man of few words, but an intense and intimidating presence. He was one of Gus Fring's top enforcers, right up until the moment Gus decided to slit his throat with a box cutter in the super lab right in front of Walt, Jesse, and Mike. Victor was already a large part of "Breaking Bad," but he became an even larger part of "Better Call Saul," appearing in more than twice as many episodes.
The enigmatic Victor was played by Jeremiah Bitsui, a Native American actor who had earlier appeared in films like "Flags of Our Fathers" and shows like "In Plain Sight." Since his time on "Breaking Bad," Bitsui's most high-profile roles have been on the shows "Bosch" and "Yellowstone," and as the voice of Eagle Flies in the smash-hit video game "Red Dead Redemption II." Outside of acting, Bitsui is a co-owner of Dreamlab Coffee, an Albuquerque-area coffee shop that hosts networking and self-improvement events.
Tyrus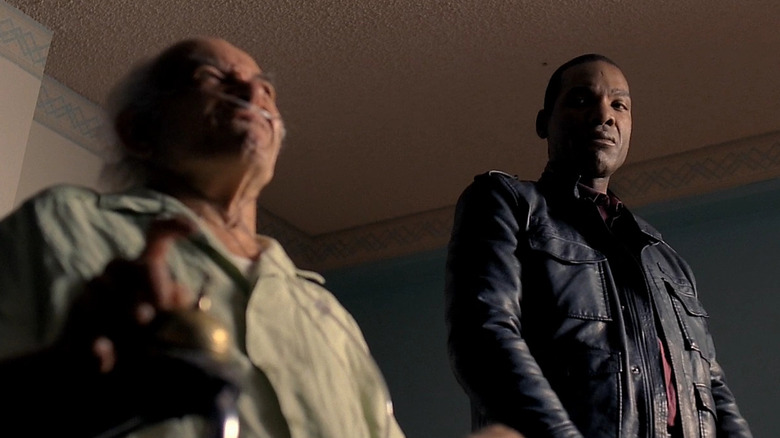 AMC
Tyrus Kitt joined the denizens of "Breaking Bad" in the immediate aftermath of Victor's murder. He was brought in to replace Victor in the super lab, but "Better Call Saul" revealed that Tyrus had already been working for Gus Fring for many years beforehand. As his closest henchman throughout Season 4 of "Breaking Bad," Tyrus was right by Gus's side when Hector Salamanca's wheelchair bomb went off, all three men perishing in the explosion together.
Taking on the role of Tyrus in both TV shows was actor Ray Campbell. Campbell began acting consistently in the 2000s with one-off appearances on shows like "Angel" and "Cold Case." "Breaking Bad" became his largest role to date before "Better Call Saul" further expanded on the character. In between his two stints as Tyrus, Campbell played a recurring role on "How to Get Away with Murder," and on Tyler Perry's two series "For Better or Worse" and "The Haves and the Have Nots." His most recent role was as a recurring supporting character on the CW series "All American."
Lydia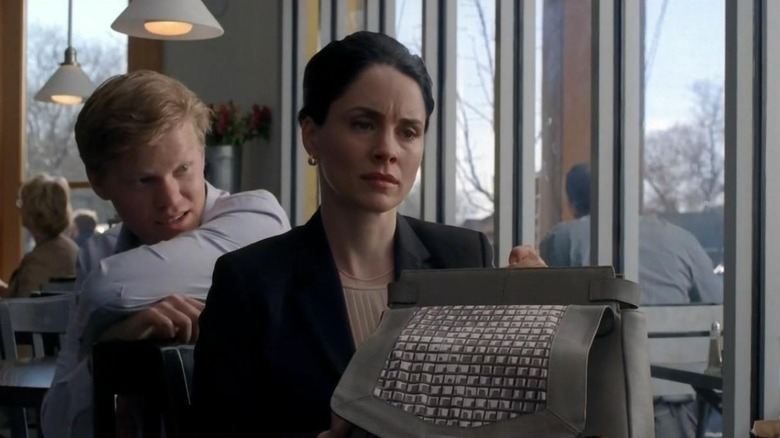 AMC
Lydia Rodarte-Quayle only entered the story of "Breaking Bad" in the final season, but she made major waves in her short time on the show. As opposed to most of the characters in the series who come from domestic, criminal, legal, or law enforcement backgrounds, Lydia was deeply entrenched in the corporate side of the meth game. After weaseling her way in and out of Walter White's good graces, she eventually meets her maker when she is poisoned with ricin. In the timeline of the "El Camino" spinoff movie, a news report mentions that Lydia was currently hospitalized following the ricin poisoning, expected to pass away imminently.
With Lydia being such an interesting yet short-lived presence in "Breaking Bad," it made perfect sense to bring her back into the loop for "Better Call Saul," and her connections to Gus Fring made it easy. The memorable character was played by Laura Fraser who, shortly after the end of "Breaking Bad," played one of the lead roles on the ABC series "Black Box," which was canceled after its first season. Her next big TV endeavor was a supporting role on the Starz original series "The Missing," and she then returned to her home country to star as the main character in the British murder-mystery mini-series "The Loch." Her latest project is another British mystery series, "Traces."
Jane Margolis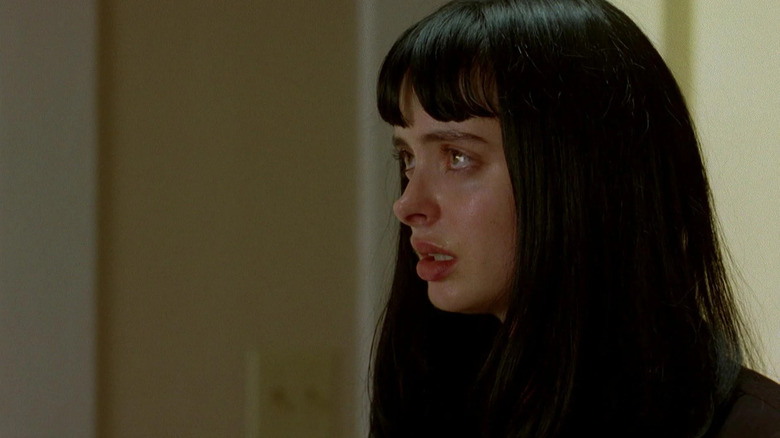 AMC
The landlord/next-door neighbor and eventual girlfriend of Jesse Pinkman, Jane Margolis was in a bad way since day one. Together, the two would only spiral deeper into addiction, eventually culminating in her choking to death on her own vomit while Walter White watched and did nothing to intervene. Her death sent shockwaves throughout the show, not just in the lives of Walt and Jesse, but also for countless others; her grieving father was the man responsible for the head-on aircraft collision that claimed the lives of 167 people.
Jane was played by Krysten Ritter, somewhat early in her career. She had already landed a couple prominent roles in shows like "Gilmore Girls" and "Veronica Mars," but "Breaking Bad" provided her with a notoriety boost that she capitalized on. With her exit from the series following the character's death at the end of Season 2, Ritter springboarded into larger starring roles. Soon after, she played the titular character in the ABC sitcom "Don't Trust the B— in Apartment 23," a little-seen series that nonetheless made a splash by putting her bold character front and center. After that, Jones shone in the Marvel/Netflix original series "Jessica Jones." 
She then returned briefly to the "Breaking Bad" world with a quick appearance in the "El Camino" spin-off movie (in the form of a flashback with Jesse). Out of all of the supporting actors in the extensive "Breaking Bad" cast, Ritter may have enjoyed the largest boost in exposure.
The Cousins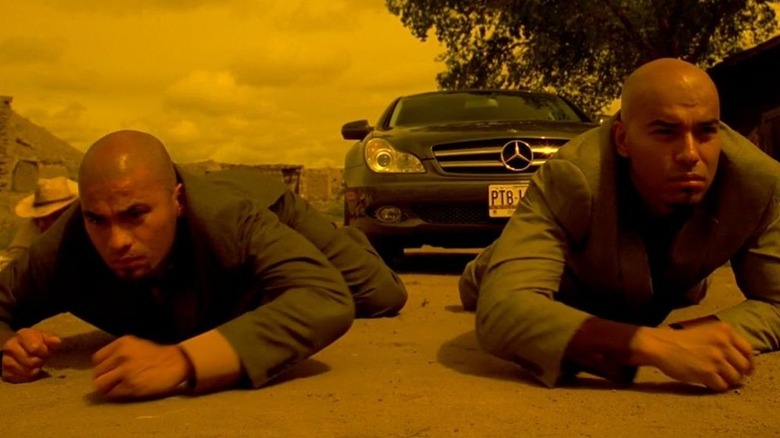 AMC
The Cousins (real names are Marco and Leonel) are the twin Salamancas who head from Mexico to the U.S. to hunt down Hank Schrader as revenge for the death of their cousin Tuco. They are large, brutish, near-mute, and carry out their various cartel tasks with terminator-like precision. Though they are incredibly effective in their lethal activities, they meet their match in Hank. 
During their assassination attempt, Hank shoots and kills Marco while leaving Leonel alive but hospitalized with both of his legs amputated. Mike Ehrmantraut soon finishes off Leonel in the hospital, at Gus Fring's behest.
Marco and Leonel were played by Luis and Daniel Moncada, brothers in real life but not actual twins despite their strong resemblance. Luis has been acting since the early 2000s, but Daniel never had any interest in acting prior to "Breaking Bad" and only joined the show because his brother needed a twin to land the role. The two saw their visibility rise after "Breaking Bad," returning as the Salamanca twins for a larger and more lethal stint on "Better Call Saul." Playing a tough criminal on screen wasn't too much of a stretch for Luis, as he had previously been in a gang and even served time in prison. The brothers both train in martial arts and have become increasingly involved in stunt work and fight choreography over the years alongside their acting endeavors. Some of their biggest joint and solo roles since "Breaking Bad" include series like "Get Shorty" and movies like "Bright."
Juan Bolsa
Juan Bolsa was a secondary antagonist in "Breaking Bad" who didn't appear on screen too often, but was key to the overall story being told. Bolsa was one of the Mexican cartel heads and a personal nemesis of Gus Fring, present when Hector Salamanca murdered his partner Max. Gus eventually got his vengeance by arranging for Bolsa and his guards to be gunned down while he listened in over a cell phone.
Javier Grajeda filled the part of Bolsa and returned as the character for a substantially larger role in "Better Call Saul." Grajeda began acting in the early 1980s and appeared in individual episodes of popular shows like "The A-Team," "NYPD Blue," and "The X-Files" (for which Gilligan previously wrote). In the years since his character was killed off, Grajeda's projects have mostly been small roles in films like "The Rum Diary" or one-off appearances on series like "Halt and Catch Fire" and "NCIS." In recent years, he became a part of the Naughty Dog stable of voice actors, and can be heard in the videogames "Uncharted 4" and "The Last of Us: Part II."
Tortuga
Tortuga was a small but memorable side character on "Breaking Bad," played by the one and only Danny Trejo. He was a smuggler for the cartel but was secretly working as an informant for the DEA, and when his cartel bosses found out, they made an example out of him. 
Under Juan Bolsa's guidance, the Cousins decapitated Tortuga, rigged his severed head with an explosive, and attached it to a literal tortuga tortoise. At his next scheduled meeting with the DEA, the turtle took his place. Hank Schrader was outside of the blast radius, but watched in horror as the explosion killed and maimed multiple agents, leaving him traumatized.
Trejo is a hard-working actor who amassed a prolific body of work well before "Breaking Bad," including such classics as "Heat," "Con Air" and "From Dusk Till Dawn." He has over 400 film and television credits and appears in several large and small projects every single year, with some of his biggest roles post-Tortuga including the likes of "Machete," "Sons of Anarchy," "American Gods," "The Legend of La Llorona," and dozens of others. In 2019, Trejo was the subject of the documentary "Inmate #1: The Rise of Danny Trejo," which chronicled his struggles with crime, addiction, and incarceration and his eventual recovery and rehabilitation.
Alongside his ongoing acting career, Trejo owns a growing LA restaurant chain named Trejo's Tacos a donut shop in Hollywood and other side hustles that include branded beer, coffee and hot sauce. He is also a passionate activist and frequently participates in volunteer and charity work whenever he isn't busy shooting a movie.
Spooge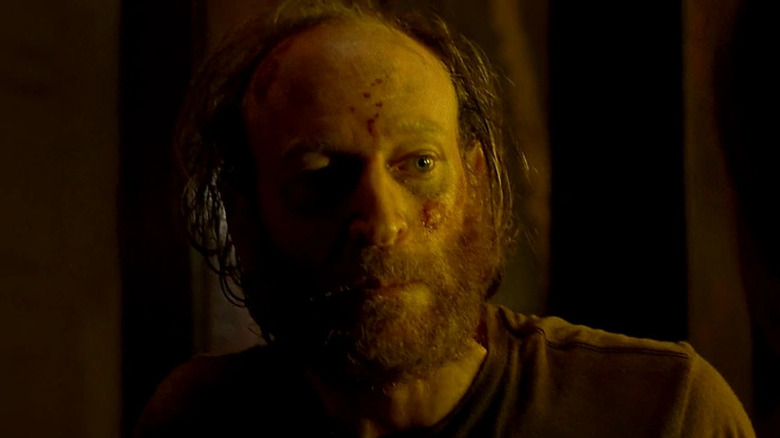 AMC
A petty criminal and junkie who stumbled into the world of "Breaking Bad" when he mugged Jesse's friend Skinny Pete and stole blue meth off of him, Spooge met his memorable end when Jesse went to get it back, his head crushed with an ATM in what became one of the show's most creative death scenes.
The role of Spooge was played by actor David Ury, who returned for a brief appearance in the final season of "Better Call Saul." Though Spooge didn't share the screen with Walter White, Ury had worked with Cranston in the past via an episode of "Malcolm in the Middle." Ury has continued working as a character actor, routinely popping up in individual episodes of popular TV shows but hardly ever playing a large or recurring role.
Ury is fluent in Japanese and has worked in the past as a translator for Japanese-to-English anime adaptations. He also performs as a standup comedian and has been involved in creating comedic web content for many years. He co-wrote the mega-viral "What Kind of Asian Are You?" YouTube video and also created a "Breaking Bad"-meets-"The Walking Dead" parody video titled "The Breaking Dead." In the video, Ury plays a very Spooge-like junkie on the hunt for meth in a zombie apocalypse. The video also features a drug dealer played by Charles Baker, the same actor who played Skinny Pete in the "Breaking Bad" universe.
Todd
Todd Alquist roared into the story of "Breaking Bad" like a runaway freight train in the show's fifth season. Though he initially came across as helpful and subservient, Todd turned out to be one of the most ruthless, sociopathic villains in a series overflowing with them. From the moment he casually murdered a child without a blinking an eye, Walt, Jesse and the entire viewing audience instantly knew he was a villainous force that had been underestimated. Alongside his uncle, Todd was one of the main antagonists of the final season of "Breaking Bad," then returned for a significant villain role in "El Camino."
Todd was played by Jesse Plemmons, who got his start in the entertainment industry in the late '90s as a child actor. Though he had played a handful of notable roles already, Plemmons was still a largely unknown quantity at the time he joined the cast of "Breaking Bad." His chilling portrayal of Todd and his physical resemblance to fellow actor Matt Damon earned him the nickname of Meth Damon, which took him many years to shake. Since his "Breaking Bad" tenure, Plemmons has boomed in popularity with memorable work in some of the best film and television projects in recent years including "Fargo," "The Irishman," "I'm Thinking of Ending Things," "Judas and the Black Messiah," and "The Power of the Dog," which earned him an Oscar nomination for best supporting actor.
Don Eladio
Don Eladio Vuente was the top dog in the Mexican drug cartel. With his power and position of authority, he hardly ever had to get his hands dirty, and as such rarely needed to appear on screen throughout "Breaking Bad" in order for his presence to be felt or orders to be followed. After much preparation and planning, Gus Fring managed to take out Don Eladio and the rest of the major remaining cartel players during a trip to the Vuente hacienda, with Mike and Jesse in tow. Gus uses a bottle of poisoned tequila to kill Don Eladio and his guards in one fell swoop.
This pivotal role was played by Steven Bauer, who reprised his role as the cartel boss in "Better Call Saul." Bauer is best known for his role as Manny in "Scarface," which arrived in the early days of his career. His biggest and best television role in the years since "Breaking Bad" was on the Showtime series "Ray Donovan," in which he played a top thug across the show's first five seasons. He is also a voice actor who can be heard in video games like "Hitman: Absolution" and "Call of Duty: Black Ops II."
Uncle Jack
Todd's uncle and the head of a Neo-Nazi gang that partners up temporarily with Walter White before the two become bitter adversaries, Jack Welker was personally involved in the killing of Hank and Gomie and orchestrated both Jesse's imprisonment and simultaneous prison murders carried out at Walt's behest. In the series finale of "Breaking Bad," Jack is shot in the head by Walt after first being wounded by an automated machine gun that he rigged up.
Uncle Jack was portrayed by veteran character actor Michael Bowen, a chameleon-esque actor often nearly unrecognizable from one role to the next. Prior to joining "Breaking Bad," Bowen was in movies like "Magnolia," "Beverly Hills Cop III," and Quentin Tarantino's films "Kill Bill," "Jackie Brown," and "Django Unchained," although fans might be hard-pressed to recall his face. In the years since "Breaking Bad," Bowen has continued with his chameleon talents, though he has slowed down his output as he nears the age of 70. He has appeared in one-off episodes of numerous shows, but his only recurring role since the end of "Breaking Bad" was as Vin on TNT's "Animal Kingdom."
Walter White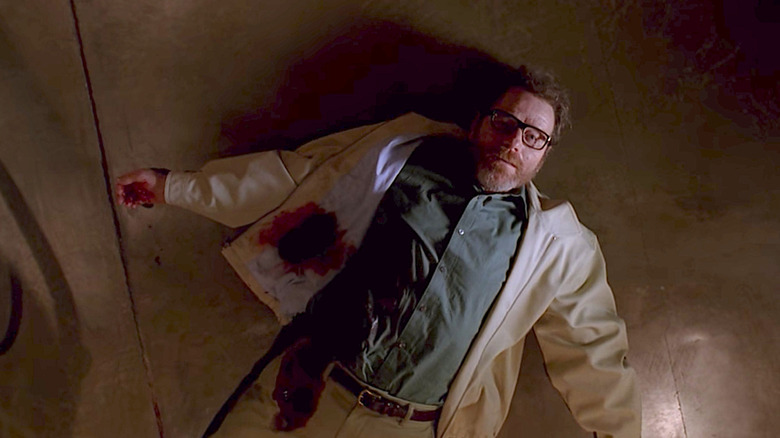 AMC
With the success of "Breaking Bad," Walter White entered the annals of the all-time greatest television characters. After 62 episodes, Walt finally died not of the lung cancer that set everything in motion, but instead by a self-inflicted gunshot wound he accidentally sustained from the automated machine gun he used to take out the Neo-Nazi gang.
Walt was, of course, played to perfection by star Bryan Cranston, who won six Emmys throughout his time on "Breaking Bad" for both Outstanding Lead Actor and Outstanding Drama Series. Cranston briefly reprised the White role in both "El Camino" and in the final season of "Better Call Saul." Prior to "Breaking Bad," Cranston was best known for his lead role on the sitcom "Malcolm in the Middle," and the two roles perfectly demonstrate his range on both ends of the comedy, drama spectrum. Cranston first worked with series creator Vince Gilligan on a single episode of "The X-Files" back in 1998, and Gilligan kept him in mind when it came time to make "Breaking Bad."
Since the conclusion of the series, Cranston has taken on a wide variety of characters. Some of his best roles post-Walter White have been found in "Last Flag Flying," "All the Way," "Sneaky Pete," "Isle of Dogs" and "Trumbo," which earned him his first Academy Award nomination. Cranston's latest series is the Showtime original drama "Your Honor," which began as a mini-series before being expanded with a second season in 2023.