Who Plays Tina On FUBAR?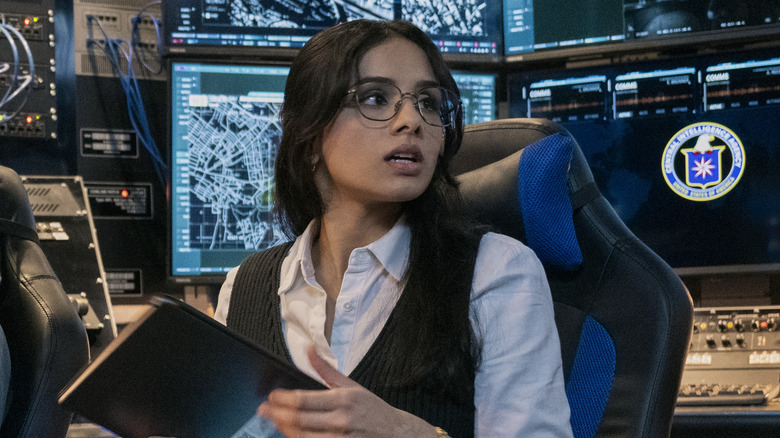 Christos Kalohoridis/Netflix
Arnold Schwarzenegger die-hards rejoice! The action star and erstwhile Governator is making his triumphant leading man debut for television, courtesy of Netflix. In "FUBAR," Schwarzenegger plays Luke Brunner, a highly decorated — and highly feared — CIA agent on the cusp of blissful retirement. As is so often the case for fictional CIA agents, one last mission beckons. Luke must rescue an operative (code name Panda) from the field, who just so happens to be his daughter, Emma (Monica Barbaro). This comes as quite a shock to both of them, as neither father nor daughter knew that the other was also in the CIA.
"FUBAR" promises to be equal parts action and laughs, much like the films of Schwarzenegger's heyday (we're looking at you, "Kindergarten Cop"). In addition to Schwarzenegger and Barbaro, "FUBAR" is populated by a number of CIA staffers, including Luke's nerdy confidante Barry Putt (Milan Carter), the funny Ruth "Roo" Russell (Fortune Feimster), and officer Aldon Reece (Travis Van Winkle). Another staffer is Tina, an NSA analyst, played by Aparna Brielle, and she's a rising talent you may have see before. 
Aparna Brielle played a Type A student on A.P. Bio
As Tina on "FUBAR," Aparna Brielle is young, ambitious, and hyper-competent. The real-life Brielle isn't dissimilar. 
"I knew what I wanted to do, work-wise," the actress told "A.P. Bio" creator Mike O'Brien in 2022. "I had a game plan as I went into college. I was like, 'I'm going to graduate in three years, then I'm going to move to L.A. I'm going to get my first two TV credits before I move to L.A.,' and I did."
Indeed, Brielle nabbed her first TV credit in 2014 in an episode of "Grimm." The next year, she appeared in an episode of "The Librarians." More single-episode appearances followed, and in 2018, she secured her first lead role in the digital series "Dead Girls Detective Agency." In 2019, she joined the View Askewniverse as Jihad in Kevin Smith's "Jay and Silent Bob Reboot."
However, Brielle is perhaps best known for playing Sarika, another Type A go-getter, in "A.P. Bio." The actress appeared in 42 episodes of the comedy series from 2018 to 2021. Since the series' premature cancellation, Brielle has stayed busy, transitioning from scheming brainiac to miss popularity in Netflix's Lana Condor-starring "Boo, B***h."