Why Jo From Citadel Looks So Familiar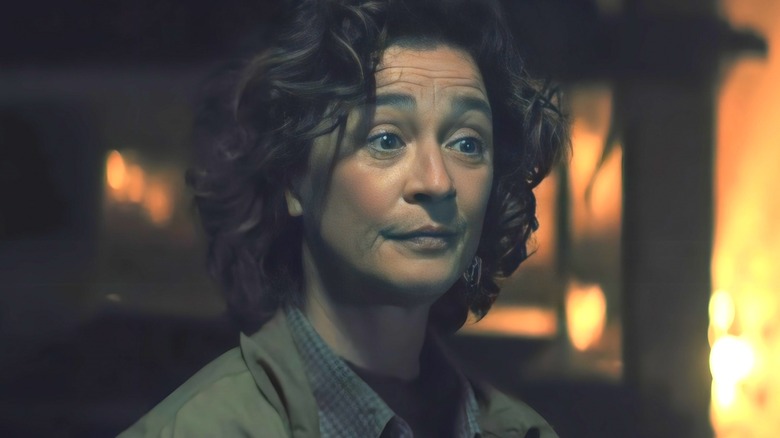 Prime Video
Contains spoilers for "Citadel" Season 1, Episode 2
"Citadel" follows a pair of secret agents whose memories were erased when their organization, and the show's namesake, fell. One of them, Nadia Sinh (Priyanka Chopra Jonas), regains her memories thanks to an injection, but the other, Mason Kane (Richard Madden), accidentally breaks the vial containing his own. Together, and while Nadia provides Mason with on-the-job training, they must take down Manticore, a syndicate of wealthy elites who crave total power.
The supporting cast of characters includes Bernard Orlick (Stanley Tucci), who comes packaged with the hilarious Jo (Moira Kelly), his ex-wife. Jo and her wife, meanwhile, are tasked with protecting Mason's wife and daughter while he is hunting down Manticore, a dangerous job considering how badly the syndicate wants him crippled.
Kelly has been killin' it since the early 1990s when she burst onto the scene with a series of consecutive prominent roles. She's since expanded her résumé to feature approximately 50 acting credits, although a solid eighth of those are for voicing Nala, the queen of Pride Rock, whenever Disney has come a-calling. Aside from this and her one-episode appearances on the popular TV shows "The Twilight Zone," "Heroes," and "Numb3rs," here are some of Kelly's highest-profile roles.
Moira Kelly played bratty athlete Kate Moseley in The Cutting Edge
1992's "The Cutting Edge" is a sports-themed romantic dramedy that depicts the unlikely love affair of two Olympic athletes: rich, bratty figure skater Kate Moseley (Moira Kelly) and arrogant, womanizing hockey player Doug Dorsey (D.B. Sweeney). The figure skater, while incredibly talented, pushes away every single possible skating partner with her vicious attitude. Meanwhile, the hockey player suffers an injury that rips away his potential future in the NHL, and he has no backup plan. The two are matched up by the figure skater's coach, who realizes that they are each other's only hope to achieve their dreams.
Although Kate spends the better part of the film degrading anyone within earshot, she's no match for Doug. This brings out their competitive sides, which somehow makes them better partners — eventually. The cycle of negging spins hard and fast. "The Cutting Edge" ends with the two professing their love for each other. Interestingly, the film doesn't actually reveal whether or not they win a medal. Maybe a good smooch is the best prize of them all?
She filled in for Lara Flynn Boyle as Donna Hayward in Twin Peaks: Fire Walk with Me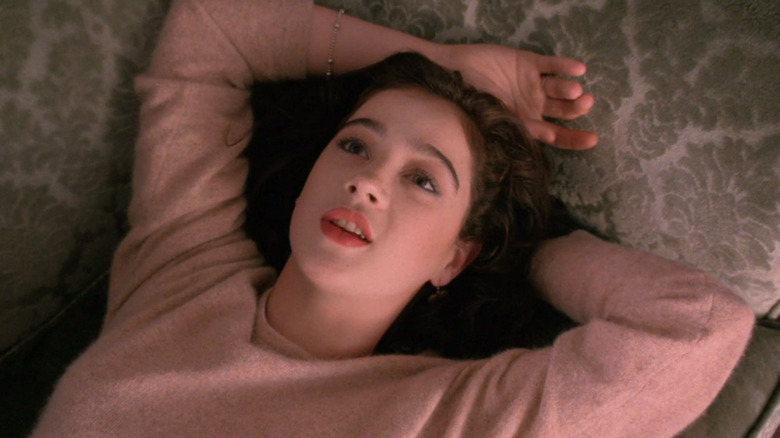 New Line Cinema
"Twin Peaks: Fire Walk with Me" is a psychological horror film that serves as a prequel to the ABC original series. The story follows the final days of high school senior Laura Palmer (Sheryl Lee), a cocaine addict who frequently cheats on her boyfriend. By this point, she is having dreams about the Lodge, an extradimensional space that sort of functions like an afterlife, and multiple encounters with Killer BOB, an evil spirit that feeds on pain and sorrow. In "Fire Walk with Me," BOB creates this pain and sorrow by possessing Laura's father, Leland Palmer (Ray Wise), and forcing him to, among many other terrible things, rape and later murder his daughter.
Moira Kelly portrayed Donna Hayward, a role originally played by Lara Flynn Boyle on the ABC series. Donna is Laura's best friend, although she worries that she's too uptight for her. To counteract this, Donna sometimes overcompensates, like when she joins Laura for a night of underage prostitution. If it isn't obvious yet, this film is a bit ... dark.
In 2014, CBS Home Entertainment released "Twin Peaks: The Missing Pieces," a feature-length compilation of the deleted scenes from "Fire Walk with Me," which means that Kelly technically reprised her role over 20 years later. It adds a little more context and includes a number of characters from the original ABC series, though it's not any cheerier.
If you or anyone you know needs help with addiction issues, help is available. Visit the Substance Abuse and Mental Health Services Administration website or contact SAMHSA's National Helpline at 1-800-662-HELP (4357).
If you or anyone you know has been a victim of sexual assault, help is available. Visit the Rape, Abuse & Incest National Network website or contact RAINN's National Helpline at 1-800-656-HOPE (4673).

Kelly portrayed both Hetty Kelly and Oona O'Neill, Charlie Chaplin's first love and last wife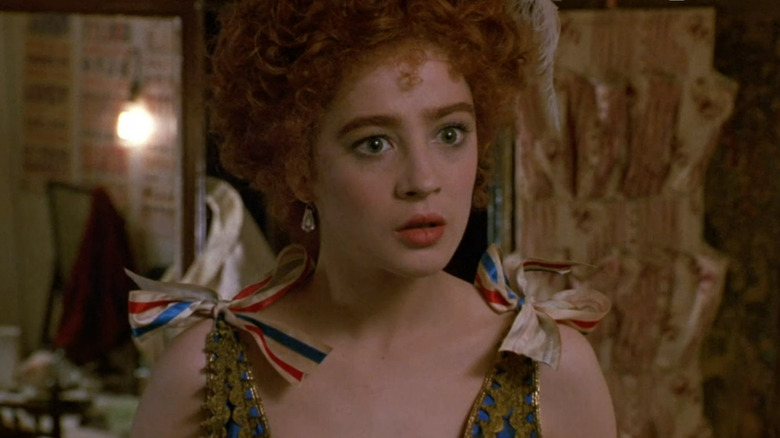 TriStar Pictures
1992's biographical dramedy "Chaplin" depicts the life of the titular English comedian, here played by Robert Downey Jr., from his impoverished childhood to his final years, including his many, many romances. Although it's based both on Charlie Chaplin's autobiography, "My Autobiography," and film critic David Robinson's "Chaplin: His Life and Art," it's funny and dramatic and NSFW.
Moira Kelly portrayed both Chaplin's first love, Hetty Kelly, and his last wife, Oona O'Neil. The two characters are only connected in that it's heavily implied that Chaplin marries the latter because she looks like the former.
Hetty is a dancer that Chaplin meets at the Streatham Empire. After a rocky start — she is justly unenthused when she finds him in her dressing room while she is changing — the two strike up a relationship. But it doesn't last long because Chaplin skips a few chapters and proposes, an offer that Hetty turns down.
Oona is an actress whose agent introduces her to Chaplin with the intent to land her a big role in the filmmaker's next project. Instead, she spends the rest of his life with him, even after he's exiled from America.
She played savvy political consultant Mandy Hampton on The West Wing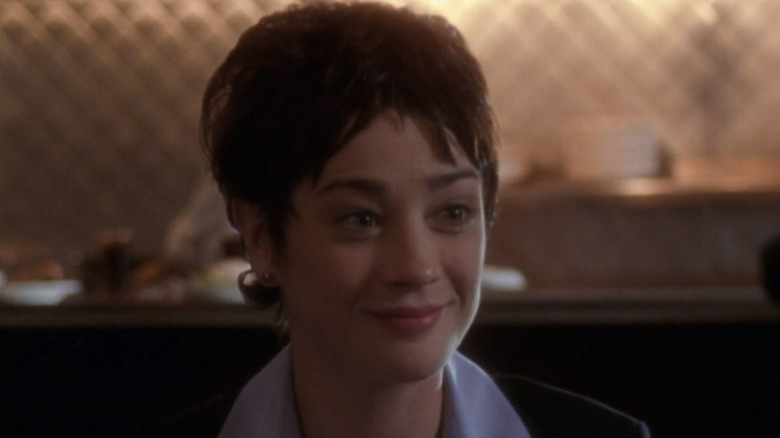 NBC
NBC's political drama "The West Wing" follows the officials working in the West Wing of the White House during the administration of fictional Democratic President Josiah Bartlet (Martin Sheen). The seven-season series was praised for its realism, partly thanks to consultation with former White House staffers, and former White House aide Matthew Miller even applauded creator Aaron Sorkin for "making the human side of politics more real than life — or at least more real than the picture we get from the news."
Moira Kelly played Mandy Hampton, the White House's media director, in Season 1. A woman of conviction, she firmly believes that violence should only be used as a last resort and has always been critical of the Bartlet administration. By Season 2, Mandy is no longer in the position, although it is never explained why. In reality, Sorkin had written her off because he felt as though the character wasn't working.
Kelly was the least Karen-y Karen ever on One Tree Hill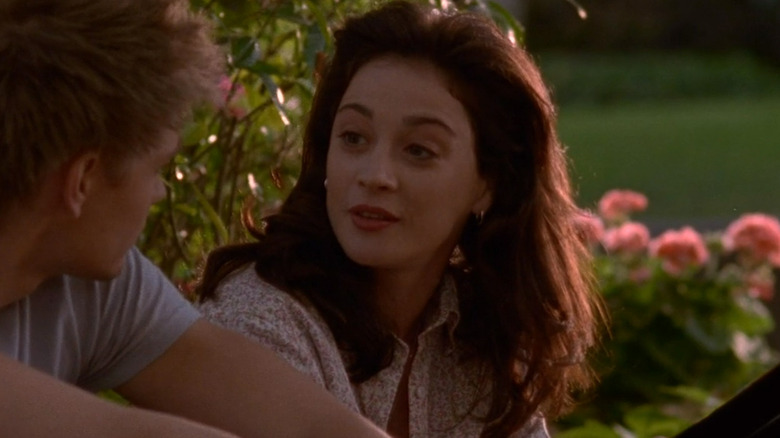 The WB
The WB (later CW) drama "One Tree Hill" mostly focuses on two half brothers as they struggle with growing up in a small town. But besides the typical high school challenges of sports and relationships, the boys also have to contend with a murder.
Moira Kelly played Karen Roe, a young woman whose high school sweetheart abandoned her after finding out she was pregnant with their unborn child, leaving her to become a single mother. Although Karen doesn't always make the right decisions, she does always fight for her family, even those she isn't related to by blood. Eventually, after her son grows up enough to look after himself, she leaves her hometown to make her place elsewhere.
There was definitely some drama behind the scenes of "One Tree Hill" as well, with half of the main characters disappearing between Seasons 6 and 7. One of those departing stars, Hilarie Burton, attributes her happily ever after with Jeffrey Dean Morgan to Kelly's support when she was struggling with her decision to leave "One Tree Hill," which just goes to show that Kelly really embodied her role as a loving mother figure.