The Terror Renewed For Season 2 With New Cast, Creative Team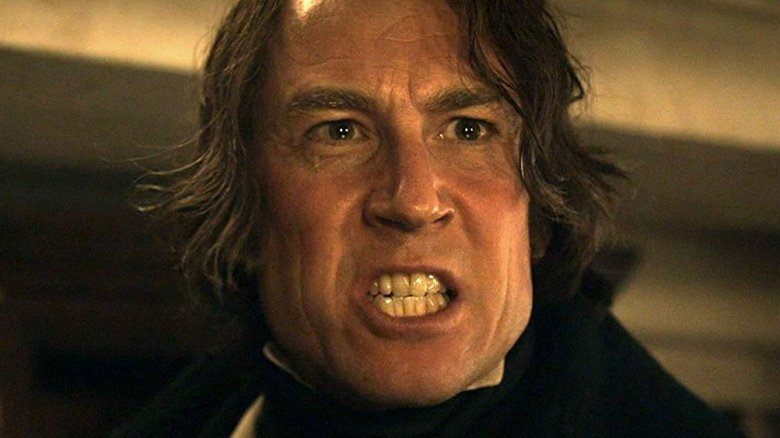 AMC has renewed The Terror, but the upcoming second season is going to look a bit different. According to Variety, the sophomore outing of the horror anthology will bring on a new cast and a new creative team to tackle the story of a specter haunting the Japanese-American community during World War II. The season will take place in some southern California homes, as well as in the internment camps were many Japanese-Americans were kept during the war and in the Pacific theater.
True Blood's Alexander Woo is set to take over as showrunner on the second season, replacing Soo Hugh and David Kajganich, who oversaw the series' first season. The first season debuted to critical acclaim, earning a 93 percent approval rating on Rotten Tomatoes. The season, which starred Ciaran Hinds, Tobias Menzies, and Jared Harris, took place in 1847 and followed a Royal Naval expedition crew who are attacked by a mysterious predator while searching for the Northwest Passage.
Godzilla's Max Borenstein co-created the second season alongside Woo, both of whom are set to executive produce. Ridley Scott, who executive produced season one, will return for season two with his Scot Free production company. "I'm deeply honored to be telling a story set in this extraordinary period," Woo said in a statement. "We hope to convey the abject terror of the historical experience in a way that feels modern and relevant to the present moment. And the prospect of doing so with a majority Asian and Asian-American cast is both thrilling and humbling."
AMC President of Originals David Madden praised the show's anthology format, adding, "We loved the concept of beginning with an actual historical event and overlaying it with a fictional horror element, and we are immensely proud of this show's combination of cinematic scope and intimate character work. We are thrilled to announce a second season and dramatize one of the most chilling and important events of the 20th century, guided by the vision of the gifted Alexander Woo and Max Borenstein."
"Our deep appreciation goes to the persistently creative and passionate showrunning team of David Kajganich and Soo Hugh, the incomparable Ridley Scott and the rest of the producing team, and the outstanding cast led by Jared Harris for launching this concept and leaving us on the precipice of terrifying new adventures as we continue with the next chapter of The Terror," Madden continued.
The Terror will return for season two at some point in 2019.