TWD: Steven Yeun Couldn't Help Himself With This Improvised Glenn Moment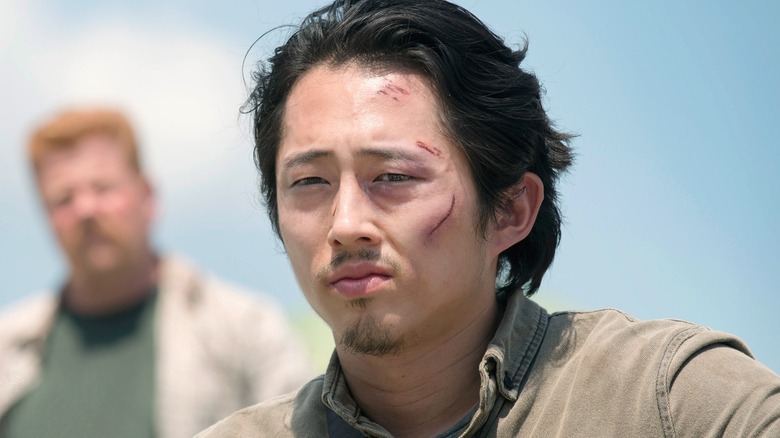 Gene Page/AMC
Before he would tackle such projects as "Sorry to Bother You," "Nope," and the Netflix series "Beef," Steven Yeun made himself a household name on AMC's "The Walking Dead." He brought the character of Glenn Rhee to life from Season 1 to Season 7, leaving a lasting impression on fans throughout that tenure. Glenn is a loyal, brave, and generally good-hearted person in a world full of morally gray and downright evil people. Yeun went above and beyond to bring out those characteristics and then some, flexing his improv muscles from time to time.
In one instance, Yeun couldn't help but tap into the intense emotions of Glenn following a fight with a walker. Upon killing the reanimated corpse, Glenn let out a scream that Yeun brought to the scene himself. "[Glenn's scream] was improvised, and it was the first time I was like, 'Here's like a feeling I have in this moment, and I want to just do it,'" Yeun told Vanity Fair of the scene. He described filming the scene as a moment of great personal growth for him as he realized his agency as an actor. Yeun also notes that the episode's focus puller, the late David Galbraith, was fully supportive of the creative ad-lib.
While it was great for Yeun to take his portrayal of Glenn into his own hands now and again, overall, he can't help but feel a bit frustrated with how "The Walking Dead" handled the character.
Overall, Yeun feels he didn't get to fully flesh out Glenn as a person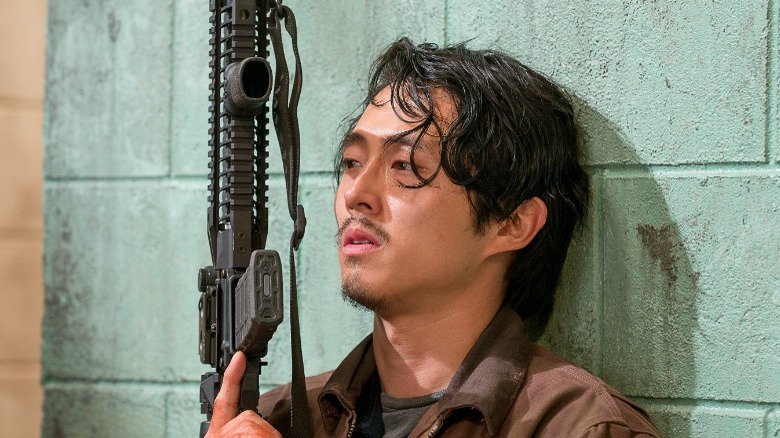 Gene Page/AMC
As mentioned previously, Glenn serves as a beacon of light and goodness throughout his "Walking Dead" run. No matter what, he always puts the needs of his friends and his wife, Maggie Rhee (Lauren Cohan), ahead of his own. This makes his demise in the Season 7 premiere, "The Day Will Come When You Won't Be," all the more heartbreaking as Negan Smith (Jeffrey Dean Morgan) bludgeons him to death with his barbed wire baseball bat, Lucille (a fate that makes no sense). At the same time, for Steven Yeun, Glenn's good nature made playing him a rather incomplete experience.
During a chat with The Wall Street Journal, Yeun expressed what made portraying Glenn a somewhat frustrating experience for him. "I felt like I was servicing a concept of goodness as opposed to engaging with Glenn's humanity," he said, highlighting that Glenn's status as the moral center of "The Walking Dead" meant that exploring him as a person wasn't high up on the priority list by any means. Thus, Glenn was missing some vital components, and for Yeun, that was something that proved difficult to look past.
Despite some issues with Glenn's characterization, Steven Yeun turned in consistently strong performances in the role — ones likely perfected by his improv skills.