Why Branch Connally From Longmire Looks So Familiar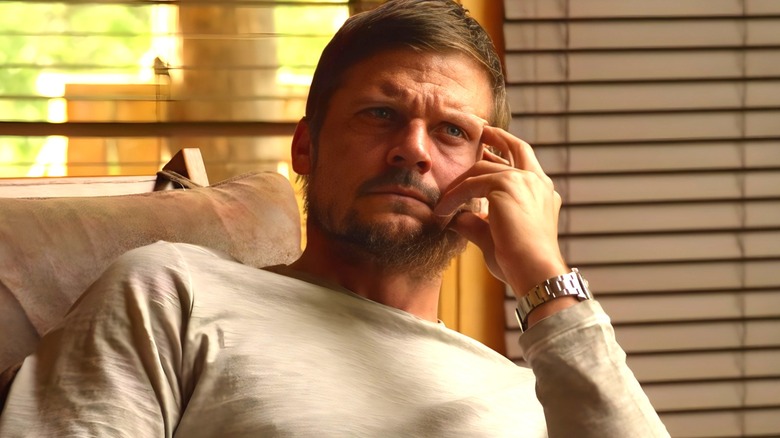 A&E
A&E's "Longmire" — a spiritual predecessor to Taylor Sheridan's hit "Yellowstone" — ran for six seasons chronicling the work of the sheriff's department in the fictional location of Absaroka County, Wyoming."Longmire" was based on a series of novels by author Craig Johnson, a resident of Ucross, Wyoming (population 26). One of the main characters was Deputy Branch Connally, who appeared in 33 of the show's 63 episodes before being murdered by his father, Barlow (Gerald McRaney). 
Branch was played by veteran actor Bailey Chase. Chase told the Chicago Sun-Times that his character serves mainly as an antagonist to Sheriff Walt Longmire (Robert Taylor). "Walt is old Wyoming; I'm new Wyoming," Chase said. "I'm in favor of using more technology and bringing in the FBI to solve crimes ... Walt is more isolated." Chase, who was born (and is sometimes credited as) Bailey Luetgert, has an acting resume with more than five dozen credits, many of them brief appearances in television dramas or procedurals. 
Bailey Chase made his first acting appearances in 1996
Bailey Chase made his acting debut in 1996 in the Cinemax erotic anthology series "The Hot Line," playing Jake and collecting his first Screen Actors Guild check under his given name. His next credit, also as Bailey Luetgert, came later that year on the first episode of Season 7 of "Baywatch" as a surfer named Dave. His appearance is brief and relatively forgettable, as he and his buddies are quickly ordered out of the water by an instructor and he has no speaking lines in the episode. 
Later that year, Chase made a guest appearance on "Saved by the Bell: The New Class"  as Zach Newton, a shot-putter who introduces himself to Maria (Samantha Esteban) at a signup for a calendar shoot by telling her he likes "warm summer breezes, holdin' hands, and long strolls on the beach." Maria returns the flirtation during Zach's photoshoot, referring to the shirtless athlete as a "cupcake" before he vanishes for the rest of the cringeworthy episode. 
Bailey Chase built his television resume throughout the late 1990s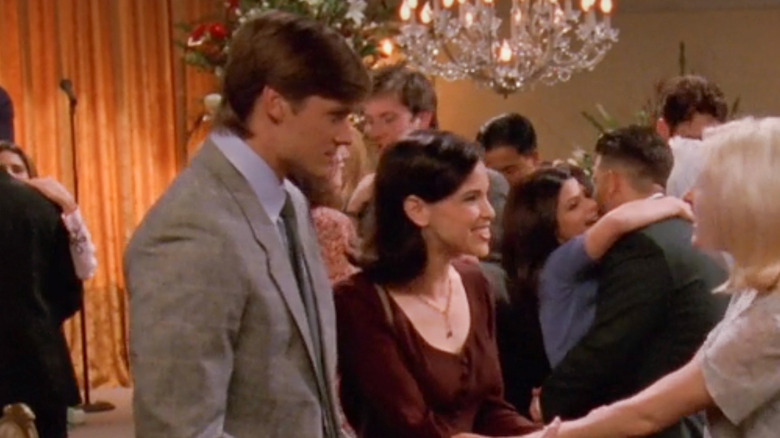 CBS
The following year, Bailey Chase — still working under his birth name — continued adding to his television resume as a young, up-and-coming actor, appearing on Season 6, Episode 14 of "Step by Step" as Scott, the recently promoted assistant snack food manager at the Piggly Wiggly in Madison, Wisconsin. He is introduced as the new husband of Nicole (Elizabeth Beaumont), and this is a development that shocks and disappoints her friends, all of whom thought she was headed for law school instead of being a stay-at-home wife and mother. This was, however, his and Beaumont's only appearance on the show.
Chase continued to appear under the name Bailey Luetgert throughout the late 1990s, making a handful of appearances on various successful series. Soon after, he dropped his given last name, starting to work under his first and middle name in 1999. 
Bailey Chase's breakout role was on Buffy the Vampire Slayer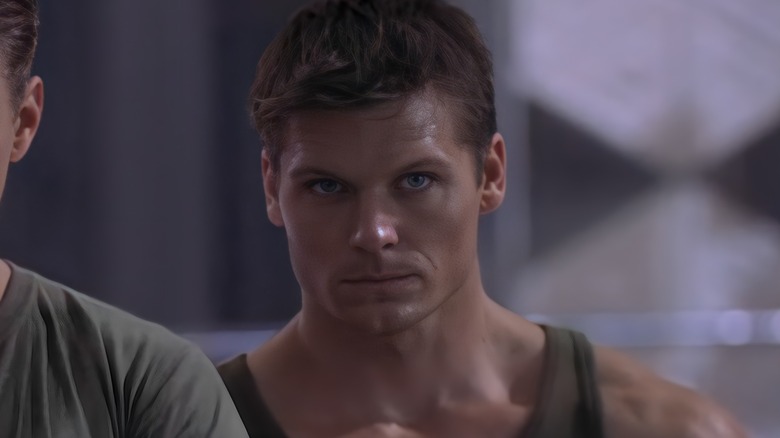 The WB
Bailey Chase's big break — and first role under that moniker — came in 1999 when he was cast on "Buffy the Vampire Slayer" as Graham Miller, a military-trained member of The Initiative and close friend of Riley Finn (Marc Blucas). Chase appeared in 13 episodes of "Buffy" in Seasons 4 and 5, and told Collider that particular job was the one that showed him he could make a living as an actor.
 "I did have a moment, driving to work one day, of just how cool this is," Chase said.  "By no means, did I have a big part on that show, but just being part of something again that was bigger than myself, I just really enjoyed the ritual of going to work and playing, which is essentially what we do. We play pretend. Acting is a kids' game. And, I got paid for it. I was like, 'Awesome, I'm in!' It was fun." 
"Buffy the Vampire Slayer" was a springboard for Chase, who had just a three-year gap between his exit from "Buffy" and his next major starring role.
Bailey Chase starred on As The World Turns from 2003 until 2005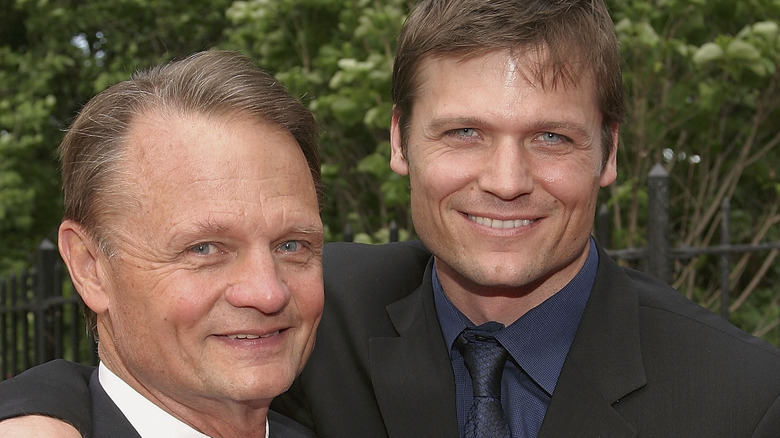 Thos Robinson/Getty Images
For two years in the early aughts, Bailey Chase starred on the long-running CBS daytime soap opera, "As the World Turns" as Chris Hughes. Chase was one of nine actors to take on the role, playing Hughes from January 2003 until January 2005 before being replaced by Dylan Bruce in 2007. 
When asked about the revolving door to the dressing room for Chris Hughes, Bruce told Soap Opera Digest, "I like the fact that there's been a lot of takes on it. I guess it makes for a more interesting character. But then I heard there was a curse, too!" The casting was far from a curse for Chase, who used his 26 appearances on "As the World Turns" as a stepping stone from "Buffy the Vampire Slayer" to a variety of roles, including one several years later on another popular and critically acclaimed series.
Bailey Chase appeared on the 2017 revival of Twin Peaks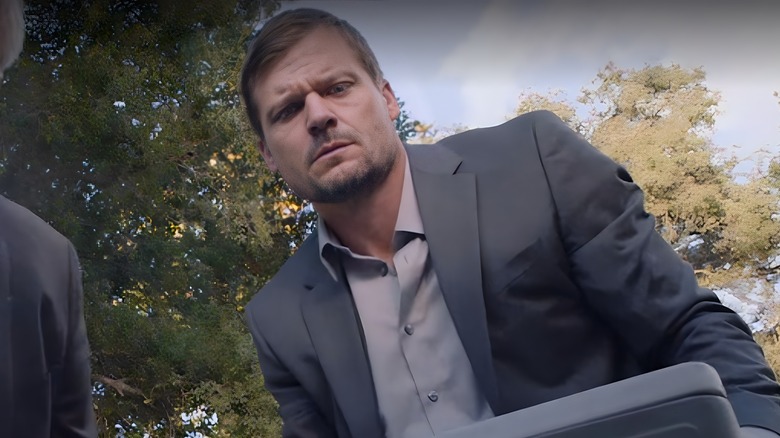 Showtime
Bailey Chase appeared in the 2017 version of "Twin Peaks," a continuation of the original series, which aired in 1990 and 1991 and earned 27 Emmy nominations and two wins. Chase appears in two episodes of the revival series as South Dakota State Police Detective Don Harrison, who visits Buckhorn to help investigate the murder of local librarian Ruth Davenport (Mary Stofle). 
The actor spoke to CBS 8 in San Diego about the long delay between the show's production and air dates, explaining that it had been about two years between filming and the show's premiere. He added that he enjoyed working with his co-stars as well as the show's legendary creator. "It was just great, such a diverse cast," Chase said. "And David Lynch just has such a beautiful mind so it's nice to see it come to fruition on the screen."