Boba Fett Star Temuera Morrison Compares Dave Filoni's Star Wars Movie To An MCU Crossover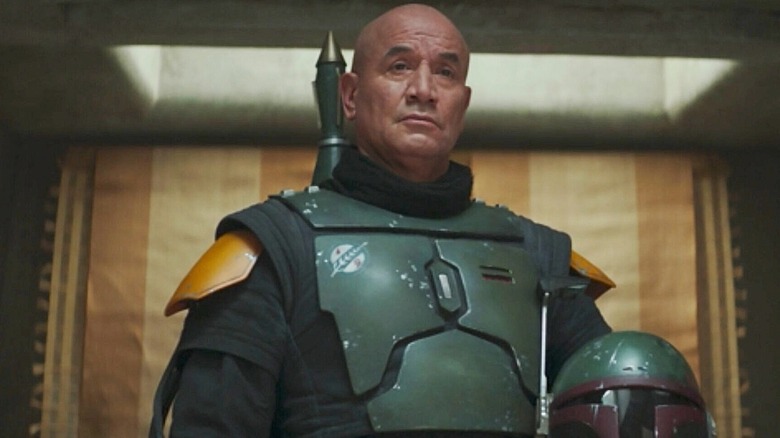 Lucasfilm/Disney+
Thanks to recent "Star Wars" productions on Disney+, several beloved actors from the franchise's past have had the chance to return to the galaxy far, far away. One such name is Temuera Morrison, who played Jango Fett and the entire Republic clone army in the prequel film trilogy and returned to portray Boba Fett on "The Mandalorian" and "The Book of Boba Fett." Looking toward the future, the actor has teased that the "Star Wars" universe could be up for a Marvel Cinematic Universe-style crossover in Dave Filoni's "Star Wars" movie — something he'd love to be a part of.
"There was talk at the recent Celebration...they were getting a group together. It sounds a bit like Avengers if you ask me," Morrison said during an interview at Supanova Melbourne (via Dexerto). He wonders if Filoni's frequent "Star Wars" collaborator Jon Favreau — the man that famously helped launch the MCU in 2008 as the director of "Iron Man" — influenced the decision. Speaking specifically on returning as Boba Fett for the cinematic effort, Morrison jokingly said, "[I] better be in it. I better be a part of that whole thing."
If Filoni is indeed building a team to lead his "Star Wars" movie, Morrison's Boba Fett would be a prime candidate. After all, it would cushion the blow that was his omission from "The Mandalorian" Season 3.
Morrison was hoping to feature in the third season of The Mandalorian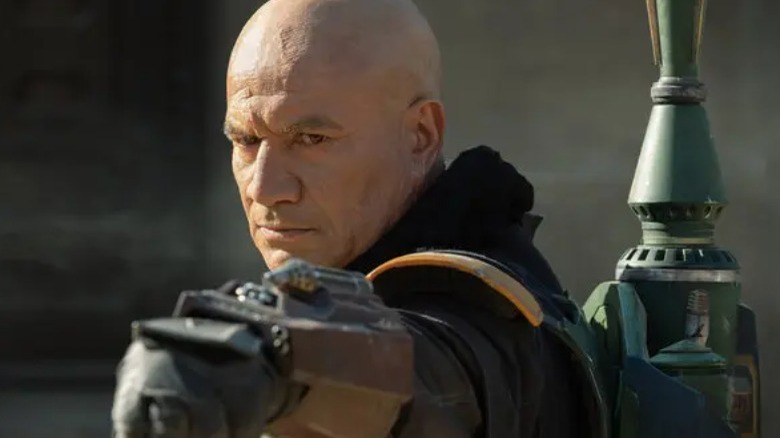 Lucasfilm/Disney+
After factoring heavily into the story of Din Djarin (Pedro Pascal) and the now-Din Grogu in the second season of "The Mandalorian" and the debut season of "The Book of Boba Fett," Temuera Morrison's Boba Fett was absent from "The Mandalorian" Season 3. One could certainly argue that the Tatooine crime boss didn't fit into the story of the recent batch of episodes, but Morrison is inclined to disagree. He very much expected to take part and was disappointed when he never got the call to appear.
"I was supposed to be in 'The Mandalorian' Season 3, but nobody rang me. I was waiting for the phone call in New Zealand, waiting and wanting to give up," he shared at Supanova Melbourne (via ComicBook.com). He also went on to address the two "Book of Boba Fett" episodes dedicated to Djarin's story, joking, "Well, that Mando guy stole a few chapters of my book. It was painful watching him turn up with some black, new, lethal sword." At the end of the day, though, he accepts that he's not a writer on "The Mandalorian," so all he can do is deal with Fett disappearing from the narrative.
With so many new stories coming out of the "Star Wars" universe, one can only hope Temuera Morrison will again don his Boba Fett armor down the road.