And Just Like That Season 2 - Everything You Need To Know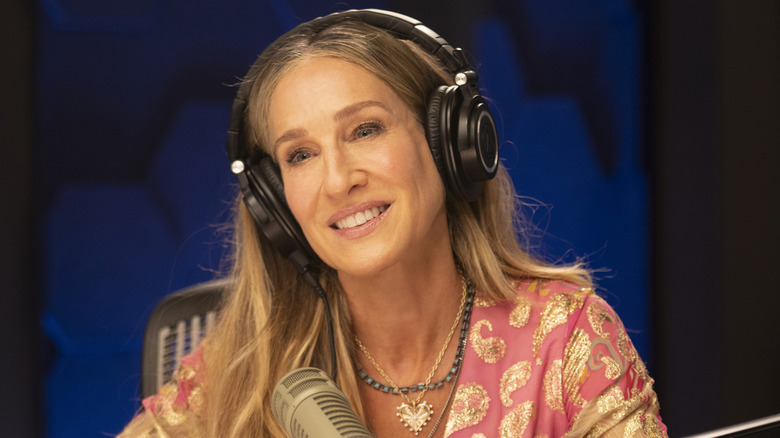 Craig Blankenhorn/Max
We may receive a commission on purchases made from links.
And just like that, Carrie Bradshaw (Sarah Jessica Parker) got a new season.
Fan reaction to the first season of "And Just Like That...," the revival series for HBO's mega-successful "Sex and the City" has been decidedly mixed, but streaming numbers and ratings were definitely good enough for HBO to greenlight a second season in March 2022, roughly a month and two weeks after the show's first season finale.  And now it looks like the show's audience won't have to wait too much longer to find out how Carrie gets on with her life post-Big (Christopher Noth). 
When last we left our flock of New York-based best friends, one of them decided to fly the coop to the West Coast, another came to grips with the fact that her child is nonbinary, and a third traveled to her other favorite city, Paris, to accept the fact of her widowhood. What sorts of adventures await Miranda Hobbes (Cynthia Nixon), Charlotte York (Kristin Davis), Seema Patel (Sarita Choudhury), Carrie, and all their friends in Season 2? This is what we know so far.
When will And Just Like That Season 2 be released?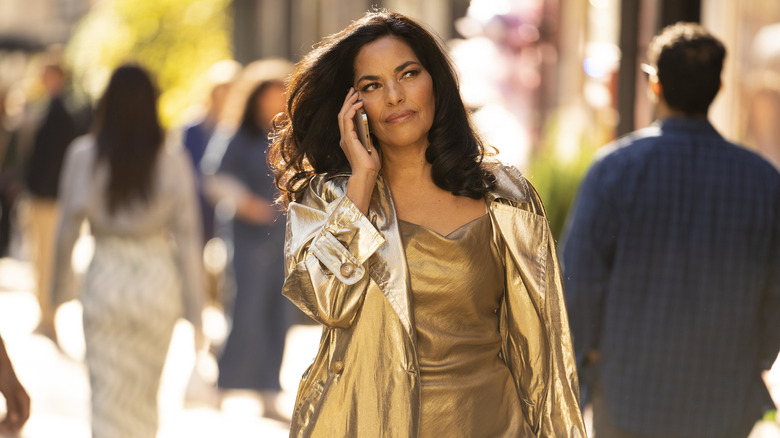 Craig Blankenhorn/Max
According to an interview with "And Just Like That..." showrunner, co-executive producer, and writer-director Michael Patrick King published on Variety in June of 2022, it appears that Season 2 should debut sometime in the summer of 2023 on Max. There has been no concrete date attached to the show's release as of press time, but the show's principal actors had been seen filming around New York City since the fall of 2022, and shooting wrapped on April 13.
For comparison's sake, the first season of "And Just Like That..." debuted on Max in early December 2021, with a fresh episode released to the streamer every week. The series aired its season finale on February 3, 2022. If Season 2 follows this pattern, it's likely to spool out gradually over a few months. Shifting the show away from the holiday season and toward a summer schedule may give fans time to pace their way through this batch of episode's juiciest moments without worrying about seasonal social commitments and other folderol getting in the way. What better way to cool down from the summer heat than with a Cosmo and a laugh when "And Just Like That" arrives on Max on June 22, 2023?
What is the plot of And Just Like That Season 2?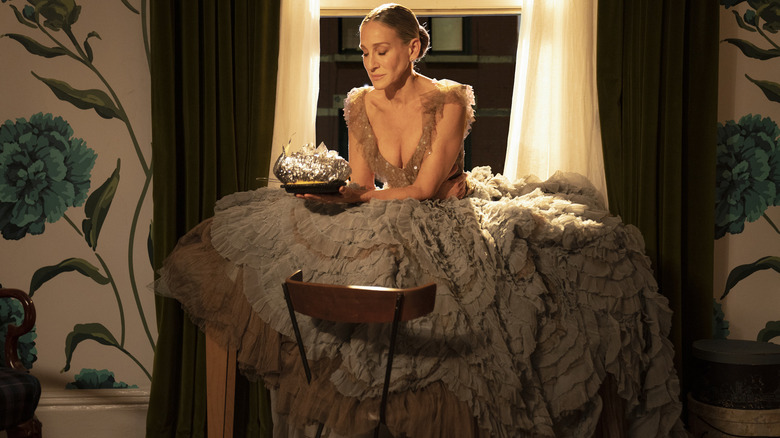 Craig Blankenhorn/Max
When last we left our intrepid troop of gals, Carrie Bradshaw finally manages to land her own podcast, and of course, the audio version of "Sex and the City" is a hit. She also kisses Franklyn (Ivan Hernandez), her producer, travels to Paris to scatter Big's ashes into the Sein a year after his passing, and starts texting long-lost bestie Samantha Jones.
Elsewhere, a recently-divorced Miranda Hobbes tosses college and job-related obligations out the window to move to Los Angeles with Che Diaz, her new significant other, while the latter shoots a TV pilot. Charlotte York-Goldenblatt finally comes to accept her child Rock's gender identity and throws them a they-mitzvah. Seema Patel has entered into a passionate romance with Zed (William Abadie), a French nightclub owner. And Nya and Andre Wallace head toward divorce.
Where will all of these stories wind up? Expect the show to take a time jump for Season 2, per Michael Patrick King. Candid pictures snapped by paparazzi also show that Charlotte might be getting to work in an art gallery, returning her to her pre-marriage passion, and that Miranda will be back in New York City sooner rather than later from her California sojourn. But since Ramirez has been seen shooting in New York, don't expect Miranda to break up with Che any time soon. And according to the Season 2 official trailer, Charlotte will consider a deeper commitment at work (with the socializing opportunities that brings) while Carrie reconnects with "Sex and the City" boyfriend Aidan, looking to live a little after spending a year mourning her husband.
Who is starring in And Just Like That Season 2?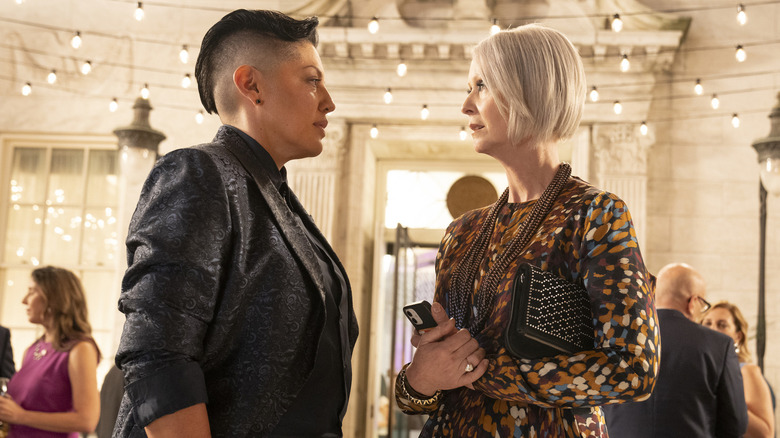 Craig Blankenhorn/Max
...because yeah, Aidan's back. Spoiler pictures posted by Sarah Jessica Parker on her Instagram confirm that Carrie's old love, Aidan Shaw (John Corbett) will be returning to the program, throwing a wrench into her possible romance with Franklyn. 
The rest of the show's cast seems to be in place. Sarah Jessica Parker, Kristin Davis, and Cynthia Nixon will all be back in their Manolo Blahniks for "And Just Like That..." Season 2. Newbies Sarita Choudhury, Karen Pittman, and Nicole Ari Parker will all return as Seema, Nya, and Lisa Todd Wexley, respectively. They'll be joined by Evan Handler, who plays Charlotte's hubby Harry Goldenblatt; Cathy Ang, who plays their daughter Lily; and Alexa Swinton, who plays Rock. Sara Ramirez shall return as Che Diaz, whom Michael Patrick King vows will carry more plot in Season 2. 
It's likely we might see Miranda's ex, Steve, and her son, Brady, as played by David Eigenberg and Niall Cunningham respectively. Chris Jackson should be back as Lisa's husband, Herbert, while LeRoy McClain and Ivan Hernandez should reprise their respective roles as Andre and Franklyn. And Mario Cantone will be back as Anthony Marentino. As for Anthony's soon-to-be-ex, Stanford Blatch, whose portrayer Willie Garson died in September 2021, the show plans on keeping the character alive offscreen. 
The show will also feature a guest appearance from singer Sam Smith. 
Candice Bergen will reprise her "Sex and the City" role as Carrie's "Vogue" editor Enid Frick, while publishing icon and feminist pioneer Gloria Steinem will play her himself. Another guest star? Tony Danza, who will play Che's character's father as a part of their sitcom pilot. Fans can also expect Kim Cattrall to pop up as her "Sex and the City" character Samantha Jones, said to be residing in Paris. Cattrall will make a cameo appearance in the Season 2 finale of "And Just Like That."
Who is the showrunner for And Just Like That Season 2?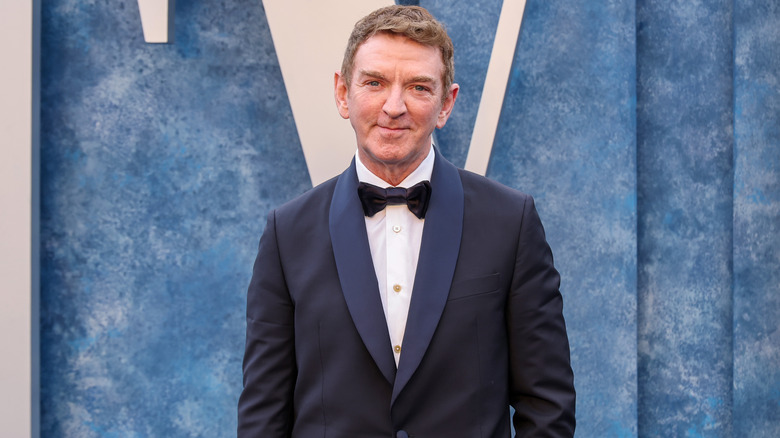 Amy Sussman/Getty Images
Michael Patrick King shall continue showrunning for "And Just Like That..." Season 2, and will remain on as an executive producer as well. King will also presumably be directing and writing some of the show, as he did during Season 1. As for now, there's no word on who directed the show's first episode nor who wrote it, even though the show's stars showed off their Episode 1 scripts on Instagram. There's no word as to who will be writing for the show during Season 2 in general, nor who directed each of it 10 episodes.
Season 2 of "And Just Like That..."  will also be produced by Season 1 producers Sarah Jessica Parker, Kristin Davis, Cynthia Nixon, Julie Rottenberg, Elisa Zuritsky, John Melfi, and Michael Patrick King. There's been no word as to who else might join them for Season 2 as of press time.
Is there a trailer for And Just Like That Season 2?
On June 1, 2023, Max unveiled the first full-length trailer for the forthcoming second season of its "Sex and the City" continuation series, "And Just Like That." It's set about a year following the tragic events of Season 1, namely the unexpected death of Carrie Bradshaw's longtime lover turned husband, Big. The aphorisms she delivers suggest the big themes of Season 2: "You move on because you've outgrown who you used to be," and "Life's too short not to try something new." Carrie gets to work on herself then, ready to live again, learning to cook, doing some high-end department store retail therapy, and tentatively looking to reconcile from her other big "Sex and the City" romantic partner, Aidan Shaw. In the trailer, viewers see that Carrie instigates the reunion via a friendly and hopeful email. Aidan got the note, because the trailer shows the former lovers reconnecting over a romantic meal. 
Season "2 of And Just Like That" will continue to explore the healing power and joys of friendship and romance. Individually, each legacy character is off on their own adventure, like Miranda getting more serious with new love interest Che Diaz despite some reservations, and Charlotte trying to be the best mom ever to her adolescent daughter while balancing new work opportunities. 
Where to watch And Just Like That Season 1 (and Sex and the City)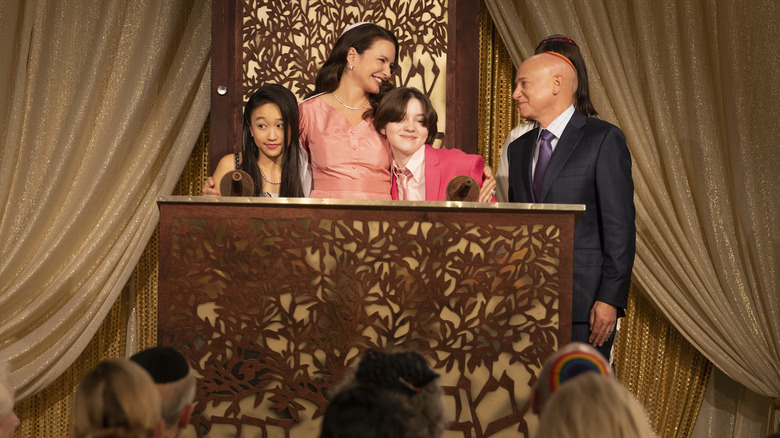 Craig Blankenhorn/Max
"And Just Like That..." was conceived as a Max exclusive, so you can find the show's first season on the streamer — but that isn't the only way you can watch it. Max offers multiple subscription plans, with the cheapest starting at $9.99 a month with ads or $15.99 ad-free. For individual episodes, you can check out YouTube, Google Play, Apple TV, or Vudu, which offer each episode of the show for $1.99 apiece in SD or $2.99 apiece in HD. You can also buy the entire season for $14.99 in SD or $19.99 in HD.
Want to watch the show that started it all? You can stream all of "Sex in the City" on Max, or through Hulu if you subscribe to Max. You can also buy individual episodes or seasons through Vudu or Apple TV, for the same price point as "And Just Like That..." And don't forget the show's two movie spin-offs, the first of which is available on YouTube, Google Play, Apple TV, Redbox, Vudu, and Amazon Prime Video for $3.99 to rent and $12.99 to own. You can find "Sex and the City 2" on Google Play, Apple TV, Redbox, Vudu, and Amazon Prime Video for the same price.
There's indeed plenty of ground to cover before Season 2 of "And Just Like That..." debuts, but if you stay dedicated, you'll soon be as sophisticated as Carrie — if not the owner of fewer pairs of shoes.