Mrs. Davis: Jay & Simone's 'Real Relationship' Is Crafted Carefully & By Design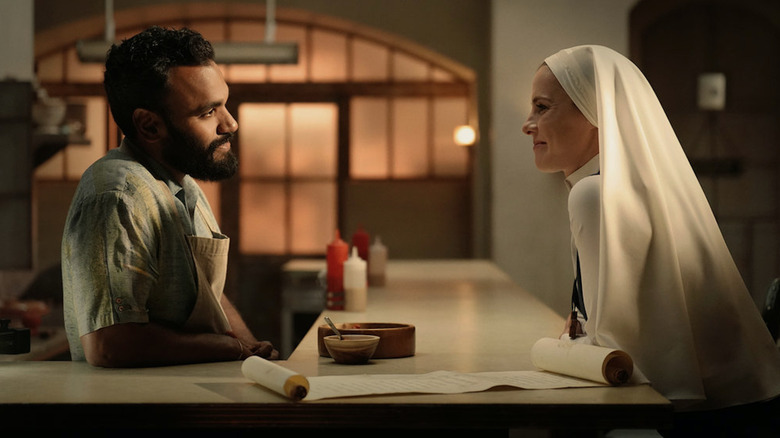 Elizabeth Morris/Peacock
Peacock's "Mrs. Davis" is many things. It's a sci-fi epic that pits a nun named Simone against an all-knowing, all-powerful algorithm; it's a tale of revenge and an exceedingly unorthodox love story.
The first four episodes of "Mrs. Davis" –- all of which premiered on Peacock on April 20 –- trace the romantic arc of Simone (Betty Gilpin) and Jay (Andy McQueen), an unassuming falafel fry cook. In one of many big twists, a real mind-blower drops in Episode 2, titled (thanks to some meta AI wizardry) "Zwei Sie Piel mit Seitung Sie Wirtschaftung," when it's revealed that Jay is none other than Jesus (yes, that Jesus). "It was love at first sight," Simone later explains. "Undeniable. Absolute. Forever."
For all of the obvious religious connotations, co-showrunners Damon Lindelof and Tara Hernandez took great care to present Simone and Jay's relationship as straightforwardly as possible and not be too, well, holier-than-thou. Even Gilpin had to eschew any notions that Jay would be some mystical, metaphysical being. "[Damon and Tara] were like: 'No, she's in love with a guy named Jay. This is her boyfriend. It's no different than if she were in love with a guy she met at work, he just happens to be Jesus," she said in an interview with The Hollywood Reporter, later adding, "I hope people take it as just a real relationship — instead of me dating an orb or the ocean."
The creators wanted Jay & Simone's relationship to feel authentic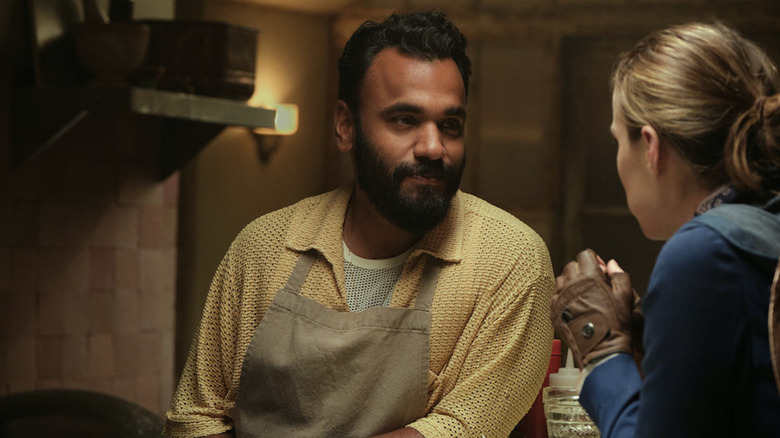 Tina Thorpe/Peacock
In the spirit of turning Jesus into normie boyfriend material, Damon Lindelof and Tara Hernandez imbued his and Simone's relationships with all the cracks and fissures of a typical relationship. Indeed, the partnership isn't as rooted in religious dogma as one might think. "Mrs. Davis" is probably the first show that paints Jesus as ethically non-monogamous, and when he says he loves everyone, he really means it. The result is an on-screen relationship that feels real and lived in, habits and religious ephemera notwithstanding.
"Part of what is so fascinating about nuns is that they are sort of mysterious and unrelatable," Hernandez told The Hollywood Reporter. "And so to take that into common terms — which is a marriage that has problems, a marriage that is exploring infidelity, a marriage that has this love triangle element — made it really exciting." Her hope, as well as Gilpin's, is that Jay's larger-than-life identity doesn't eclipse the intimacy of the relationship they've crafted for "Mrs. Davis." "It would be really cool if audiences experience the relationship and maybe the trappings or his name fall away," Hernandez continued, "and it just felt like this honest — honest to God – marriage that Simone has with Jay."
For Andy McQueen, the fact that he plays the son of God is practically incidental. "Personally, I never saw it as being Jesus," he said in an interview with Looper. "I just saw it as a love story between Simone and Jay."