Mrs. Davis: How Damon Lindelof's 2nd-Grade Teacher Inspired Parts Of The Show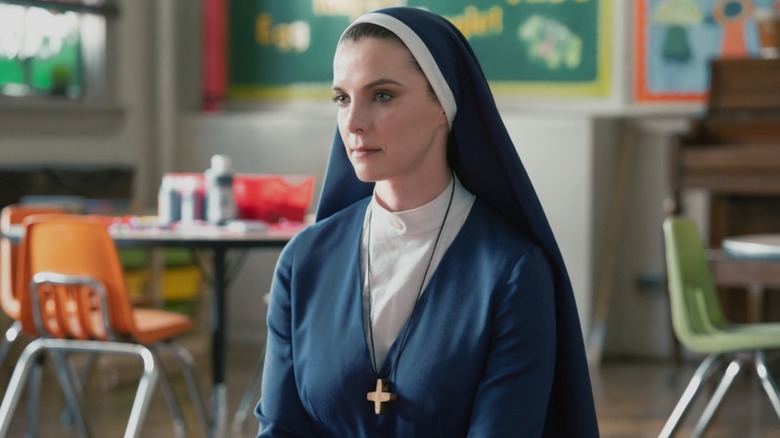 Colleen Hayes/Peacock
For Damon Lindelof's newest series, he teamed up with "The Big Bang Theory" writer Tara Hernandez to tell a truly wild and unforgettable tale. "Mrs. Davis" stars Betty Gilpin as the rebellious nun Simone tasked with retrieving the elusive Holy Grail for the titular artificial intelligence unit. This takes her on an unpredictable adventure with her ex-boyfriend Wiley (Jake McDorman), where they encounter several proxy messengers for Mrs. Davis. One of which actually inspired the series in a few ways through the fun reference he recently revealed.
Of the many mysteries in "Mrs. Davis," one of the biggest secrets derives from the many citizens the AI uses to speak to Simone. This keeps the actual entity hidden while adding an uncanny layer to the action-packed series. In a fun interview with The Hollywood Reporter, the extensive report reveals that the series title was inspired by Lindelof's second-grade teacher Mrs. Davis. Though they often consulted with an AI when writing the series, he specifically chose this name, which both honors his teacher and makes a certain proxy character even more unsettling. The first avatar Mrs. Davis talks to Simone through is warm and inviting; this gives the proxy a soothing nature which starkly contrasts the unfeeling and omniscient super-computer.
Damon Lindelof's teacher inspired the AI's name and first proxy speaker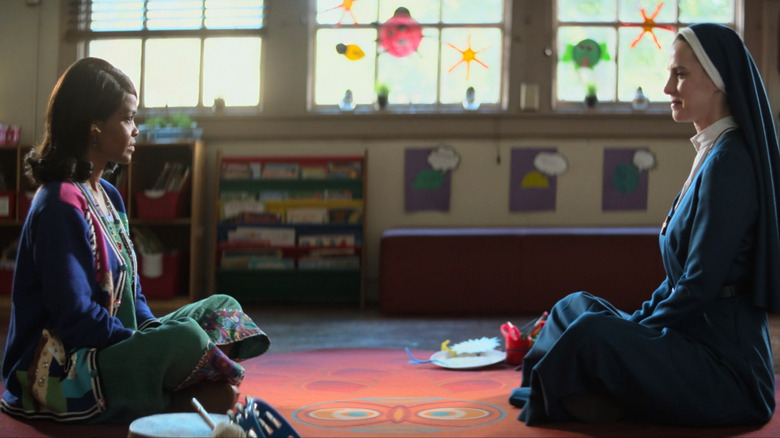 Peacock
The first four explosive episodes of "Mrs. Davis" premiered with rave reviews from critics for its originality and subversion of expectations. This batch also features Mrs. Davis' first appearance through the charming school teacher played by Kim Hawthorne. She gives Simone her seemingly impossible quest while also promising to self-destruct if she's presented with the Holy Grail. 
As The Hollywood Reporter detailed, Damon Lindelof intentionally chose this type of character so Mrs. Davis would appear gentle and kind during her first introduction. In fact, during the episode, Simone even makes that point herself when she says, "It's very clever. Because everyone loves their kindergarten teacher." This also has the added benefit of showing us Simone's suspicious personality that she acquired from her illusion-crafting magician parents. That ultimately gives her an added edge in her attempts to outsmart Mrs. Davis as she's consistently trying to peer behind the curtain at the truth of the trick.
Despite the cold and creepy nature of Mrs. Davis, it's nice to see the sentimental roots and intention behind the first proxy. With rockin' jams from icons like Dolly Parton and epic sword fights with nuns, "Mrs. Davis" is full of contradictory elements to keep viewers engaged and entertained.