Why Larry From Mrs. Davis Looks So Familiar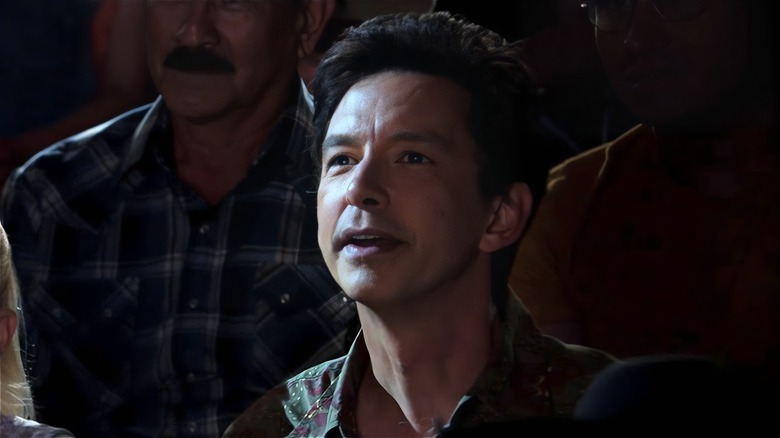 Peacock
"Mrs. Davis" has finally hit Peacock, bringing audiences what will surely be remembered as one of the weirdest shows of the 2020s. The sci-fi concept melds religious action with A.I.-generated intrigue as it slowly circles the bizarre mystery at the heart of this dystopian tale. A Damon Lindelof project, it is anchored by Betty Gilpin's Sister Simone — a cunning nun trying to resist the will of a globally dominant artificial intelligence. Before she became a member of the Cloth, however, Episode 2 reveals that she helped her father perform magic acts at a casino in Reno, Nevada. During his shows, she would be discreetly transferred to a fake couple, with the three ultimately working together to fool the audience into believing she's a genuine volunteer when she raises her hand for a card trick.
Though her real father is played by "Scream" star David Arquette, her fake father, Larry, is played by character actor Todd Aaron Brotze. Known for his range and careful use of dry wit, Brotze has weaved his way through some of the most well-remembered series in TV history.
Todd Aaron Brotze was a presidential doctor on Veep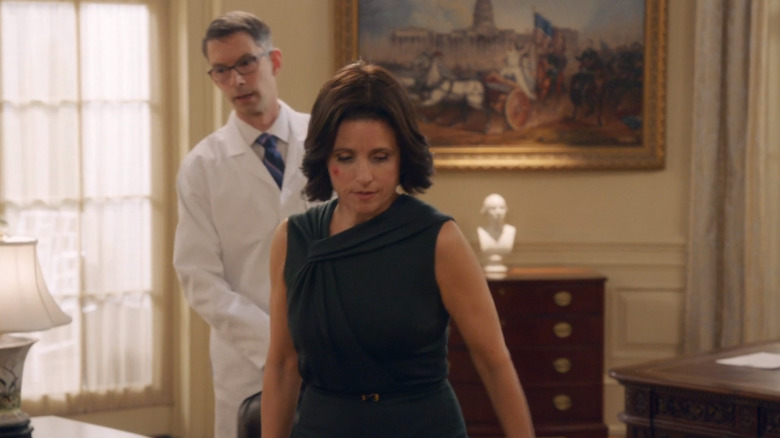 HBO
From 2016 to 2017, Brotze recurred on the critically acclaimed HBO political satire "Veep," which starred Julia Louis Dreyfus as Vice President Selina Meyer, a petty, cynical career politician trying to navigate a White House almost as dysfunctional as her own staff. Brotze played Dr. Hector Abernathy, the Veep's personal physician and medical advisor.
Dr. Abernathy appeared twice in Season 5 — once in the episode "Morning After," in which he tried to help Selina manage a "stress pimple" that popped up on her face the morning after a U.S. presidential election resulted in a tie between her and her opponent. His second appearance came a few episodes later in "Thanksgiving," which saw him attempt to surgically remove the bags from underneath Selina's eyes. In the Season 6 episode "Justice" (in which Selina believed she might be nominated to the Supreme Court), he briefly treated Selina after she (and Gary) suffered a small heart attack.
Though he doesn't return to the series after its penultimate season, that wasn't actually his final contribution to the "Veep" universe. In 2020, during the height of the COVID-19 pandemic, Vulture sought to lighten the mood by asking TV creators what their fictional characters would do in this real-life crisis. "Veep" executive producer and showrunner David Mandel penned a non-cannon "recounting" of how President Meyer handled the pandemic — he noted that during this era, Dr. Abernathy was appointed head of the CDC.
Todd Aaron Brotze provided counsel to the world's most hapless millionaires on Arrested Development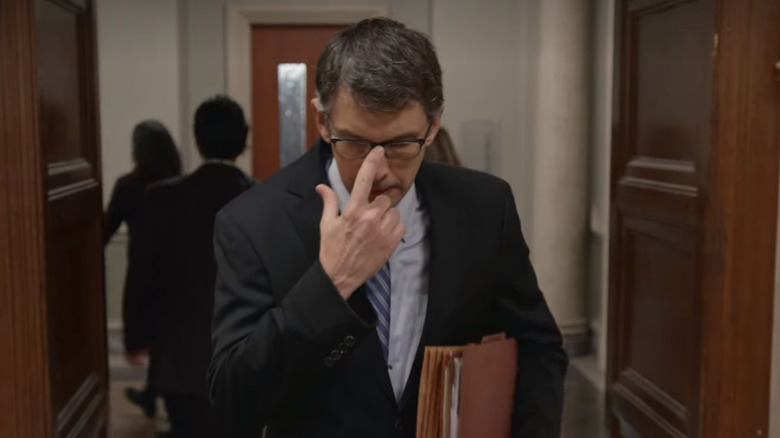 Netflix
One of television's more complicated relics, "Arrested Development" began its life as a misunderstood gem, died as a certified cult classic, and was ultimately resurrected as a welcome but disappointingly mishandled reboot. Where Fox struggled to find an audience for an exceptional product, Netflix struggled to produce satisfying content for a hungry audience. By the time the second half of the fifth (and final) season rolled around, longtime fans were either disheartened or tuned out, pretending the series really had ended back in 2006.
If you found yourself in the latter camp, you sadly missed Brotze's recurring role as Garrison "Harvard" Sweet. After Buster (the youngest Bluth brother played by fellow "Veep" alum Tony Hale) is arrested on charges of evidence tampering, a recently disbarred Barry Zuckerkorn (Henry Winkler) helps the family to assemble a legal team known as "The Guilty Guys."
The narrator (voiced by Ron Howard) somewhat awkwardly describes that Harvard was "As elegant on the page as he was on the dance floor," but he also says that, "In both cases, he wasn't afraid to step on a few toes." He only appeared in two consecutive episodes.
Todd Aaron Brotze taught at a prestigious law school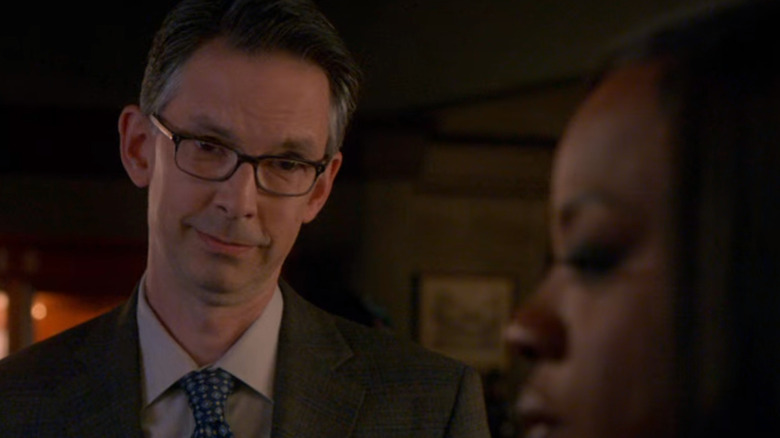 Netflix
In the fourth and sixth seasons of the ABC crime-legal drama "How To Get Away With Murder," Brotze appeared twice as the smarmy Professor Cormicle. The Viola Davis-led Shondaland series ran for 90 episodes between 2014 and 2020, and followed a protracted murder investigation and cover-up that could've potentially implicated a law professor and several of her students.
In his first appearance in the episode "Was She Ever Good At Her Job?", Professor Cormicle is seen explaining the ins and outs of class action lawsuits while Annalise Keating (Davis) is preparing for one of her own. Like all the most beloved professors, Cormicle exclusively calls upon people he thinks aren't listening or are busy taking notes — though it's kind of fun to watch him cut through Asher's (Matt McGorry) lazy response. 
In the final season, he attends a party where he attempts to glean Annalise's plans for future employment. Though she refuses to answer, the inquiry quickly goes awry after a news story breaks that her husband's murder case has been reopened.
Todd Aaron Brotze ran a paper airplane competition on The Office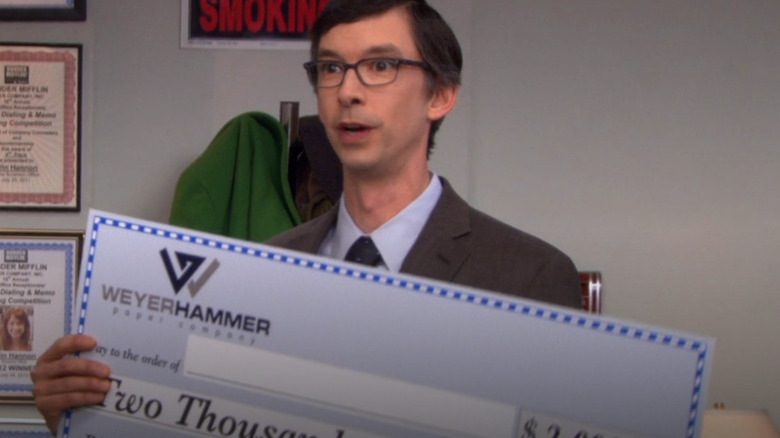 Peacock
The final season of NBC's defining workplace mockumentary "The Office" is likely remembered by most fans for its inconsistent quality. Amid disappointing lows and refreshing highs, Season 9 at the very least managed to progress its core characters with more purpose than ever before, working step-by-step to bring each of their individual arcs to a satisfying end.
One of these arguably underappreciated steps comes in the form of "Paper Airplane," the season's twentieth installment. The marital woes of Jim (John Krasinski) and Pam (Jenna Fischer), the fallout of Dwight (Rainn Wilson) and Angela's (Angela Kinsey) strained personal relationship, and the start of Andy's (Ed Helms) acting career are all set against the backdrop of a fierce paper airplane competition sponsored by one of Dunder Mifflin's business partners — WeyerHammer Paper.
If you go back and rewatch the episode, you'll find that Brotze plays the role of WeyerHammer rep Robert. He notably arrives with an appropriate amount of corporate enthusiasm for the competition and a large check for $2,000 — the latter of which comes as a huge shock to the remaining "Elite Eight (or, rather, Seven Plus Toby)." Unfortunately, we don't get to see much of Robert after he arrives, though perhaps the inevitable "Superfan" episodes will reveal more.