A Fellow Breaking Bad Star Inspired Dean Norris To Become An Actor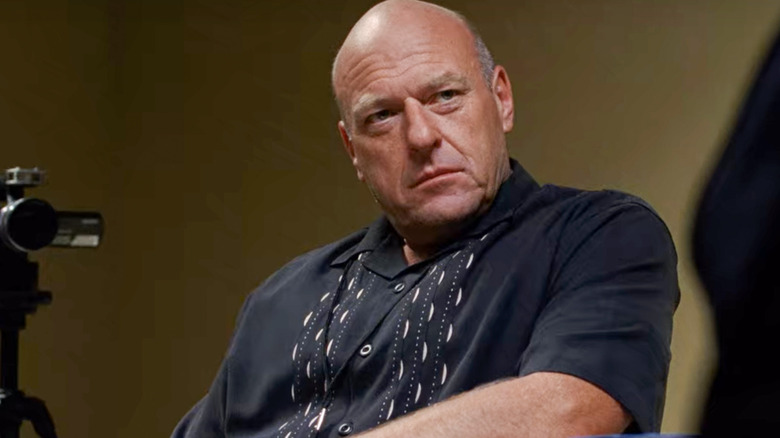 AMC
Dean Norris already had a long career with dozens of military and law enforcement personnel roles before being cast as DEA agent Hank Schrader on "Breaking Bad" in 2008. Even after Hank met his bloody end in the New Mexico desert, Norris went on to star as Chester's Mill town councilman "Big Jim" Rennie on "Under the Dome," then as organized crime boss Clay "Uncle Daddy" Husser on "Claws." 
While not often the traditional leading man, Norris has always brought a rough-hewn intensity to his characters, and that quality helped make Hank, Big Jim, and "Uncle Daddy" all forces to be reckoned with in their own unique ways.
In a 2013 interview with Vulture, Norris credited one of his "Breaking Bad" co-stars with helping show him that he could have a career in Hollywood. "When I was thinking about acting, TV was like 'Walker Texas Ranger' and 'Murder She Wrote,'" Norris said." Everyone looked great, no one sweated, no one was bald. And then 'Wiseguy' came along [in 1987] and it was grittier, and Dennis Farina, God rest his soul, and Jonathan Banks, who wasn't necessarily a good-looking guy, but a tough guy, and a TV star, you know? And I remember thinking, 'F—, if he can get on TV, I can. I could be that guy.' I probably would have become an actor anyway, but he gave me encouragement."
Jonathan Banks and Bryan Cranston brought experience and professionalism to Breaking Bad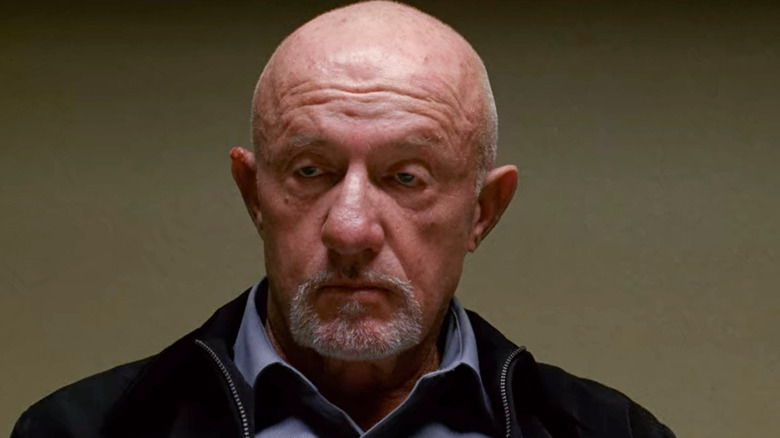 AMC
Dean Norris added that in the years between "Wiseguy" and "Breaking Bad," Jonathan Banks didn't pop up much on his radar. "And then I didn't see him much, and then he shows up on the 'Breaking Bad' set," Norris said. "And I'm like, 'That's the guy I saw 25 years ago,' and I told him that. He was [pleased]. You know, he's a gruff old guy. He doesn't show much. But [he's] a sweet guy." 
In the interview, Norris also had high praise for the influence and work ethic of another co-star, six-time Emmy winner Bryan Cranston. "I have called and will still call Bryan in the future if I have any professional choices to make," Norris said. "He was the guy who talked me into taking the part, and I see how he led the cast by example: never late, always the first one out there ... There's not a split second when he wasn't completely present — every second onscreen was important. He never stopped thinking about how to make a scene better, no matter whose scene it is." 
The pedigree and professionalism the cast of "Breaking Bad" brought to the series is evident in every one of its 62 magnificent episodes, making it the enduring masterpiece it remains today, nearly a decade after it wrapped. And, of course, Dean Norris and his incredible portrayal of Hank Schrader are forever part of that undisputed legacy.