Jurassic World: Fallen Kingdom Cut Character's Lesbian Reveal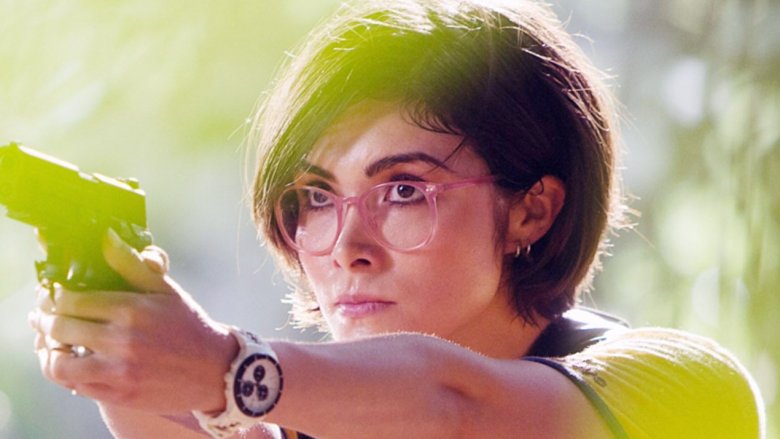 Universal Pictures
Another pop culture character's queerness has been left on the cutting room floor, according to Jurassic World: Fallen Kingdom star Daniella Pineda.
Speaking in an interview with Yahoo Entertainment, the Vampire Diaries actress said that a moment in the movie that identified her character as a lesbian was ultimately cut from the film.
"There was a scene that I really, really loved," Pineda said. "And I understood why they cut it, for sake of time. It was me and Chris Pratt, and we were in a military vehicle with all of these mercenaries. I look at Chris and am like, 'Yeah. Square jaw. Good bone structure. Tall. Muscles. I don't date men, but if I did, it would be you. It would gross me out, but I'd do it.'"
According to Pineda, the queer aspect of her character, Dr. Zia Rodriguez, was baked into the script from the very start. "That was J. A. and Colin," she said, referring to director J. A. Bayona and Colin Trevorrow, who co-wrote the script with Derek Connolly.
"It was cool because it was a little insight into my character, but they cut it," Pineda said. 
It's another frustrating instance of a tiresome trend in which major studio movies are conceived of, produced, and/or promoted as having queer characters, only for those characters' statuses as queer people to never actually manifest on film. 
Off the top of our heads, this has recently been the case with Thor: Ragnarok, Black Panther, and Solo: A Star Wars Story, all of which supposedly featured (or were meant to feature) gay characters — not that you'd notice, if you only watched the movie.
This very issue was recently raised in a report from the media advocacy group GLAAD, which found in its annual Studio Responsibility Index that queer representation on screen actually significantly decreased between 2016 and 2017. 
Last year, only 14 major studio releases out of 109 movies featured LGBTQ characters, down from 23 out of 125 the year before. The group began measuring queer inclusion in major studio movies in 2012.
One movie that recently managed to handle queer representation on screen with refreshing effectiveness is the superhero spoof Deadpool 2, which introduced the X-Men member Negasonic Teenage Warhead as being in a relationship with a girl named Yukio. 
Those characters, and their relationship, were hardly important to the movie's plot, but that lack of importance to the narrative is exactly what made the characters' relationship such a good case of queer representation. 
Just like a movie doesn't need a black-centric plot to have black characters, a movie doesn't need to be about gayness to include gay ones. Queer people can play tag with dinosaurs too, after all. 
Jurassic World: Fallen Kingdom will be out in theaters on June 22.