Who Plays Jos In The Power? And Why Does She Sound So Familiar?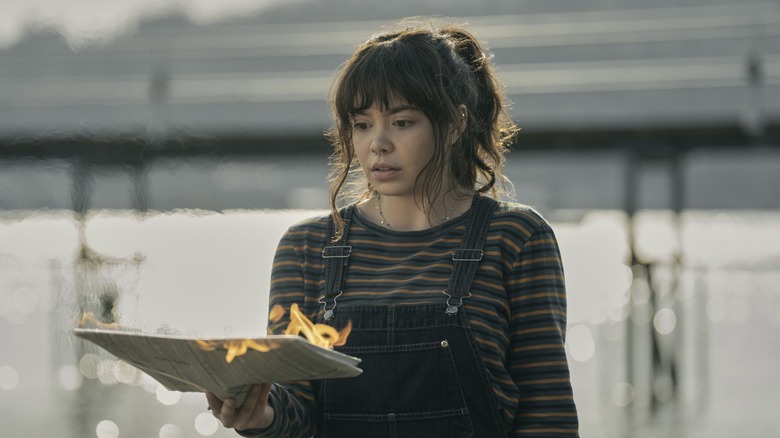 Katie Yu/Prime Video
There is always a gamble when shows have a large ensemble cast. By design, some characters are not as interesting as others. Storylines can get lost in the shuffle. "The Power" is the outlier. The new Amazon series has benefited from a large cast, resulting in not just a concise concept but engaging characterizations of a mostly female ensemble. Naturally, there will be favorite characters among the bunch. The more flashy characters include Roxy (Ria Zmitrowicz), the illegitimate daughter of a London mob boss, and Allie (Halle Bush), a possible messiah who hears the voice of God. However, no one should overlook Jos (Auli'i Cravalho), the insecure daughter of Margot (Toni Collette). 
While she may be living the typical life of a teenager of hating her mom and crushing on boys, she is the emotional center of the series. The low stakes of her life leave the audience open to empathizing with her the most. She is the most relatable, and the casting of the part reflects that. Cravalho is used to playing young girls with the world's weight on their shoulders. Or at least the weight of Disney. You may find her voice most familiar as the voice of Moana.
She played more than one Disney princess
At only 14 years old, Auli'i Cravalho earned what some only dream of when she landed the role as the titular character in Disney's "Moana." Disney spent months auditioning actors in the Pacific Islands to make sure they could tell an authentic story. But Cravalho says that initially, she was uncertain if she would get the part.
"When I first heard that there was gonna be an audition to potentially play the role of Moana, I thought: 'No way that can be me,'" Cravalho said in a behind-the-scenes look at the film. As casting tells it, however, Disney were the lucky ones. They found the young actor on the last day of casting, which only served as a jumping off point for her career. Playing the part of a young Polynesian girl, the film is a heartwarming portrayal of an underrepresented group. From there, the up-and-comer continued her success in "Rise" and "Crush." Her voice continued to carry her until she found her way back to Disney as Ariel in "The Little Mermaid Live!" — which "The Power" actor was more than happy to do.
"The wonderful thing about the Disney family is that every project is reflective of its time," Cravalho told Collider. "As I've continued to work with them, I get to see everyone grow. Each character will be different from the last and they'll be a direct connection to the time that they're created in, and that's really exciting to me."