Who Did Jimmy Buffett Play On Blue Bloods?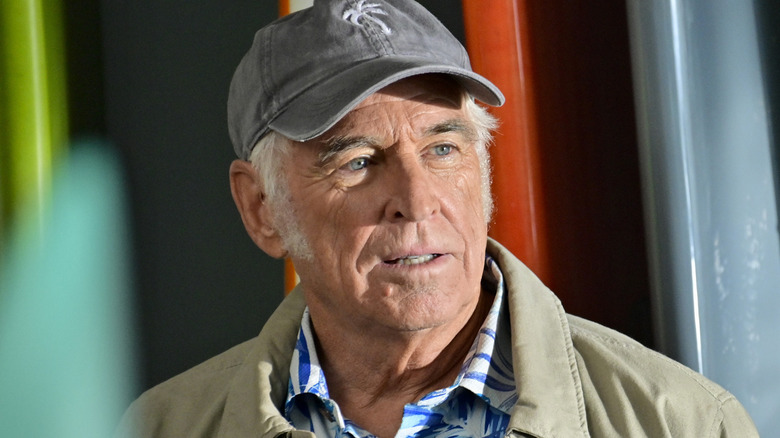 John Paul Filo/CBS
Outside of music and Margaritaville, Jimmy Buffett has been known to participate in acting endeavors from time to time. Whether he is running from dinosaurs in "Jurassic World" or playing Frank Bama in seven episodes of "Hawaii Five-0," the man knows how to get people's attention, like when he made an appearance on the series "Blue Bloods."
In Season 12, Episode 11 ("On the Arm"), Buffett portrayed a con artist by the name of Dickie Delaney, who pretended to be the famous singer in order to pull off schemes and trick unsuspecting marks, like Danny Reagan (Donnie Wahlberg). Delaney ends up on Danny's radar when he tricks the NYPD detective into paying for his high-priced meal, and before the entry concludes, Buffett's character quickly learns that he shouldn't have messed with Danny. But the famous musician didn't just play a man pretending to be Jimmy Buffett in the episode, as he also took on the role of himself, a part many would agree he was born to play. Even though the singer has only appeared in one entry, Buffett clearly made an impact on "Blue Bloods," pulling double duty, whether it was revered overall as good or bad.
Buffett's "Blue Bloods" guest spot most certainly received a mixed reaction from fans, and one cast member wasn't afraid to let people know what it was really like working with the Grammy-nominated artist.
Donnie Wahlberg has only nice things to say about the mayor of Magraitaville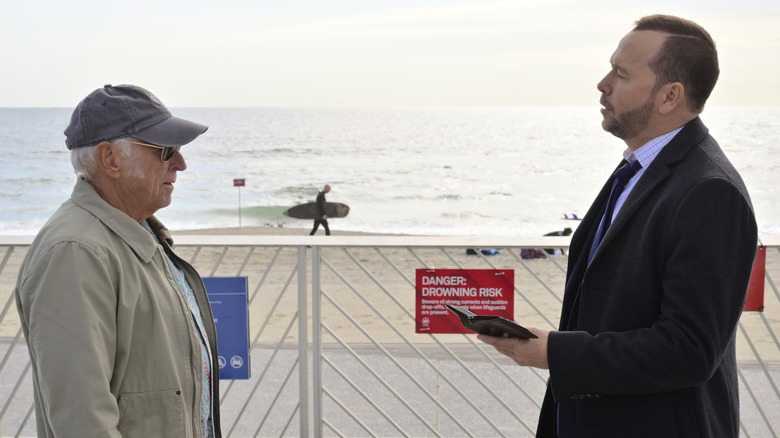 John Paul Filo/CBS
When Jimmy Buffett appeared on "Blue Bloods," most of the time was spent working with Donnie Wahlberg. And while the two onscreen characters did not necessarily get along, Wahlberg had a blast working with Buffett behind the scenes. After shooting together, Wahlberg posted his excitement for fans to see what they had accomplished and offered high praise for the exceptional efforts performed by the show's celebrity guest star. "Looks Rockaway Beach, but it feels like Margaritaville!" the actor wrote on Instagram. "Having a great time shooting a fun new episode of @bluebloods_cbs with the legend @jimmybuffett! What a great guy! So fun!" Wahlberg also made sure to let Buffett know one more time how much he enjoyed creating a great episode for fans with him, posting on Twitter around the time the entry aired, saying, "Loved working with you, so much, my friend."
It seems from the detective's accounts of what went down the pair had solid chemistry both on and off camera, and after reviewing the evidence, there could be a number of reasons attributed to why these two work so well together. They have several things in common like they are both recognized as famous singers and have demonstrated their proficiency at entertaining a large audience in the music game. Whatever the reasoning is, their collaborative efforts worked out, and while Buffett isn't the most famous actor to appear in the series, it's safe to assume he is one "Blue Bloods" guest star who Donnie Wahlberg wouldn't mind getting an encore performance somewhere down the line.