90 Day Fiancé: Legal Docs Regarding Gabe's Transition Cause Wedding Stall
Many people might say that love is one of the greatest reasons for living. To find someone who truly understands you, and accepts you for who you are, is one easily an outcome that many people want or have already achieved. The drama-filled reality TLC series "90 Day Fiancé" dives right into the pursuit of romantic love by showing off couples who move quickly to tie the proverbial knot. While some of these relationships don't work out for a myriad of reasons, some do, which is probably why the aforementioned show has created an entire legion of spin-off shows, like "90 Day Fiancé: The Other Way."
This particular spin-off focuses on an American who decides to get married and move to another country, which is why the series is named in such a manner. In the most recent episode, the couple Gabriel Paboga and Isabel Posada met an unfortunate roadblock involving paperwork. This is because Gabriel is in the process of transitioning genders, and Isabel's country of Colombia requires an accurate birth certificate in order to be married. Unfortunately, this issue created some problems for the hopeful couple, which resulted in Gabriel having to return to the United States in order to rectify his birth certificate and avoid running into immigration issues.
Colombia is progressive when it comes to marriage and gender equality, so Gabe just needs an amended birth certificate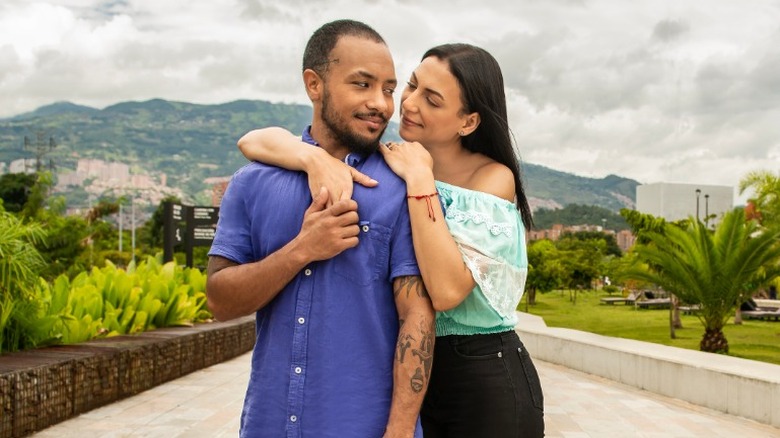 TLC
Although the previously mentioned paperwork problem created a fight between Gabriel and Isabel, with Isabel complaining that Gabe should have considered that he would need such documentation, Gabriel retorted and said that he never thought he would end up living in another country. Though the recent episode of "90 Day Fiancé: The Other Way" ends with Gabe returning back to the United States, audiences may have been left wondering if Gabe and Isabel would see each other again because getting official government documents amended isn't exactly known to be an expeditious process.
Luckily, Colombia actually has some fairly progressive stances on marriage and equality. In 2022, Colombia's High Court officially recognized a third non-binary gender, which is one of the first Latin countries to make such a decree. Likewise, 2016 saw the country uphold same-sex marriage. In other words, the only thing holding up the marriage between Gabriel and Isabel is simply paperwork, and had Gabe changed his birth certificate before arriving in Colombia, this problem would have been rendered moot. However, it is important to note that changing a birth certificate is dependent on the state, and this process generally takes around four to eight weeks, though some states allow for rush orders. How this affects Gabriel's and Isabel's relationship going forward is sure to be of great interest to fans of "90 Day Fiancé: The Other Way," and one can only hope that they are reunited sooner rather than later.