Ben Affleck & Matt Damon Were Extras On Field Of Dreams (& Worked With Kevin Costner)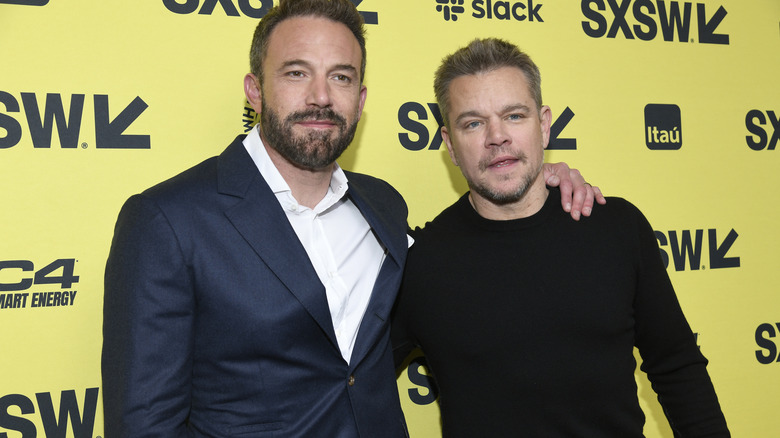 Tim Mosenfelder/Getty Images
Before Kevin Costner was the Dutton family patriarch in "Yellowstone," he was Ray Kinsella in "Field of Dreams." The film begins with Ray hearing a voice that inspires him to build a baseball diamond in his cornfield, which soon attracts the spirits of past baseball players. Along the way, Ray travels to Boston, where he meets author Terrance Mann (James Earl Jones). The two attend a game at Fenway Park and there are two future movie stars that can be spotted in that crowd.
Prior to Ben Affleck and Matt Damon winning Academy Awards, they were extras in the "Field of Dreams" Fenway scene. Damon told Elle that he and Affleck got to talk to Costner, and it was Damon's first celebrity encounter. "He was very generous with his time," he said. He told the Dan Patrick Show that they talked with Costner for about five minutes. Damon recalled that he and Affleck were teenagers at the time of filming. "I was probably 17 and Ben was probably 15. And we were already traveling to New York and auditioning," he said.
Since then, Affleck and Damon have become a dynamic film duo, with a lot of buzz surrounding their sports movie "Air," which tells the story of how Nike made a deal with Michael Jordan, creating the iconic Air Jordan shoe line.
As they wow audiences with "Air," "Field of Dreams" continues to leave baseball fans in awe. And Costner has shared why he believes this film continues to be popular.
The big Field of Dreams moment that is still emotional for many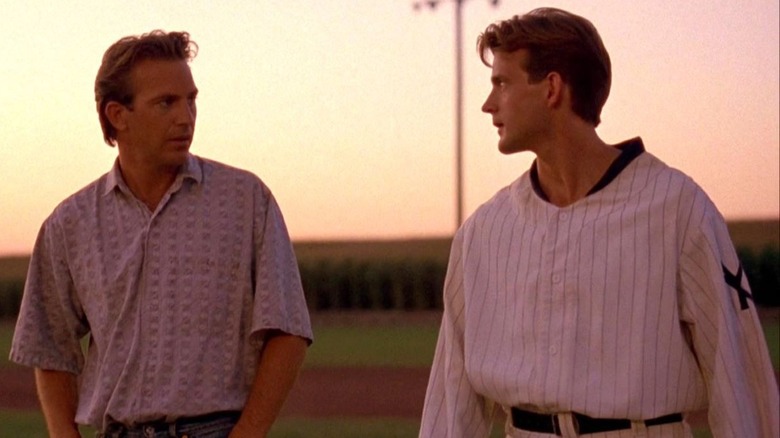 Universal Pictures
While "Field of Dreams" focuses on popular baseball players getting the chance to play ball in the afterlife, there is another story that is being shared. As Ray Kinsella works to build the field, he spends time thinking about his late father, John Kinsella (Dwier Brown). Ray believes that he is building the baseball field to help deceased players return to the game following their suspensions during the 1919 World Series, but the film's finale shows that it was really meant for Ray to reunite with his dad.
Ray and John play catch at the end, and Kevin Costner told The Rich Eisen Show that it's a moment that still makes people emotional. "That movie, it moves people not only to tears but it moves them to that shoulder crying. That kind of draw where you can't quite get your breath because you've missed a moment and that movie did it. That was our big car crash, that was our big fight, that was our big calvary charge, it was, 'You want to have a catch?'" he said.
The film was nominated for three Academy Awards, including Best Picture. While it holds an emotional place in many hearts, it continues to have a presence within baseball itself. In 2021, the Yankees and the White Sox played a game at the "Field of Dreams" site, which included Costner walking through the cornfield and onto the baseball diamond.