Don't Miss Your Chance To Win This Scream VI Swag Bundle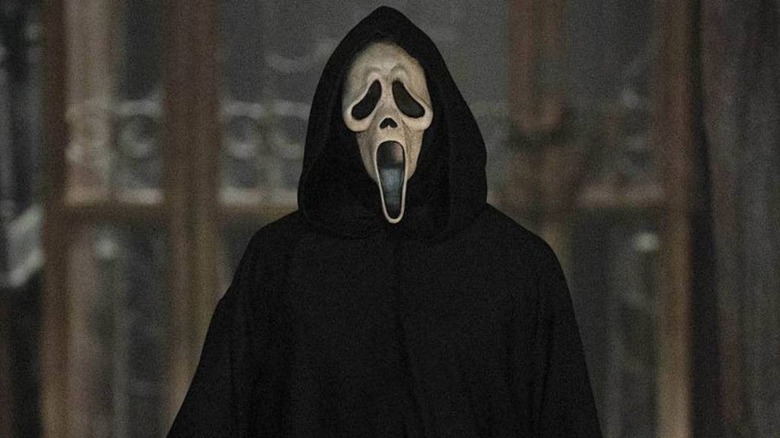 Paramount Pictures
When it's late at night in your home, the lights are dim, and every creak of the floorboards sounds ominous, the last thing you want to see is Ghostface staring at you. That is unless you happen to be the winner of a new giveaway Looper's doing in conjunction with our sister site, /Film. We have a bundle of Ghostface goodies to give away to five lucky winners in the U.S. only.
You stand to make out with a killing with a digital code to watch "Scream VI" incessantly, meaning you can watch that ladder scene to your heart's content over and over again. You also get a sweet "Scream VI"-themed tote bag and bucket hat so that the next time you're in New York, you can prove you're a bigger fan of Ghostface than Jason Carvey. And it's much easier to enter than trying to escape from a shrine room dedicated to the masked killer.
Here's how to win a Scream VI swag bag
With a digital code to watch "Scream VI" at your leisure combined with a tote bag and bucket hat that'd make Ghostface jealous, there's a lot riding on the line. And winning these fabulous prizes has never been easier. All you have to do is go to the /Film Twitter page and retweet the giveaway post. To make things as easy as stabbing an unsuspecting victim in a dark alley, we've included the link for you below so that you don't have to go searching for it. And don't forget that you have to follow both /Film AND Looper on Twitter to be eligible to win. 
We're giving away five prize packages total, so make sure you follow and retweet before 11:59 p.m. EST on April 30, when the giveaway officially closes. Please note the giveaway is only open to residents of the United States and Canada. And in case you don't win, you'll be able to buy "Scream VI" on digital starting on April 25, with the Blu-Ray coming out on July 11. 
Do you like scary movies? Here's your chance to prove it.
🚨GIVEAWAY TIME! We're giving away 1⃣ digital copy of #ScreamVI along with a tote bag and bucket hat to 5⃣ lucky winners. All you have to do is follow both @SlashFilm and @Looper, and RT this tweet for a chance to win. (More details below) pic.twitter.com/ECfthKN6Es

— /Film (@slashfilm) April 25, 2023