The Star Trek: Voyager Cameo We Almost Got To See In Picard
Getty Images/Getty Images
Between its January 2020 pilot and its April 2023 finale, "Star Trek: Picard" nods not just to Jean-Luc Picard (Patrick Stewart)'s past in "The Next Generation," but virtually all of "Star Trek" history. This includes, of course, '90s TV series "Star Trek: Voyager." For instance, among some "Picard" Season 2 Easter eggs is a distinct comms sound effect well familiar to "Voyager" fans. Similarly, Easter eggs in "Picard" Season 3 include a scene in which Picard recounts meeting a species of alien called the Hirogen. Here, he even mentions "Voyager" protagonist Admiral Kathryn Janeway (Kate Mulgrew) due to her "Voyager" storyline featuring the very same Hirogen group.
In fact, Season 3 showrunner Terry Matalas originally intended for Admiral Janeway to appear in the final season of "Star Trek: Picard," only for the show's producers to turn this idea down. Matalas revealed his plans for a Janeway cameo during a roundtable discussion that /Film attended. "There were characters I really wanted to see again. In the original finale script.. look, it was a giant movie that we were building on a television time schedule. The fact that you saw what we saw was miraculous that we pulled it off. It nearly killed us all," he said. "We wanted Kate Mulgrew to be part of Seven of Nine's promotion."
According to Matalas, then, "Picard" nearly reunited Mulgrew's Janeway and crew member Seven of Nine (Jeri Ryan) for the first time since "Voyager."
A Star Trek: Picard producer turned down the Janeway cameo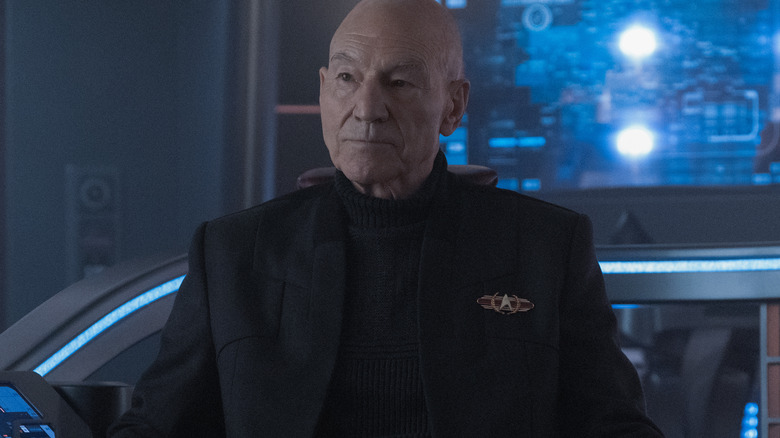 Trae Paatton/Paramount+
During that same roundtable discussion, Terry Matalas went on to explain that a "Star Trek: Picard" line producer ultimately had final say over the scope of Season 3's conclusion and axed some of Matalas' planned cameos, including his idea for an appearance by Admiral Kathryn Janeway.
"They're all in the first script, and then your line producer says 'Are you out of your f***in' mind? You can't afford these things. You are not "Avengers: Endgame."' So they got to go away. And so those are our regrets," Matalas said.
Understandably, then, Janeway's absence from "Picard" isn't due to a lack of trying, but rather an ambition that the series' budget was unable to realize. Janeway, for what it's worth, is still actively a part of "Star Trek" in its current incarnation, appearing in animated form on both seasons of "Star Trek: Prodigy" released thus far. A return for Janeway in live-action, then, may well still be a possibility as the "Star Trek" franchise continues.
Fans are interested in more Janeway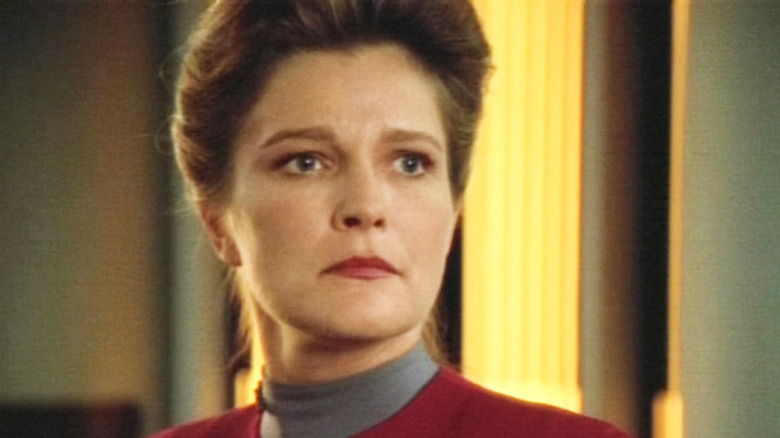 Paramount
"Star Trek: Picard" first gestures at the possibility of an Admiral Janeway cameo in Season 3 during its sixth episode, in a scene where Seven of Nine tells Jack Crusher (Ed Speleers) about the USS Voyager during a visit to the Fleet Museum. Underscoring her recollection of her time on the ship is an interpolation of the "Star Trek: Voyager" theme.
After Season 3, Episode 6 first premiered, Janeway actor Kate Mulgrew herself reposted a clip of this moment on Twitter with the caption "To the USS Voyager," accompanied by clinking champagne glass and heart emojis. In response to Mulgrew's acknowledgment of the "Voyager" shout-out, a number of fans openly wished for Janeway to make a "Picard" appearance. For example, @cozycroftman replied, "still rooting for Janeway to be on Picard."
Meanwhile, users like @Bulbacats and @JaredRonis wrote that they want to see Janeway make a return to live-action at some point in the "Star Trek" franchise's future, "Picard" or not. Since "Picard" is over, the cameo Terry Matalas originally had planned for Janeway is, of course, now an impossibility. Nevertheless, with interest in Janeway still high, it's entirely likely that there will eventually be a "Star Trek" role for her moving forward.