TV Legend Dick Van Dyke To Guest Star On Days Of Our Lives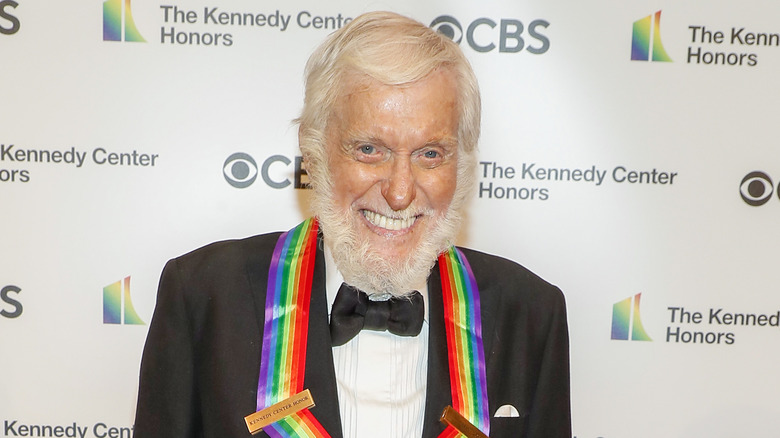 Paul Morigi/Getty Images
It's well-known that Dick Van Dyke is a man of many talents, from his comedic chops shown on "The Dick Van Dyke Show" to his dancing abilities utilized in "Mary Poppins." Even at 97 years young, he's continuing to expand his resume. After his heartwarming appearance as the Gnome on "The Masked Singer" Season 9, he's trying something else that's new: Guest starring on a soap opera.
Access Hollywood recently revealed that Van Dyke is appearing on a "Days of Our Lives" episode, which is already filmed and set to drop on Peacock this fall. He's going to portray an elderly man suffering from amnesia in a scene with soap legends Deidre Hall, who plays Dr. Marlena Evans, and Drake Hogestyn, who plays John Black.
Van Dyke told Access Hollywood, "I have played old men before, but comedy old men. First time I ever just played my 97-year-old self." This might be a fresh experience for the legendary actor, but he didn't have to enter the dramatic world of Salem blindly.
Dick Van Dyke was guided by Drake Hogestyn and Carol Burnett
"Days of Our Lives" star Drake Hogestyn is actually a pal of Dick Van Dyke's. In fact, they're members of the same gym, where Van Dyke would regularly ask Hogestyn if the soap opera had any need for an older actor. Van Dyke told Access Hollywood, "And he took me seriously. He got me a part."
In order to prepare for his guest role, Van Dyke watched one episode to get a feel for the dynamics of the long-running show. Since "Days of Our Lives" has been going strong since 1965, there was no way for him to familiarize himself with everything. Rather, a single episode was enough to understand how things work in Salem, especially for the characters played by Hogestyn and Deidre Hall.
Plus, it helped that Van Dyke's other friend Carol Burnett, who appeared regularly on "Days of Our Lives" in the 1980s, was able to share some helpful tips. Most importantly, she told him, "Make sure you know all your lines because they don't do retakes. If anything goes wrong, you're stuck."
Van Dyke joins the ranks of Pat Sajak, LeAnn Rimes, Tara Reid, and other recognizable faces to appear on the classic soap over the years.