Ghosted Turns Into A Marvel Reunion With Cameos From The MCU
Apple TV+
The Marvel Cinematic Universe has grown so much that even the list of MCU actors that have won Oscars has grown quite long, and it also isn't unusual to see MCU vets together in other projects. But the new action comedy "Ghosted" on Apple TV+ reunites Captain America (Chris Evans) with not just one but two of his former Marvel cohorts in cameo appearances as rival bounty hunters in what seems to be a nod to fans rather than just casting as usual (here's your last chance to stop reading if you want to be surprised!).
"Ghosted" isn't merely reuniting Cap with a couple of arbitrarily selected MCU actors, but two who portrayed Captain America's own closest associates within the franchise. It's Sebastian Stan and Anthony Mackie, known in the MCU as Bucky Barnes/The Winter Soldier and Sam Wilson/The Falcon, and it should be exciting for fans to see them all back together onscreen again.
"Ghosted" also stars Ana de Armas and Adrien Brody, while Stan and Mackie are joined in making uncredited cameos by John Cho and Ryan Reynolds, who also has a Marvel connection of his own. And the appearances from some of Evans' Marvel co-stars shouldn't have come as a complete surprise to anyone who was paying close attention to the actor's press tour promoting the movie.
Evans had teased the cameos in a TV interview days before the film's release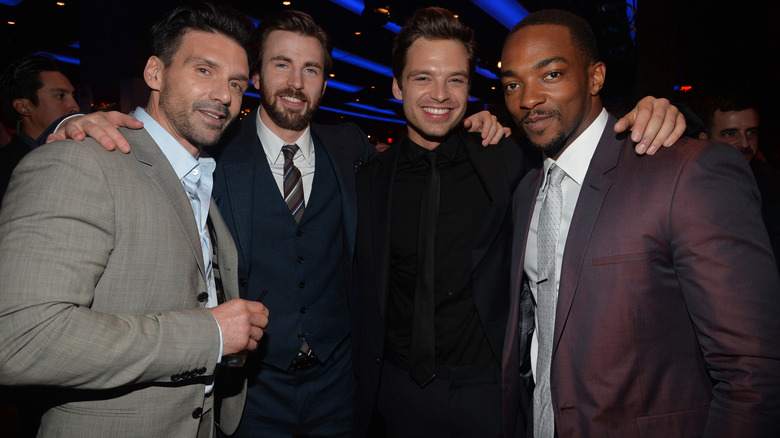 Alberto E. Rodriguez/Getty Images
Chris Evans appeared on Good Morning America a few days before the release of "Ghosted" on Apple TV+ to promote the movie, and co-host George Stephanopoulos let the cat out of the bag with a question about some cameos that would be pleasing to Marvel fans. "There are some cameos, that's right," replied Evans, before wondering, "can we give that away?"
But the names of the individual actors in question were kept a secret, until "Ghosted" had its streaming premiere. "Yeah, we had some old Marvel buddies back," said Evans, who then got a little revealing about the whole celebrity cameo process in Hollywood.
"I hate asking people for cameos ... it's the worst," he admitted. Thankfully for the Marvel Cinematic Universe's most devoted fans, particularly those who are nostalgic for Captain America's MCU heyday, Evans put those qualms aside for "Ghosted."