How Alan Rickman Behaved During The Galaxy Quest Shoot According To Tim Allen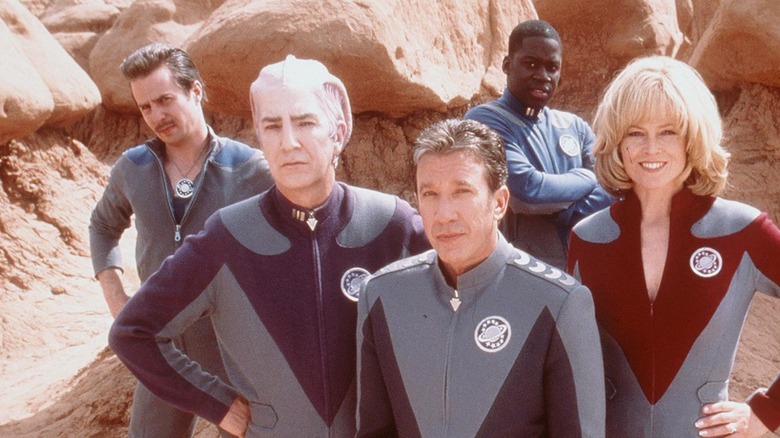 Getty Images/Getty Images
Alan Rickman's best-known roles might be the "Harry Potter" franchise's conflicted, curmudgeonly Severus Snape and Hans Gruber, the suave villain of the ultimate Christmas movie "Die Hard." Still, neither role really reflects the beloved actor's real-life persona. After Rickman passed away in January 2016 at the age of 69, several of his co-stars have praised the iconic performer's kindness and gentle, mentor-like nature behind his commanding presence. One of the actors who have shared anecdotes about Rickman's behind-the-scenes behavior is Tim Allen, who starred with the dearly departed screen legend in 1999's sci-fi comedy "Galaxy Quest."
Allen, as it turns out, seems to have started on a bit of a wrong foot with Rickman. In an interview with The Hollywood Reporter, the "Toy Story" and "Home Improvement" star praised his co-star's work ethic and acting talent to high heaven — but also revealed that before the two bonded, Rickman was somewhat suspicious of Allen because the comedian approached acting from a very different viewpoint than the rest of the cast.
"All of them had this process and method — voice stretching and all that kind of prep — and it was so different from mine," Allen said, referring to his own tendency to ditch all preparation and just jump into action when the camera started rolling. "I went to a very different school, s***** clubs and basements and big arenas. But then, one day on the set, Alan came to me and apologized. He said he mistook my behavior for lack of commitment."
Rickman made amends with Allen in a heartwarming way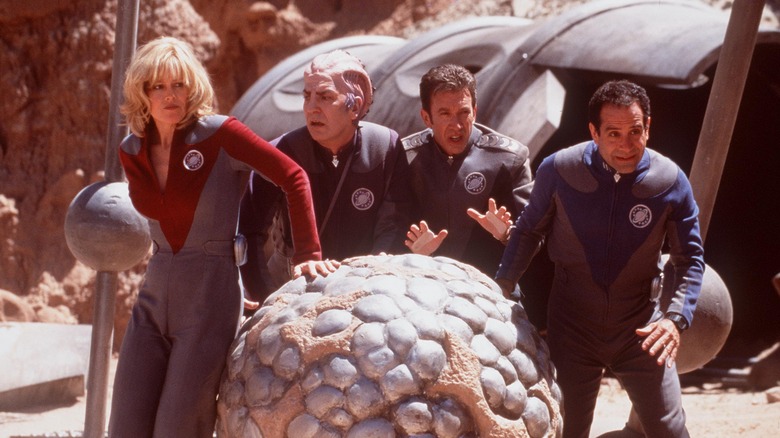 Getty Images/Getty Images
As Tim Allen himself noted, Alan Rickman's commitment to his role was doubly awesome since his "Galaxy Quest" role involves far more catchphrases and sci-fi prosthetics than your average classic thespian generally deals with. However, even more impressive was the way he was willing to reach out to his co-star and confirm that he had come to take Allen seriously. See, despite Rickman's self-admitted early suspicions about Tim Allen, the thespian was very much paying attention to the comedian and his wisecracking all along. In fact, Allen revealed that Rickman even used one of his jokes as a means to make amends.
"I used to joke he had studied with Uta Hagen," Allen said. "I'm just bulls******* like I know any of this. I said well that's where I went. I went to the Uta Haagen-Dazs School. On the day we turned into friends he came to my house with a bottle of wine and chocolate Haagen-Dazs as a peace offering and said, 'This is for you because whoever taught you taught you very well'."
This point, as you might expect, marked a significant turning point in the two actors' relationships. After Rickman was gracious enough to admit that he had the wrong first impression about Allen, the early hiccup in their professional relationship remained the only one. As such, just like so many other people who knew Rickman, Allen has nothing but good things to say about the man -– both as a person and as a performer. "He was that kind of guy — he had class and style and manners," the comedian reminisced. "But he was also gentle and funny and wonderful."