Mandalorian: Giancarlo Esposito Broke 6 Lightsabers Trying His Own Moff Gideon Stunts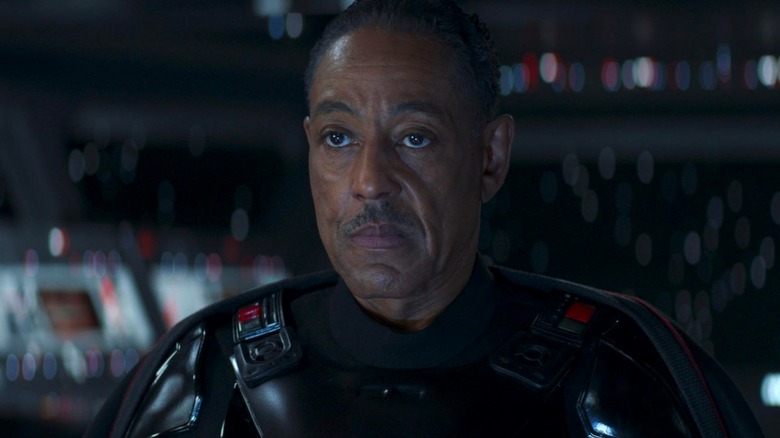 Lucasfilm/Disney+
Lightsabers: the ultimate fictional weapon and a cornerstone of the "Star Wars" saga. Fans of the franchise love to see them on screens big and small, and the actors on set are often over the moon to wield them in front of the camera. Giancarlo Esposito — the actor behind "Mandalorian" villain Moff Gideon — is no exception, having happily used the fabled Darksaber throughout the program. During one fight sequence, however, he got a little too into character as he tried to handle his own stunts. In the end, a staggering six Darksaber props wound up broken, as he shared during an appearance on "The Kelly Clarkson Show."
Esposito handled the action scene because he felt his stunt double didn't match his frame whatsoever. So, he spoke to "Mandalorian" mastermind Jon Favreau and he was tagged in for the fight scene — one that saw him break Darksaber after Darksaber. "The prop guy comes to me on the fifth one and says, and he's sweating because he's not telling anyone that I'm breaking them, right...but he comes over to me and says, 'I just want you to know I just have one more. You gotta be careful," he recalled, adding that, thankfully, they were able to successfully finish out the scene.
In addition to breaking a bunch of lightsabers, Esposito shared that he took a smack to the head during the duel scene. As it turns out, real-life injuries during "Star Wars" lightsaber duels are far from uncommon.
Ewan McGregor agrees that working with lightsabers is no walk in the park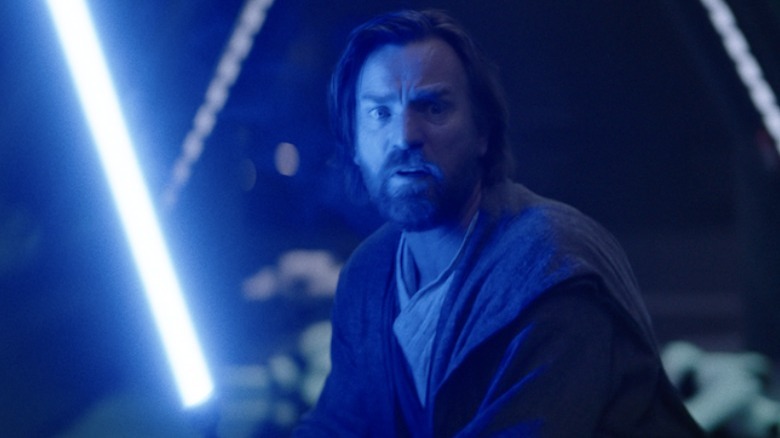 Lucasfilm/Disney+
Giancarlo Esposito took an accidental bump to the head during his "Mandalorian" fight, but he kept the scene going. Meanwhile, there's Ewan McGregor and Hayden Christiansen, who both returned to "Star Wars" after many years away to portray Obi-Wan Kenobi and Darth Vader on the "Obi-Wan Kenobi" Disney+ series. Naturally, the exhausted, older Jedi Master clashes sabers with his fallen apprentice on the program, leading to both McGregor and Christiansen taking some unexpected, scene-stopping punishment during filming.
"Because you are actually whacking away at each other, you need to be in the right place at the right time or you get hurt," McGregor explained during an interview with Conan O'Brien. He cites one of the most common injuries came as a result of a lightsaber's lack of a proper hilt with a crossguard at the top. As he and Christiansen would swing at one another full-force, the metal poles representing the lightsaber blades would slip down one another. Thus, they each took their share of metal to the knuckles, which required some quick time-outs.
Working with lightsabers is no joke, and Ewan McGregor, Hayden Christiansen, and Giancarlo Esposito have evidence to prove it.