Why Jay From Mrs. Davis Looks So Familiar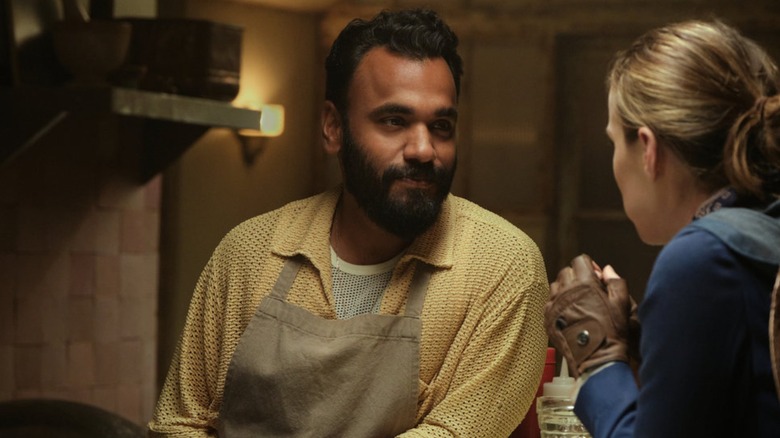 Tina Thorpe/PEACOCK
Contains spoilers for "Mrs. Davis" Episode 3, "A Baby with Wings, a Sad Boy with Wings and a Great Helmet"
Peacock's "Mrs. Davis" operates on many levels and includes a huge amount of religious references, but few of them reach the heights of the peculiar restaurant where Simone (Betty Gilpin) retreats every once in a while to eat delicious food, receive missions written on considerably less delicious-looking paper strips that she nevertheless also eats, and converse with Jay — the chef who also turns out to be her husband.
The hints about Jay's true nature are there pretty much straight away, but by "Mrs. Davis" Episode 3, the show doesn't bother hiding who he actually is: As a nun, Simone is naturally married to none other than Jesus. The role is obviously a pretty major one, and Andy McQueen portrays Jay with the kind of warmth and graceful charisma that's so often associated with the Biblical figure. Of course, McQueen has plenty of acting experience to draw from, since "Mrs. Davis" is far from his first big show. Here are some roles you may have seen him playing before "Mrs. Davis." 
2018 was a big year for Andy McQueen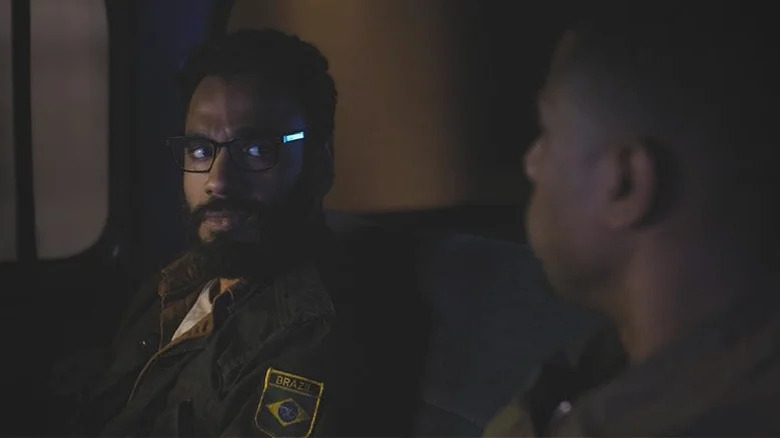 HBO
A working actor rarely breaks big overnight, and like so many others, Andy McQueen has his share of one-episode appearances and small character roles. However, that's not to say that some of his shorter gigs haven't taken place in some pretty prestigious productions — especially in 2018, when his face could be spotted in all sorts of films and shows.
Over the course of the year, he appeared in movies like HBO's Michael B. Jordan-starring "Fahrenheit 451," and award-winning  Canadian films "Robbery" and "Edging."  He also turned up in Amazon Prime Video's "Jack Ryan" Season 1 episode "Black 22" as U.S. Air Force Captain Josh Whitmore, and guest starred in two episodes of the Canadian sci-fi show "Killjoys." You may also have spotted him in HBO's "The Handmaid's Tale" Season 2 episode "Women's Work." In this episode, he portrays Dr. Epstein, one of the doctors taking care of Angela (Ella and Maya Ryan), the baby Janine (Madeline Brewer) had during her time as "Ofwarren."
He starred as Detective Malik Abed in Coroner
Fans of Canadian police procedurals may have known Andy McQueen's face quite well for some time now. Since 2019, the actor has starred in the CBC crime drama "Coroner" as Malik Abed, one of the show's main detectives.
As the show's title implies, "Coroner" focuses on the grim profession of investigating the cause of death, as performed by complex and tormented coroner Jenny Cooper (Serinda Swan). The show's full of serial killers, strange sightings, and all the trimmings you'd want from a representative of the genre. McQueen's character has been part of the show since Season 1, and as of 2023, he's appeared in all but four of the show's 38 episodes across four seasons. Seeing the actor investigate gruesome crimes as Detective Abed might offer "Mrs. Davis" fans a glimpse at a very different side of the actor behind the Peacock show's literal Messiah figure.
He was Steve in Hulu's Books of Blood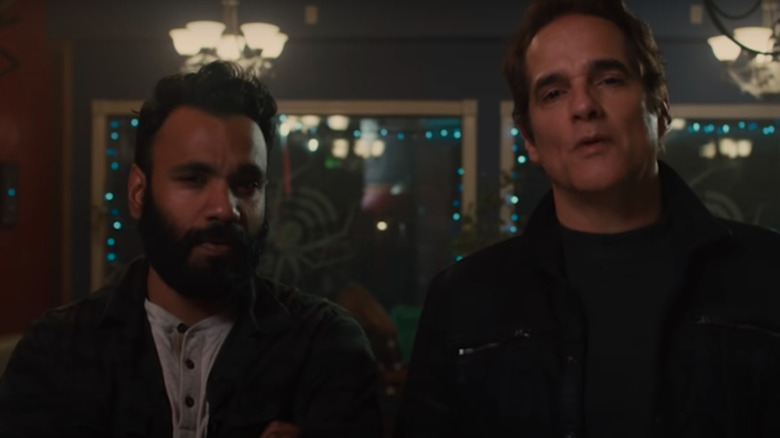 Hulu
In 2020, Andy McQueen appeared in Hulu's anthology film adaptation of horror writer Clive Barker's iconic "Books of Blood." McQueen's character, Steve, accompanies deadly debt collector Bennett (Yul Vasquez) on a quest to find the highly valuable Book of Blood, which ... well, without going into spoiler territory, goes roughly as well as you'd expect for everyone involved.
In an interview with Nightmarish Conjurings, McQueen's co-star Vasquez analyzed Bennett and Steve's chemistry during their segment. "I think in many ways [Bennett is] just disgusted with himself that he does this, you know what I mean?" Vasquez said. "He has a young protege in Steve and tries to impart a little wisdom to Steve that Steve may or may not get because of his age."
Unfortunately, the work McQueen and Bennett put into their roles didn't translate to great reviews. Still, it's always nice to have a film based on a famed horror author's work in your résumé.
He journeyed with the Traveling Symphony as Station Eleven's Sayid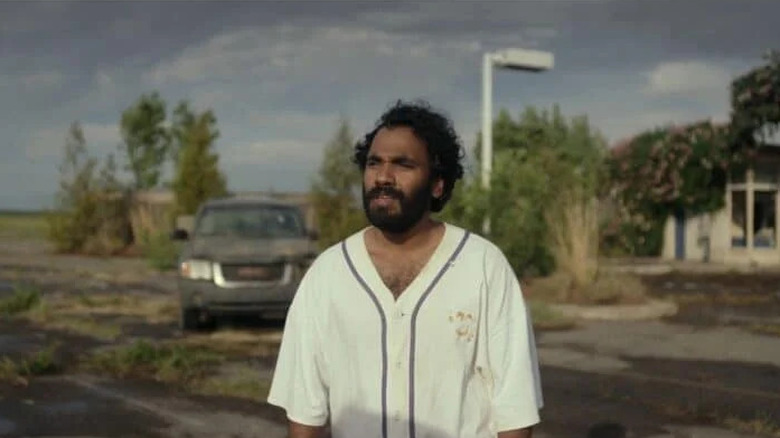 HBO
HBO's epic 2021 miniseries "Station Eleven" is a flashback-filled look into a post-apocalyptic world where a band of traveling performers has to survive an encounter with a dangerous cult and its leader. The series boasts an incredibly stacked cast of stars ranging from Gael García Bernal and Mackenzie Davis to Lori Petty and David Cross, and despite the post-apocalyptic "after the plague"-style setting and the seemingly straightforward "good survivors vs. evil survivors" setting, things are far from simple in this particular tale, which involves far more optimism, Shakespeare, and important graphic novels than you might expect.
The ending of "Station Eleven" is a magnificent and thoughtful finish to the 10-episode ride, but the critically-lauded journey is just as worthy as the destination — especially since said journey includes four episodes that feature Andy McQueen as Sayid, one of the members of the central Traveling Symphony acting troupe.
McQueen played the bad guy in Outer Banks Season 3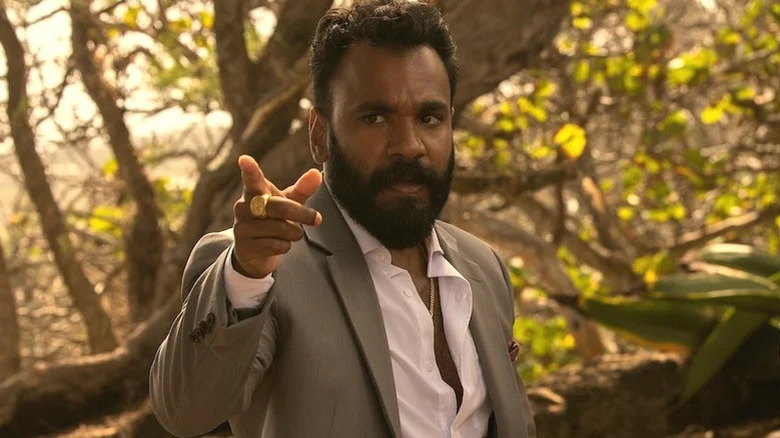 Jackson Lee Davis/Netflix
It's not every day that audiences get to see two radically different sides of an actor in the span of just a few months, but that's just what Andy McQueen has been able to offer us in 2023. Just two short months before the first episodes of "Mrs. Davis" introduced his Jesus character to the masses, he was busy terrorizing the young heroes of Netflix's "Outer Banks" Season 3 as Don Carlos Singh, a wealthy and thoroughly corrupt man with his eye on the mythical El Dorado.
In an interview with The Gate, McQueen described his approach to playing the biggest, baddest villain the show has featured so far, and expressed his delight in playing a character who keeps losing his composure as the season proceeds. "I think what makes it more compelling for me is that he got to be a villain who had a reason — had a real reason for why he was doing what he was doing — and perhaps the descent into madness and all of those things caught up with them," he said.