Mrs. Davis: Simone's Hilarious Connection To Austin Powers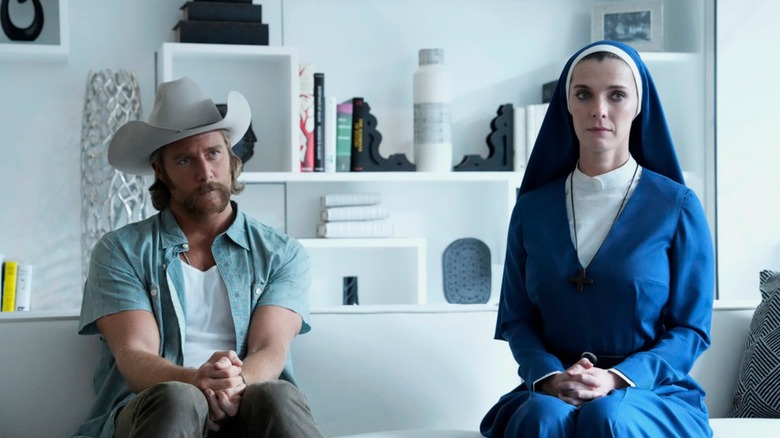 Greg Gayne/Peacock
Contains spoilers for Mrs. Davis Season 1, Episode 4 — "Beautiful Things That Come with Madness"
"Mrs. Davis" is off to a rousing start as Simone (Betty Gilpin) begins her legendary quest for the Holy Grail. She's joined by her observant and sarcastic ex-boyfriend Wiley (Jake McDorman), who aims to help her destroy the interconnected artificial intelligence unit, Mrs. Davis. Amongst the wild scenarios, the action-packed series frequently infuses hilarious comedic moments, like Simone's surprising connection to none other than the satirical superspy, Austin Powers (Mike Myers).
The offbeat drama is the perfect vehicle for Gilpin to showcase her comedic talents alongside her impeccable dramatic acting abilities. "Mrs. Davis" consistently juggles drama and comedy, with Simone getting herself into increasingly more bizarre adventures as the series progresses. In that vein, her character already closely resembles the hip and goofy secret agent. Then in Episode 4 of the binge-worthy series, it links the two even closer together. 
When Simone's middle name is revealed, we're immediately reminded of the International Man of Mystery, as the two have the same unforgettable middle name: Danger.
Simone shares the middle name Danger with Austin Powers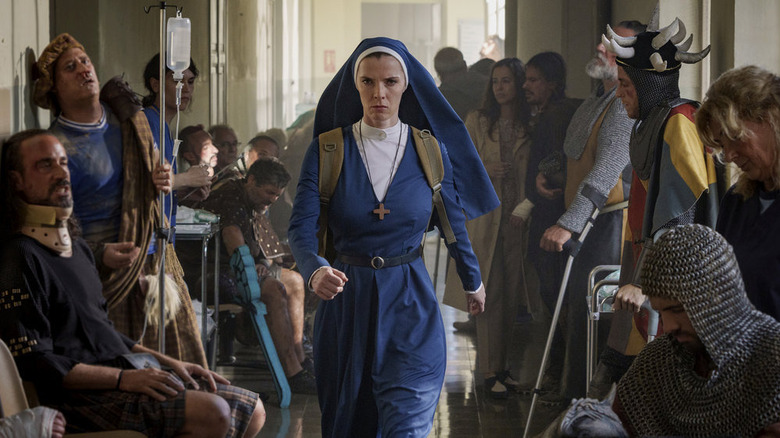 Sophie Kohler/Peacock
"Mrs. Davis" eerily recreates the omniscient quality of artificial intelligence in a scary reflection of the creators' actual use of the technology. This element of realism leaves the series in need of some uplifting comedy, which we get through the goofy humor and references to esteemed comedic hits. In Episode 4, "Mrs. Davis" reveals Simone's middle name when she takes her vows as a nun and marries Jesus, aka "Jay" (Andy McQueen). 
After spending some time with the other nuns at the convent, Simone finally gets her wish to marry the love of her life. Amidst the beautiful ceremony to celebrate Simone's lifelong commitment, we get a silly homage interjected when Mother Superior (Margo Martindale) joyfully confirms her. "I, Elizabeth Danger Abbott," Simone proudly states.
In the first film about the wacky spy, 1997's "Austin Powers: International Man of Mystery," we're introduced to the odd hero as he picks up his personal belongings. They're under the name "Danger, Powers," and we come to learn that the signature moniker is actually his middle name. Knowing this ultimately makes Simone's middle name funnier, alleviating some of the tension of her dangerous mission.