Moon Knight's Scarlet Scarab Is Officially Becoming Marvel Comics Canon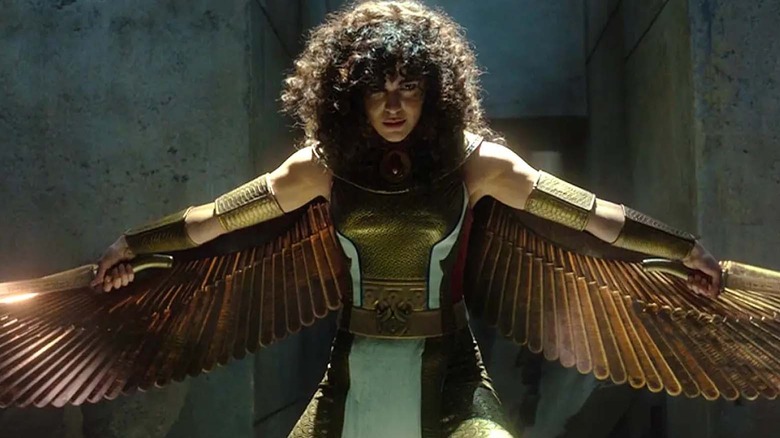 Disney/Marvel Studios
Contains spoilers for "Moon Knight" #25 and "Moon Knight: City of the Dead" #1 by Marvel Comics
Layla El-Faouly, aka the Scarlet Scarab, may have been created specifically for the Marvel Cinematic Universe, but now she's officially becoming Marvel Comics canon. The "Moon Knight" character will make her first ever comic book appearance in the upcoming "Moon Knight" ongoing series, before going on to play an even more significant role in the new "Moon Knight: City of the Dead" miniseries.
Scarlet Scarab does have a small Marvel Comics history, as two heroes donned the mantle before. However, in the "Moon Knight" streaming series on Disney+, the character was reinvented with May Calamawy portraying a new version of the hero with little connection to the comics characters who have donned the mantle. Instead, the new Scarlet Scarab is a former archaeologist, wife, and ally to Marc Spector who helped him stop Arthur Harrow and his plans to find and free the Egyptian God Ammit. El-Faouly officially gains the new superhero identity of the Scarlet Scarab after agreeing to become her avatar, granting her powers and an incredible suit with epic wings allowing her to fly. The MCU's Scarlet Scarab coming to the page marks the rare transition from appearing first in live-action to the comics.
The Scarlet Scarab will play an important role in Moon Knight comics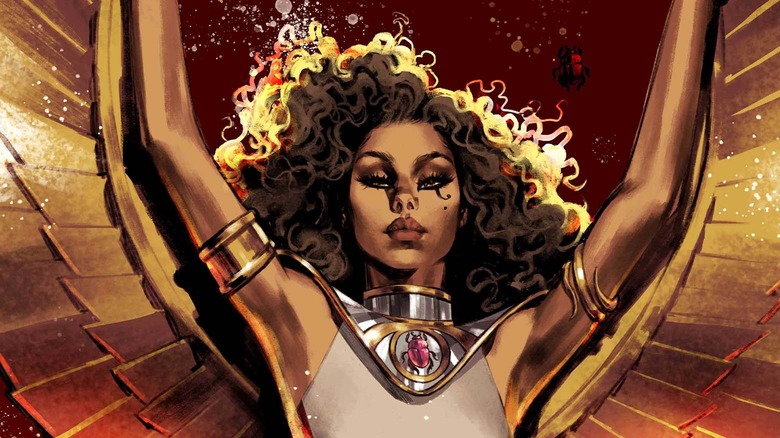 Marvel Comics
On Wednesday, Marvel Comics (via IGN) revealed Layla El-Faouly would appear in the upcoming "Moon Knight" #25 by Jed MacKay, Alessandro Cappuccio, Alessandro Vitti, and Partha Pratim. The story will take readers to different parts of Marc Spector's life, from the past to the present. Dealing with a "familiar and new" threat, the mission on Hart Island will have Spector recounting his time as part of a mercenary crew known as the Karnak Cowboys. Included on the team are Jean Paul-Duchamp (the classic Moon Knight character, Frenchy), Robert Plesko (his former ally), and Layla El-Faouly. The version of the character will be younger, as her earlier days with Spector will be told. MacKay told IGN said he's thrilled about her debut.
"Bringing Layla El-Faouly into our story was exciting," MacKay said. "Adding an already beloved character into the universe of the comics is a really interesting opportunity, and being able to show the 'before' to David and Marcelo's 'after' was a wonderful bit of synchronicity."
Immediately following "Moon Knight" #25, "Moon Knight: City of the Dead" #1 by David Pepose and Marcelo Ferreira will feature the full superhero version of the Scarlet Scarab. In the comic, an attack against a young runaway by a deadly gang will force Moon Knight to travel to the City of the Dead, which is referred to as a "mind-bending underworld." Moon Knight will be joined in his adventures by El-Faouly's Scarlet Scarab.
The Scarlet Scarab will play a key role in future Moon Knight comics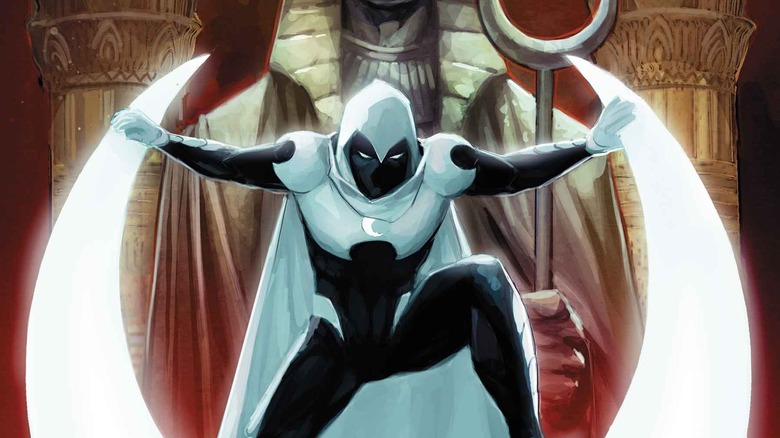 Marvel Comics
David Pepose discussed what readers can expect in the follow-up to "Moon Knight" #25 in "Moon Knight: City of the Dead." The talented writer said he was excited to bring Scarlet Scarab to the main Marvel Comics canon, and that her relationship with Marc Spector will play a big part in the upcoming five-issue miniseries.
"Teaming up with sensational artist Marcelo Ferriera, we're sending Marc Spector on one of his most mind-bending adventures to date — rescuing a young runaway's soul from the City of the Dead," Pepose told IGN. He continued, "I couldn't be more excited to be writing Layla El-Faouly's debut as the all-new Scarlet Scarab! Layla has been such a fun character to adapt — she knows Marc better than almost anyone, and that tension is going to spark some spectacular fireworks on this otherworldly adventure."
While the news is exciting, it shouldn't be shocking that Layla is finally getting a comic book counterpart, as she was the breakout character on the "Moon Knight" Disney+ series. It seemed it was only a matter of time before the Scarlet Scarab would get the comic book treatment, and it will be fun to see her playing a sizable role in future Moon Knight-related stories.
Layla Al-Faouly's comic book debut begins in Moon Knight #25 by Alessandro Cappuccio, Alessandro Vitti, and Partha Pratim, which arrives in comic book stores on July 12 and "Moon Knight: City of the Dead" #1 by David Pepose and Marcelo Ferreria, a week later on July 19.