Deadliest Catch: Jacob Hutchins Wants To Break Racial Barriers On The Bering Sea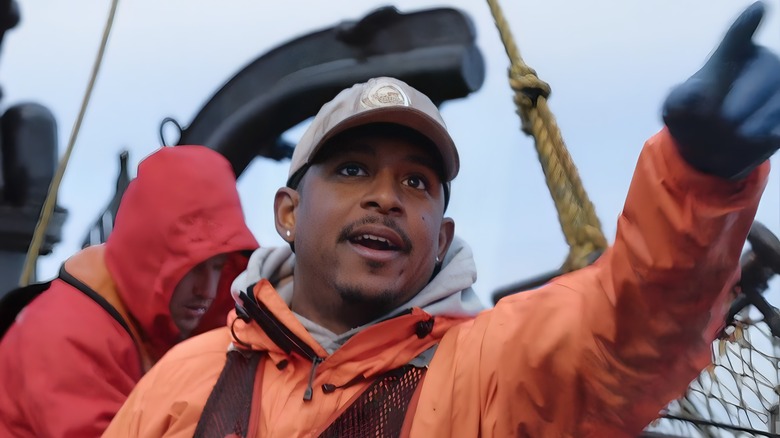 Discovery
Although there are certainly plenty of cast members who have lasted since the very beginning of Discovery's crab fishing reality program "Deadliest Catch," it's fair to say that most of the vessels featured within the series have had consistent upheaval within their crews. Over the past 19 seasons we've watched plenty of crew members try their hardest to keep up with the tumultuous conditions of the Bering Sea, only to leave at the end of the season. One sailor who has managed to stick with it is deckhand Jacob Hutchins.
Hutchins first appeared back in Season 14 as a crew member aboard the F/V Saga, and who returned in Season 19 as a deckhand for Keith Colburn's F/V Wizard. According to Hutchins himself, his ambitions don't just end at deckhand: he eventually wants to become the first person of color to captain a crab boat in the Bering Sea.
"I know that this industry is changing, and I'm not exactly sure about what's going to happen but while the getting is good, I'm gonna try to be a captain," Hutchins said during an interview with The Seattle Times. He added, "I have ruffled a few feathers by getting on certain boats in the past and saying, 'Hey, I can do these things, may I please try this?' A lot of people don't want to give me a shot because I might threaten them or sometimes I'm not the most charming guy. We're fishermen. I know how to make my place and survive in an environment where it's very hard to survive. I grew up like that in a double-wide trailer with 12 kids. This is just like home to me."
Racial diversity is extremely low in the commercial fishing industry
In the same interview, Jacob Hutchins also said, "I think I can bring an interesting and intellectual and spiritual flair to this coveted position. I think I have something to add, so I would like to add my flavor to this recipe."
Hutchins reiterated this goal during the premiere of "Deadliest Catch" Season 19, in which he stated he wanted to be (to his knowledge, at least) the first Black captain of a crab boat in the Bering Sea. As Hutchins' comments imply, racial diversity within the United States commercial fishing industry is relatively sparse, with Zippia reporting that (as of 2021) around 72.9% of all commercial fishermen were white. The report stated that the second most common ethnicity within this industry was "Hispanic or Latino" at 8.3%, while "Black or African American" was the lowest reported ethnicity in the entire survey —- making up just 2.9% of all commercial fishermen in the United States.
Unless these numbers have drastically changed in the past two years, it seems like Jacob Hutchins is one of the few Black American fishermen in this industry, making his goal of becoming a captain all the more impressive. Indeed, if Jacob Hutchins does manage to become the first Black captain in the Bering Sea, it would be an immense step forward for racial barriers within this predominantly white industry.