The MonsterVerse Officially Returns With Godzilla X Kong: The New Empire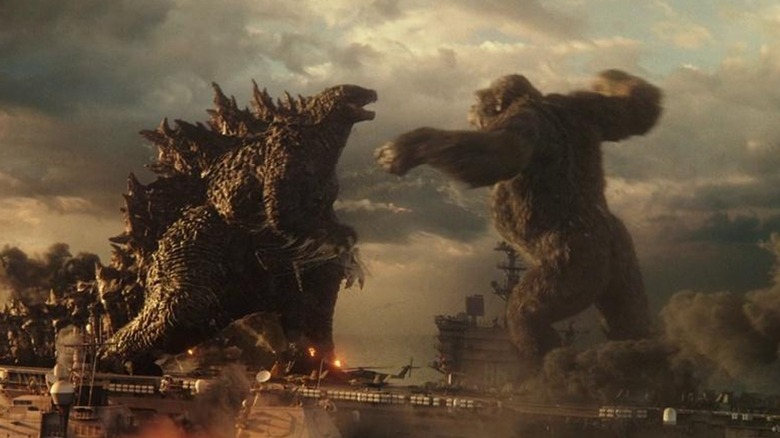 Warner Bros. Pictures
"Godzilla vs. Kong" became one of the blockbuster success stories of 2021 when theaters were empty worldwide due to the pandemic. The movie was a faithful continuation of Legendary's "Monsterverse" series and pure escapist fun during a difficult time. Talk of a "Godzilla vs. Kong 2" was immediate, and the production moved much more quickly than past entries in the franchise.
The production company and Warner Bros. just released a new teaser video revealing the sequel's title as "Godzilla x Kong: The New Empire." The clip also briefly gives viewers a taste of what will come with some intense foreshadowing that harkens back to the early origins of the two Titans.
For fans of the monsters joining forces to destroy Mechagodzilla in their first film together, the official synopsis of the promo clip promises more camaraderie between the two over fighting. Audiences also get a glimpse of a new creature eerily similar to Kong.
The title reveal video teases a new Kong species
The clip opens with a shadowy, primate-like figure resembling a young Kong or a sub-species sitting on a massive throne with foreboding music in the background. The monster's eyes light up, and it growls like Kong as the camera pans out over a boneyard. Two massive skulls are then shown with King Kong's roar filling the background music. Both heads look similar to Godzilla and Kong. The clip ends with a close-up of Kong's angry face and menacing snarl.
The summary of the sequel further divulges where the story is headed by ensuring that both Titans' histories will be explored. Viewers can also expect to see more of Skull Island beyond what was seen in 2017's "Kong: Skull Island." The action of the follow-up will find the two monsters joining forces to battle a powerful foe that threatens their survival and humanity.
The synopsis concludes by hinting at an epic battle from the past that helped create Godzilla and Kong and their link to the human race.
"Godzilla x Kong: The New Empire" will be released in theaters and IMAX on March 15, 2024.