The Mandalorian: Not Including A Din Helmet Reveal In S3 Was A Major Mistake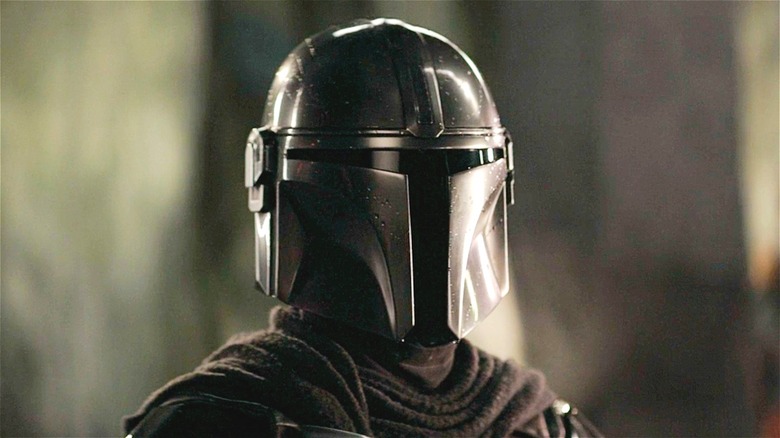 Lucasfilm/Disney+
Contains spoilers for The Mandalorian Season 3, Episode 8 — "Chapter 24: The Return"
Although there are different factions of Mandalorian people, the one that Din Djarin (Pedro Pascal) belongs to is stringent when it comes to honoring the old ways of the Mandalorians. This means that Djarin is expressly forbidden from removing his helmet in front of any living being, for doing so would mean expulsion and excommunication from his particular clan of Mandalorians. However, Djarin removes his helmet several times throughout "The Mandalorian," though only in especially dire circumstances (like to say hello to Luke Skywalker).
On account of this transgression, Djarin is forced to bathe in the Living Waters on the ruined Mandalorian home planet in order to be readmitted to his clan. Luckily, he is able to achieve this goal, but it seems as if he has taken his renewed vows to never remove his helmet quite seriously, as the character is never once seen without his helmet throughout Season 3 of "The Mandalorian," much to the dismay of fans. 
Taking to social media, many fans of "The Mandalorian" lamented that they weren't given a chance to see Djarin without his helmet — like @cqstamere, who tweeted, "din took his helmet off twice in s2 because he knew that tin can was staying ON for s3."
Some fans thought Djarin revealing his face to Grogu would have solidified their family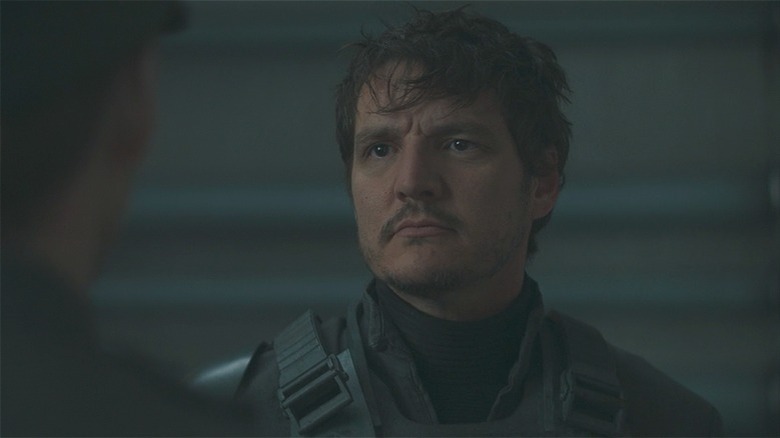 Lucasfilm/Disney+
Many others were also of a similar mind when it came to wanting Djarin to take his helmet off at least once. Over on Twitter, @elliedjariin posted an image of Kermit the Frog browsing nooses and expressed tremendous disappointment at not being able to see Djarin's face. Likewise, @saffrronmilk wanted to see Djarin as well, and said that his helmet could have at least fallen off during one of the many fights throughout Season 3. These sentiments were also echoed over on Reddit, where u/Malarazz started a conversation by pointing out that this was the first time Djarin never took off his helmet for an entire season.
This statement caused several to reply, like u/MauPow, who stated, "Yea he shoulda had the helmet off at the very end, just in the background. I thought they only took it off around family, would have sold that even better." Others agreed with the above thought process, such as u/Cassopeia88 and u/The_Longest_Wave, who both thought that would have been a really nice touch to solidify that Grogu and Djarin are family now. U/SleepyxDormouse had their own theory as to why Djarin never revealed his face this season, and they think the reason why he remained covered is that Pedro Pascal could only do the voice work since he was also appearing in HBO's "The Last of Us." 
Despite these comments, Djarin has only removed his helmet on a handful of notable occasions, and even though many would love to see Djarin's face, his spoken creed as a Mandalorian prevents him from doing so — perhaps fans will see his face sometime again in the future.
Some fans understand why Din Djarin didn't remove his helmet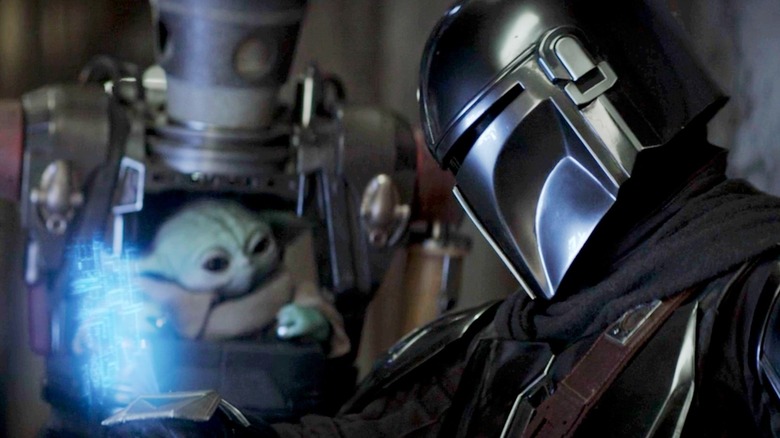 Lucasfilm/Disney+
While there are many "Mandalorian" fans who want to see Din Djarin remove his helmet again, others understand why it wasn't an option for him in Season 3. As Twitter user @SITHBARRISS pointed out, the Mandalorian takes his religion and culture seriously, and he isn't going to risk being exiled again — especially after having to go through so much effort to redeem himself. This sentiment was echoed by @milkamitdaim, who noted that the bounty hunter "went to mandalore for a reason."
Elsewhere, some fans on social media, including @DISCOROBAK, believe that Djarin being allowed to keep his helmet on in the season finale actually made his enemies seem less evil. The Twitter user wrote, "i was waiting for them to take din's helmet off to humiliate him when he was captured but i guess moff gideon isn't as vile as i expected him to be."
In short, for Djarin to take off his helmet again, he'll need to be captured by a truly vile villain who wants to disrespect him. Failing that, a situation that makes him willing to risk being ostracized from his culture might be the only thing that makes the noble warrior show his face.