The Mandalorian S3 Proves That Axe Woves Deserves His Flowers (& Maybe A Series)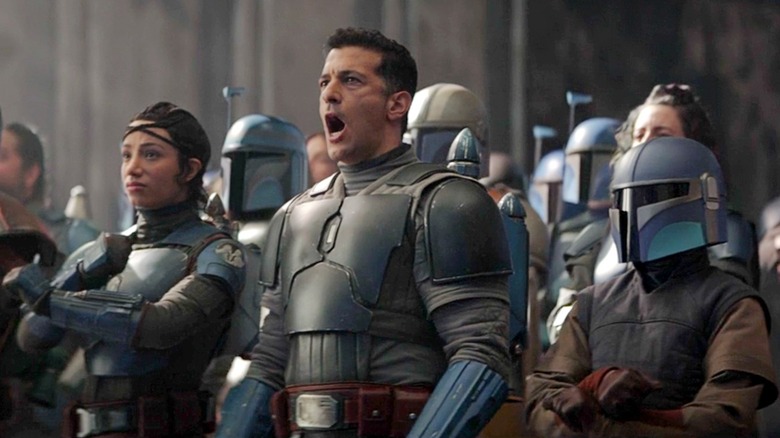 Disney+
Contains spoilers for "The Mandalorian" Season 3 finale, "Chapter 24: The Return"
Another season of "The Mandalorian" is in the books, and the creative duo of Jon Favreau and Dave Filoni prove once again why they're leading "Star Wars" on Disney+. The climactic finale gave fans all the Mandalorian action they could want, with insane aerial and hand-to-hand combat in a fight to reclaim Mandalore. 
However, we couldn't help but notice one Mandalorian standing out from the rest. We don't mean Din (Pedro Pascal) or Bo-Katan (Katee Sackhoff), even though both were excellent. No, instead, "The Mandalorian" season finale gave Axe Woves (Simon Kassiandes) his time in the spotlight, proving that he's an important asset for the Mandalorians and not the traitor that many expected. 
As if flying through the storms of Mandalore wasn't daring enough, Axe shows off how cool he is in the finale, securing reinforcements and distracting the fleet of TIE Interceptors. Not to mention he crashes a Star Destroyer and escapes a fiery tomb in the process, avoiding an unnecessary sacrifice and securing appearances in future seasons. Honestly, at this point, the more Axe Woves we get, the better. 
Axe Woves is the future of Mandalore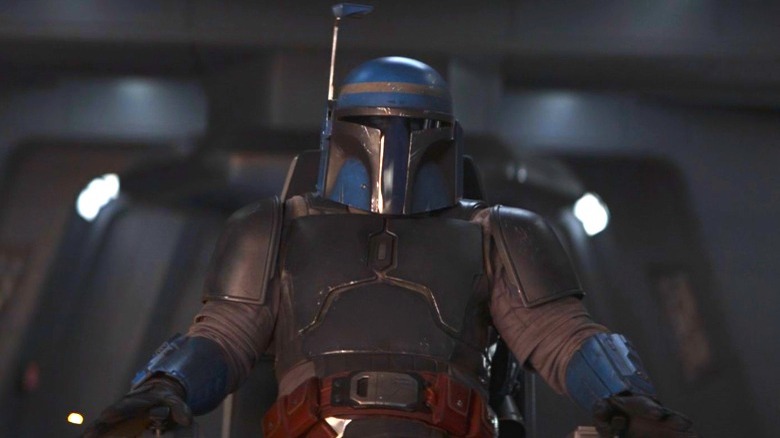 Lucasfilm/Disney+
While Lucasfilm is still ironing out future plans for "Star Wars," we wouldn't be mad if Axe Woves got more screen time in "The Mandalorian" or even his own show. The season finale cemented his place in Mandalore's future, proving that he's more valuable than most, as the Mandalorians will undoubtedly face more trouble soon.
"Star Wars" fans recognize the greatness and potential lying within the character, so Lucasfilm should capitalize on his skyrocketing popularity. On Reddit, u/Spaceace91478 pointed out, "I'm glad Axe Woves was just a jerk, not a turncoat. He had a badass episode." U/CBG_63 said, "I'm glad he was logical and evacuated. I was worried we were gonna have a 'captain goes down with the ship' moment." While the fear was legitimate, there was nothing to worry about in the end, as Axe proved he was smarter than most, using his Mandalorian equipment to escape the crashing Star Destroyer.
If Lucasfilm planned to give Cara Dune (Gina Carano) a Disney+ spin-off, there's no way that Axe Woves doesn't have the potential to lead his own show. Both characters have done about the same amount of heavy lifting within the story of "The Mandalorian," and with the Mandalore rebuild fully underway, Axe could shine in a series focusing on that. Realistically, that rebuild will likely play a part in future seasons of "The Mandalorian," but Axe Woves better be a part of the "Avengers"-styled "Star Wars" movie that will be the climax of the Disney+ shows.