Ted Lasso S3 Episode 6: Total Football Explained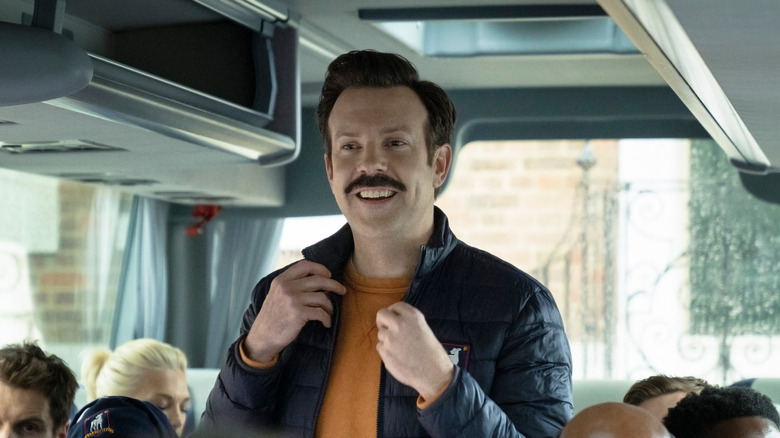 Apple TV+
This article contains spoilers for "Ted Lasso" Season 3, Episode 6
The latest episode of "Ted Lasso" Season 3 sees the team continue their losing streak, this time with a friendly away to AFC Ajax at the Johan Cruyff Arena in Amsterdam. However, the aforementioned team and stadium aren't the only nods to Dutch football that are sprinkled throughout the episode.
In one scene, Ted (Jason Sudeikis) has a hallucinogenic epiphany in which he learns all about the history of triangles and their relation to sports. This inspires him to create a new tactic for Richmond that will, hopefully, enable them to play with fewer restrictions. Coach Beard (Brendan Hunt) later informs Ted that his tactic is called "Total Football," and it's actually a real thing in the soccer world.
Total Football is a style of play that rose to prominence in the 1970s after being popularized by Ajax and the Dutch national side. The tactic is based on the philosophy that no outfield player should stick to one position on the pitch, provided that other teammates fill in the gaps whenever players decide to go roaming. When done right, Total Football allows teams to create fluid and effective attacks, but it's also more complex than that.
Total Football emphasizes fluid attacking play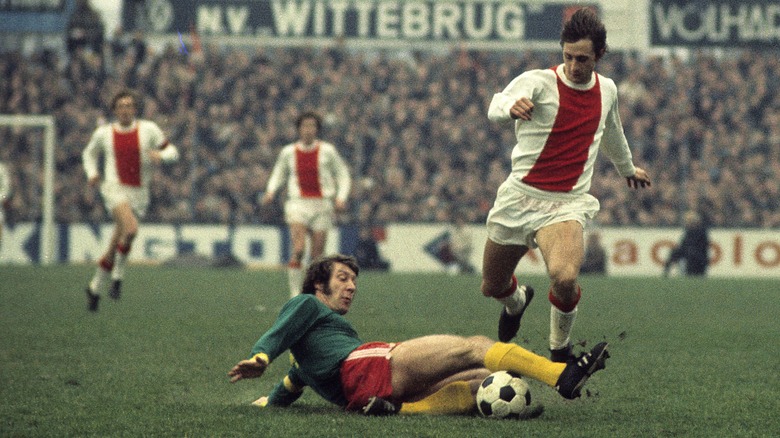 Vi-images/Getty Images
The origins of Total Football can be traced back to the 1930s thanks to the Austrian and Hungarian national teams, who were synonymous with playing thrilling, attacking football that prioritized possession play, creating space, and interchangeable player roles. However, the style reached its apex in the 1970s when Ajax and the Netherlands mastered the art of Total Football.
Under the guidance of then-manager Rinus Michels, Ajax implemented the style in the mid-1960s, but it really took off in the 1970s when Ajax and the Netherlands became footballing heavyweights. The teams were conditioned to be creative and maximize the space on the pitch during attacking plays, often forming triangular tactical shapes to do so. While defending, they reduced their opponents' playing space thanks to intense pressing, a high defensive line, and utilizing the Offside Trap tactic to great effect.
These are the principles of Total Football in a nutshell. In order for this system to work, players must be versatile, creative, hardworking, and extremely fit. Football has evolved since the early days of Total Football, but the style continues to inform the tactics of some of the world's biggest teams, including Barcelona, Manchester City, and Bayern Munich. For example, the modern tiki-taka system, made famous by Pep Guardiola, embraces elements of Total Football to great effect. Hopefully, AFC Richmond can make the most of it, too.