How Jason Momoa Behaved On Aquaman's Set, According To Amber Heard
Actor Jason Momoa has been plenty busy with projects lately, such as portraying Duncan Idaho in 2021's "Dune" and starring as Baba Voss in the Apple TV+ sci-fi series "See," which wrapped in 2022. Then, of course, there's his DC Extended Universe role of Arthur Curry, aka Aquaman, beginning with a cameo in 2016's "Batman v Superman: Dawn of Justice" before playing a bigger part in 2017's "Justice League."
The following year he led his own film with "Aquaman," which was directed by James Wan and co-starred Willem Dafoe, Patrick Wilson and Nicole Kidman, as well as his on-screen love interest Mera, played by Amber Heard.
Momoa was, undeniably, the biggest asset of the "Aquaman" set, he was playing the titular character after all. This may lead fans to wonder what his behavior was like during production. According to Heard, Momoa was incredibly kind and fun on set. Speaking to Entertainment Weekly in June 2018, Heard said, "His heart and his personality is as big as he is."
Heard said Momoa was always making people laugh on set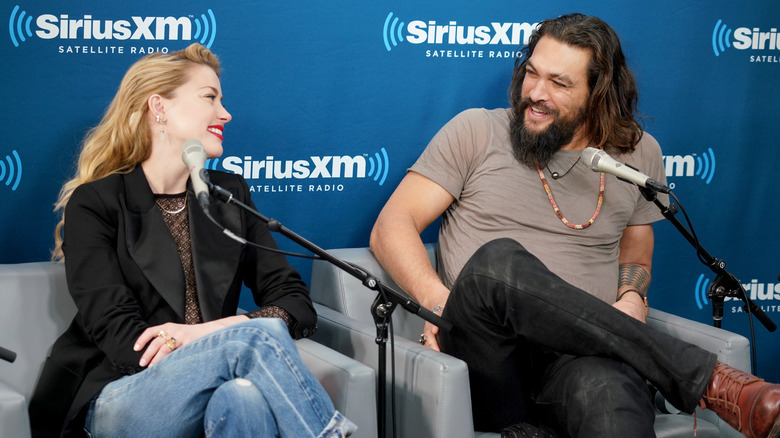 Cindy Ord/Getty Images
During the interview with Entertainment Weekly, Amber Heard elaborated on how co-star Jason Momoa brought a positive energy to the "Aquaman" set. Namely, the actor made the cast and crew laugh often.
Heard said, "He's got this booming voice and his sense of humor isn't satisfied unless he's making people laugh. I was joking that you always know where Jason is — you hear loud rock and roll, booming voice and people laughing and something breaking or falling. He'd make the worst ninja ever." Despite loving his positive energy, Momoa's on-set demeanor actually ended up clashing with how Heard is used to being on set.
The actress continued, "I got annoyed him because on the set I read books and I'm quiet. He's allergic to not making people laugh or be keeping people engaged around him all the time. So he started stealing my book so I'd be forced to pay attention to him."