Galaxy Quest Is Getting The Series Treatment From Paramount+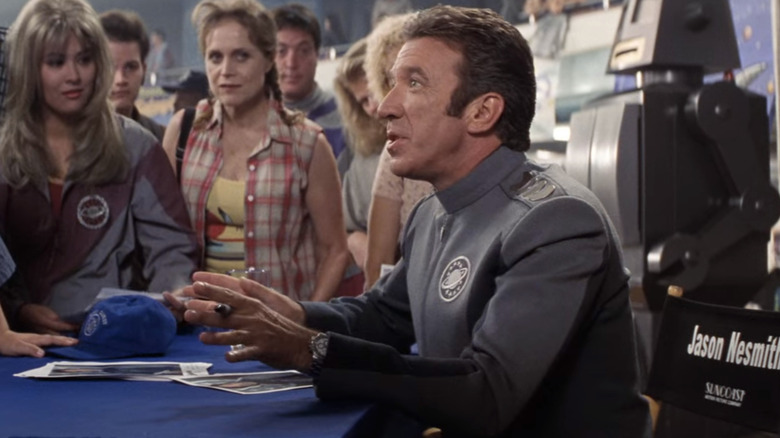 DreamWorks Pictures
After the death of Alan Rickman in 2016 scuttled Amazon's plans for a "Galaxy Quest" series, The Hollwood Reporter is reporting that another attempt to bring the 1999 space exploration spoof film to the small screen is in the works, with the movie's producer Mark Johnson on board to helm the television project and a search for a writer currently underway. 
The original film starred Rickman, Tim Allen, Tony Shaloub, Justin Long, and Sigourney Weaver as the washed-up cast of a long-ago cancelled sci-fi series who are approached at a fan convention by an alien race who are convinced the actors are a real spaceship crew capable of helping save their civilization. 
The new series will apparently be coming to Paramount+, but there has been no official confirmation from the streamer at this point. Paul Scheer was hired to write the initial series, and The A.V. Club reported two years ago that "Succession" writer Georgia Pritchett and Simon Pegg (Shaun of the Dead) were working on a "Galaxy Quest" show.
Alan Rickman's death leaves Galaxy Quest producers with a big decision to make
DreamWorks Pictures
Mark Johnson's first big decision will be how to handle the character of Alexander Dane ( Alan Rickman), who was a rough analog of the "Star Trek" character Mr. Spock (Leonard Nimoy), echoing Spock's logical detachment and gentle manner. 
Sam Rockwell, who plays security officer Guy Fleegman in the film, told Nerdist podcast host Chris Hardwick, "We were ready to sign up, and Alan Rickman passed away  ... And how do you fill that void of Alan Rickman?" Reassembling the rest of the busy, legendary cast may also prove to be a challenge, and any other missing pieces will leave a hole as deep and wide as Rickman's looming absence. 
In her review of the film, Charlotte Harrison of Charlotte Sometimes Goes to the Movies sets any further projects up for comparative failure, calling the movie "one of the finest comedy films, possibly ever. It's fantastically written, parodying fandom with much love and affection, and so well performed by a cast of total icons." 
Fans will just have to see how the Paramount+ series stacks up, whenever more is revealed down the line.