This Is The Exact Moment Full House Jumped The Shark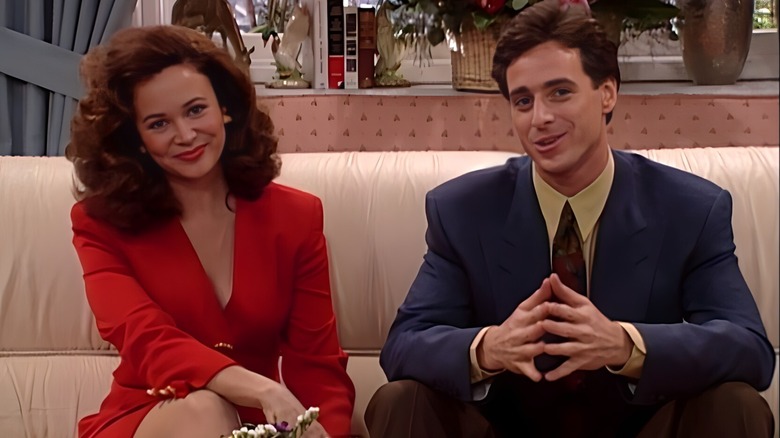 ABC
"Full House" is one of those sitcoms that still has hardcore fans, but that everyone knows jumped the shark at some point — and few people can agree on exactly when that happened.  
Some TV viewers will say the show's squeaky-clean silliness made it jump immediately upon its pilot episode. Others will give a nod to the Michelle Tanner-ification of the show, when the kid (Mary-Kate and Ashley Olsen) went from being a plot moppet who said cute things to a catchphrase-spewing brat who made her siblings' lives miserable. Others might point to cringeworthy episodes like the one where Jesse Katsopolis (John Stamos) nearly trades in his rock and roll dreams for a pop hit when Fat Fish Music approaches Jesse with a record deal, forcing him to perform a rap-laden version of the Beach Boys tune "Forever." This results in a video where Jesse must dance about in hammer pants. Or the time Michelle nearly ruined the family's Disneyland vacation by running away from her family and still got to have a good time doing all the things she wanted, while sibs Stephanie (Jodie Sweetin) and DJ (Candace Cameron Bure) worried themselves to death over her.
However, it's hard to ignore one particularly frustrating moment that prevented a character from growing. This instance wrecked the show's forward momentum and changed its future, leaving the series definitively worse for its existence. Now, fortunately for fans of the show, its continuation "Fuller House" subsequently tried to undo this mistake — but for now, let's talk about why the show lost its footing after the breakup of Danny Tanner (Bob Saget) and Vicky Larson (Gail Edwards).
Danny and Vicky's breakup was a bad, bad choice for the plot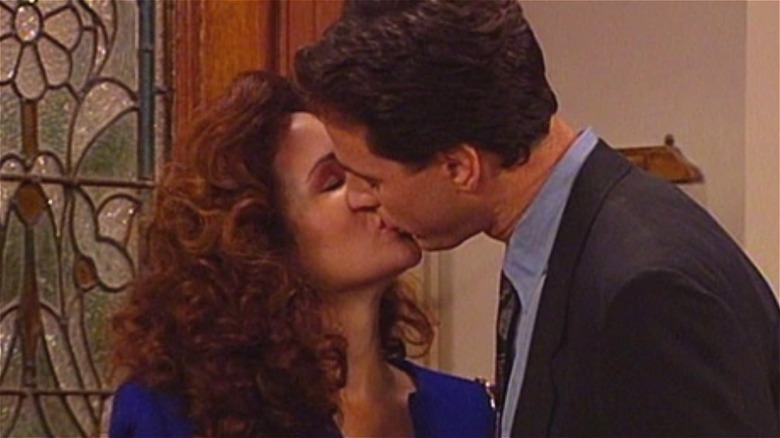 ABC
Introduced during the show's fifth season, Vicky Larson is an ambitious but kindhearted network anchor who manages to win Danny's heart while working as a substitute anchor on "Wake Up San Francisco" during Rebecca Donaldson's (Lori Loughlin) maternity leave. At first, driven Vicky and orderly Danny get on like oil and water. But as time goes on they develop a true affinity for one another, which turns into a lovely romance.
The show did a careful and good job of weaving Vicky into its narrative. Vicky proves to be a wonderful sounding board for DJ and Michelle, helping them both grow and providing the kind of advice that only their Aunt Becky had previously been able to dole out to them. She also becomes friendly with Danny's co-parents, his brother-in-law Jesse and his close friend Joey Gladstone (Dave Coulier). Vicky and Danny's courtship spans from the beginning of Season 5 to the end of Season 6. The show's incubation of their connection seems to be done with such purpose that when the show's two-part Season 6 finale, "The House Meets the Mouse," rolls around, no one's surprised when Danny wants to get serious.
Indeed, he plans on proposing to Vicky. Unfortunately, Danny simply can't find the right time to pop the question. That is until the family's gathered together to watch a fireworks display as Jesse sings. Danny finally succeeds in proposing, and Vicky says yes. His daughters and family are thrilled by the news.
Sadly, fans were about to be deprived of a Season 7 wedding.
Vicky and Danny's break-up broke Full House fans' hearts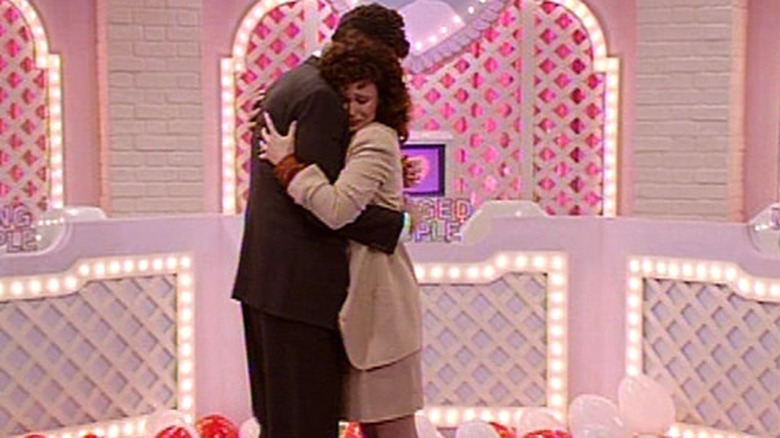 ABC
Vicky and Danny's relationship was already long distance, and had been since she moved out to Chicago to take a job anchoring the news there at the tail end of Becky's maternity leave during Season 5. But the show couldn't simply mire her out in Illinois forever, and ABC didn't seem to have the will to change the formula of its big hit TV series, especially since they'd already married off one of its bachelor fathers recently.
Thus, instead of episodes featuring blended families, wedding planning, and wedding dress shopping, Vicky simply disappears from the narrative until Episode 13 of Season 7, "The Perfect Couple." The twosome do Joey a favor by appearing on his game show alongside DJ and her boyfriend, Steve (Scott Weinger) and Becky and Jesse. The appearance proves to be a disaster for everyone, including Danny and Vicky, who doesn't show up in time for the taping. It turns out that she's scored her dream job — a role as a network anchor in New York City. Since Danny can't uproot his girls and she's not willing to miss out on the opportunity, their engagement and their relationship are broken off, with hugs and tears aplenty.
Full House's writers and actors didn't like it, either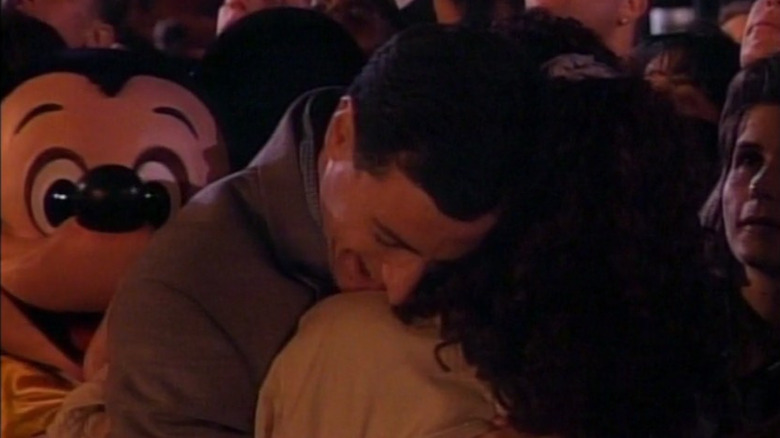 ABC
Danny and Vicky's breakup proved to be a gigantic waste of narrative space. Even worse, the dissolution of their romance does nothing to make Danny's fate more compelling. At that point in time, "Full House" was one season away from reaching completion: there's absolutely no reason why Vicky and Danny couldn't have ridden off into the sunset together. It's a frustrating plot twist that is not ameliorated by the chemistry-negative attempt at having Danny date Gia's mom, Claire (Andrea Abbate) during Season 8.
The plot twist was notoriously unpopular among "Full House" fans, who have long begged for a redo. And it turns out that the unmaking of Danny and Vicky's relationship was even unpopular among the show's executives. Jeff Franklin, who worked as an executive producer on both "Full House" and "Fuller House," told TV Line in 2017 that his leaving the show during Season 6 resulted in the couple's broken engagement. "We spent a lot of time building Vicky's character and building that relationship, and that one got ripped apart as well. I don't think any of those decisions were big crowd pleasers back in the day. All of those little decisions contributed to the show's early demise," he said.
Actress Gail Edwards, meanwhile, has also expressed her disapproval of the plot twist. Speaking to the Full House Podcast in 2017, she said that if she had her way, Danny and Vicky would've married and had a child of their own.
That lack of intent definitely makes Seasons 7 and 8 hard to watch, because it's so clear that this couple was clearly written to be one that lasts. When it didn't, the show never recovered.
Vicky and Danny's break-up traps many Full House characters in stasis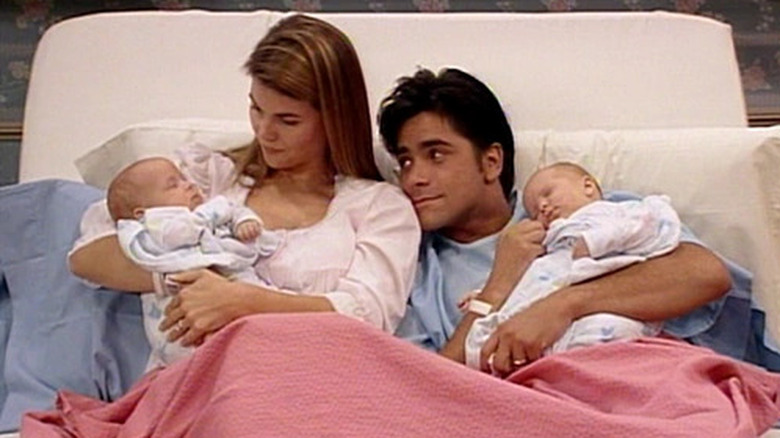 ABC
If Danny and Vicky's non-marriage ruined the hope that "Full House" might ever get to switch up its narrative formula by tossing in a new female role model in for the girls, then the rest of the shows characters soon found themselves mired in the formula as well. Cardinal example: the marriage of Jesse to Becky proved why clinging to the show's formula only caused it to age faster.
It wasn't that the courtship between rebellious Jesse and straitlaced Rebecca was bad in of itself, it was that their Season 4 union after two seasons of will-they-won't-they romance didn't provide their storylines any forward motion. The couple isn't even allowed to move out of the overcrowded Tanner family house after (who else?) Michelle expresses her fear and sadness over Jesse's decamping for another location. This gets even more awkward when Jesse and Aunt Becky find themselves raising twins in the Tanner's attic.
Said twins, Alex and Nicky, existed purely to provide the show with cutesy baby subplots once the Olsen twins passed their sixth birthdays. Unfortunately, this set of twins didn't spark a merchandising bonanza as Michelle did a few seasons before their arrival. Eight seasons deep into the show's run, those kind of plots had long worn out their welcome, and double the trouble paid back smaller dividends. Perhaps if Becky and Jesse had moved across town and Michelle had learned a lesson about growing up and letting go, the show would have been better off as a whole, but that's not what happened: instead, the show awkwardly tried to fit life growth into the formula without allowing structural growth, even when it didn't make sense.
The kids in Full House weren't all right after that, either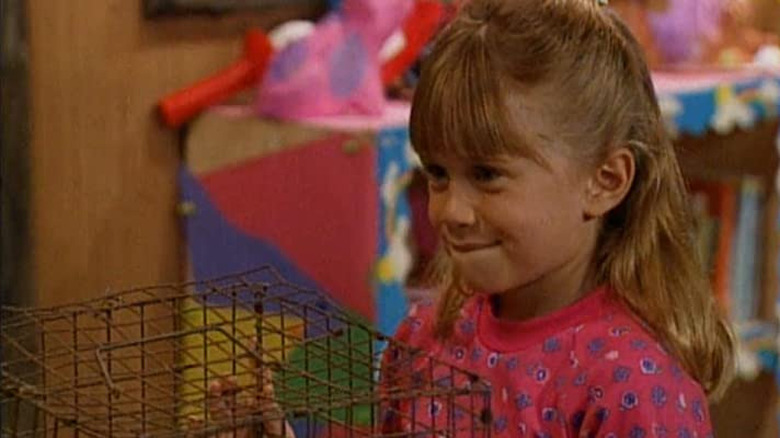 ABC
Even the kids didn't escape this total lack of forward motion. Instead of becoming a more mature and less bratty person, Michelle's character stultifies; she sometimes finds herself playing second banana to Nicky and Alex's antics, but mostly takes up a post as the family's self-centered, scheme-laden know-it all.
DJ and Steve's relationship gets stuck in a cycle of breaking up and making up, and it doesn't feel like either of them learn anything important from their time away from each other. They end up back together because it provides the audience a quick and easy happy ending, not because it's a fitting conclusion for either teen's building story arc. Stephanie's biggest bit of character development revolves around her developing a synth pop band, an occupation that would follow her into "Fuller House," where she becomes a rock star.
All of these non-incidents serve as tiny, post-shark bites from a series of angry piranhas feasting on the show's water-treading body. By the time of its abrupt cancellation during Season 8, the show was working hard to outrun the shark it had jumped, but it eventually got swallowed whole.
How Fuller House tried to undo Vicky and Danny's breakup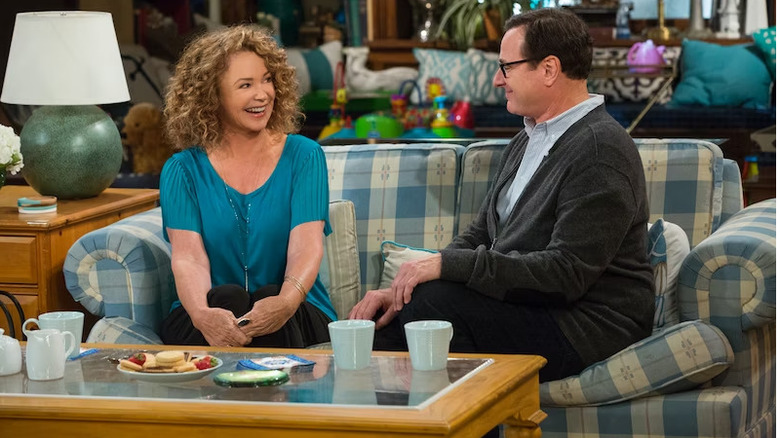 Mike Yarish/NETFLIX
Here's the good news for "Full House" fanatics everywhere. With Jeff Franklin back in control of the franchise, "Fuller House" definitely managed to smooth over the original show's shark jump, proving that it's never too late to fix a serious mistake.
Vicky and Danny finally reunite during the Season 3 finale of "Fuller House," titled "Here Comes the Sun." Vicky shows up just as Danny's set to depart for a family party at The Smash Club, Jesse's old haunt, which he and Joey have purchased and plan to run together. Danny's dealing with a rough split from his second wife, Teri (Eva LaRue) and he's stunned when Vicky shows up at his place. He agrees to escort her to the Smash Club after a sweet talk. Though it's the last time we see them together as a couple, and she's never mentioned again, it's strongly implied they stay in touch after his divorce, putting a wonderful capper on their union.
"Fuller House" definitely wasn't a flawless experience, but at least it managed to fix up some of the worst errors that "Full House" made — including its shark jump.