Stormtrooper Cameos You Forgot Happened In Star Wars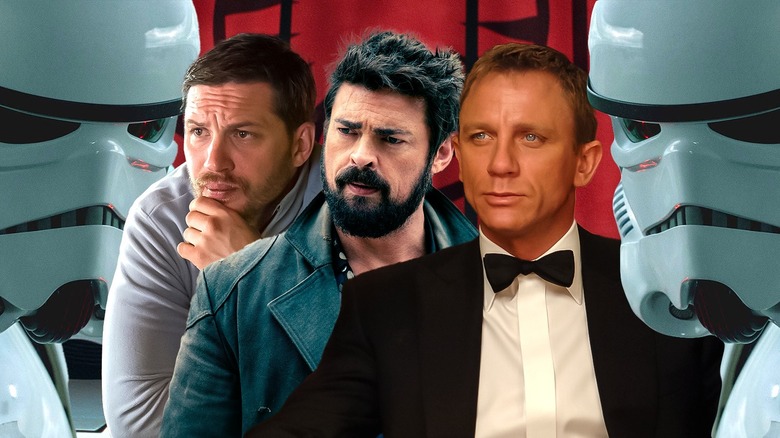 Static Media
As one of the biggest entertainment franchises in the world, "Star Wars" has found fans from every walk of life. In fact, quite a few celebrities are big fans of the series and have let it be known to the world. So when the sequel trilogy was announced, it makes sense that many actors, musicians, and other famous figures wanted to have secret cameos as a way of being involved in a pop culture phenomenon.
Thankfully, the world of "Star Wars" allows for plenty of opportunities for celebrities to have roles without being distracting. That's because so many characters are in costume or wear prosthetics because they are alien creatures rather than a human. A good example of this is Stormtroopers, evil soldiers who work for the First Order and Galactic Empire, as they appear in full white armor including a helmet to hide their face.
This allows all kinds of cameos that fans would never even be aware of unless the information was revealed by the actor or filmmakers. Here are some of the Stormtrooper cameos from "Star Wars" that you probably didn't even realize had happened or completely forgot about.
Joe Johnston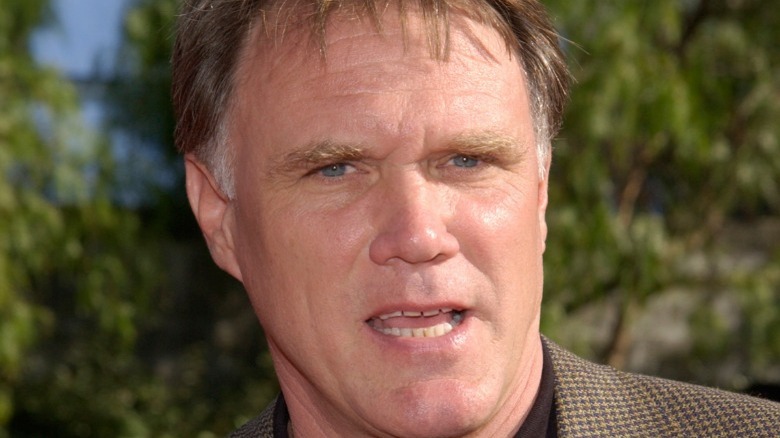 Featureflash Photo Agency/Shutterstock
To many people, Joe Johnston is the director known for helming movies such as "Jumanji," "Honey, I Shrunk the Kids," and "Jurassic Park III." In more recent years, he has also worked in the MCU as the director of "Captain America: The First Avenger" and will take charge of both "Shrunk" and "The Chronicles of Narnia: The Silver Chair." Before he became a director in his own right, he had worked as a producer and as part of visual effects teams, winning an Academy Award in 1982 for best visual effects. He can also be seen extensively in the Disney+ documentary series "Light & Magic" talking about his work with the visual effects studio Industrial Light & Magic.
Johnston's association with "Star Wars" stretches back to the original trilogy. He worked as part of the visual effects team on "A New Hope," "The Empire Strikes Back," and "Return of the Jedi," as well as working as a concept artist. It was in this second role that he played a key part in the design of the bounty hunter Boba Fett. He also wrote the novel "The Adventures of Teebo: A Tale of Magic and Suspense" in 1984 and continued to work with George Lucas with the films "Raiders of the Lost Ark" and "Willow." In "A New Hope," Johnston portrayed a Stormtrooper as well as an Imperial Gunner.
Michael Giacchino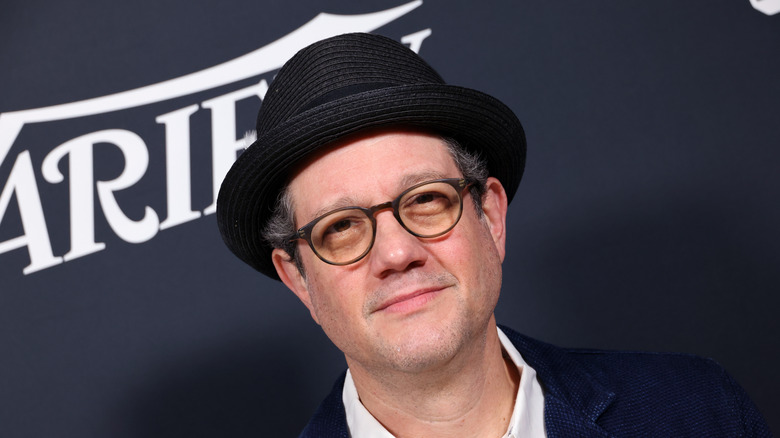 David Livingston/Getty Images
Michael Giacchino may not be a face that is incredibly familiar to movie fans but he has had an important role in a number of popular television shows and films. The award-winning composer is probably best known for his work on the likes of "Up," "Lost," and "Rogue One: A Star Wars Story." Giacchino has also been closely associated with Marvel Studios, working on multiple MCU films and composing the company's fanfare. A frequent collaborator of JJ Abrams, the composer scored "Mission: Impossible III," "Star Trek," and "Super 8." He has also turned his hand to directing in recent years, helming the Disney+ special "Werewolf by Night."
Giacchino has had a number of "Star Wars" cameos in recent years. He first portrayed FN-3181 in "The Force Awakens," a Stormtrooper who is present during the First Order's attack on Jakku and helps capture Poe Cameron with Kylo Ren. He reprised the role in "Ralph Breaks the Internet," voicing the Stormtrooper as he chases after Vanellope. Returning to the sci-fi world in 2019, the composer appears in a red-colored Sith Trooper outfit in "The Rise of Skywalker" as confirmed in a Tweet from Giacchino himself that included a photo of him in costume.
Ben Schwartz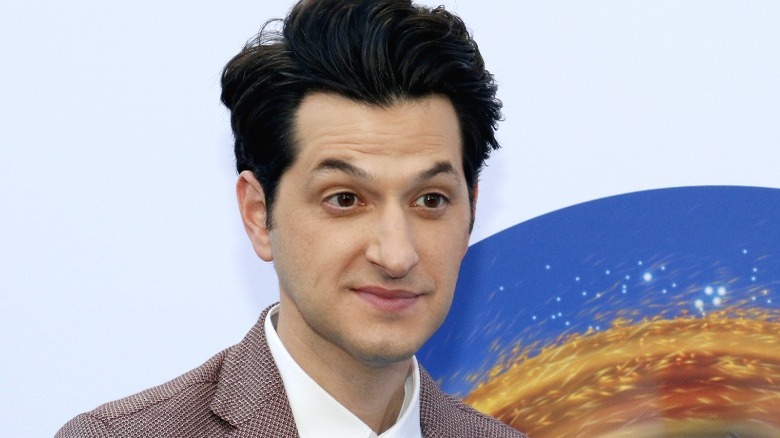 Tinseltown/Shutterstock
Before choosing a career in entertainment, Ben Schwartz studied at New York's Union College where he graduated with degrees in psychology and anthropology. His first screen role came in 2006 in an episode of "Late Night with Conan O'Brien" and he quickly went on to appear in several other films and television shows. He portrayed Jean-Ralphio Saperstein in "Parks and Recreation" and more recently was part of the main cast of "Space Force" and "The Afterparty."
Schwartz has worked extensively as a voice actor, lending his vocal talent to Sonic in both "Sonic the Hedgehog" films and Leonardo in "Rise of the Teenage Mutant Ninja Turtles." The actor and comedian also acted as a vocal consultant with Bill Hader for the droid BB-8 in "The Force Awakens."
In 2023 Schwartz returned to the franchise in the animated series "The Bad Batch," once again voicing a droid. This time it was TAY-0, a racing droid who competed in the Riot Race. The actor revealed that, on top of his other roles in "Star Wars," he had also portrayed a Stormtrooper. He showed several photos of himself in costume as the First Order soldier. Although he didn't explain exactly where he appeared, Schwartz did confirm that his cameo came in "The Force Awakens."
Daniel Craig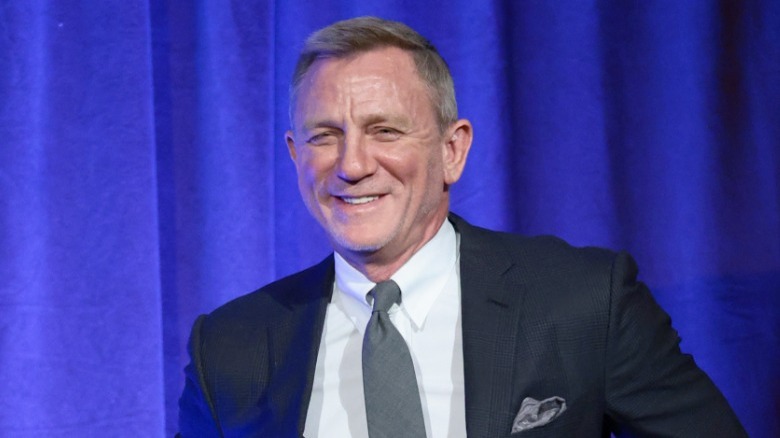 Dimitrios Kambouris/Getty Images
British actor Daniel Craig has become one of the most recognizable faces in the world thanks to his appearances in a wide variety of films. He has made huge sums of money thanks to his portrayal of the titular fictional spy in the "James Bond" franchise as well as his role as Benoit Blanc in Rian Johnson's "Knives Out" series and has performed on Broadway as recently as 2022, playing the lead role in "Macbeth."
Craig managed to snag himself one of the more significant and entertaining cameos in the series as a Stormtrooper thanks to two important factors. Firstly, he was filming at the same studio where "The Force Awakens" was being shot and secondly he is a friend of assistant director Ben Dixon. The actor was able to persuade the right people to allow him to don the signature outfit and he appeared in the scene where Rey uses a mind trick to escape from captivity. "I love [Star Wars], of course I do," he told Josh Horowitz. "I wouldn't have asked to be in them if I wasn't a fan."
Nigel Godrich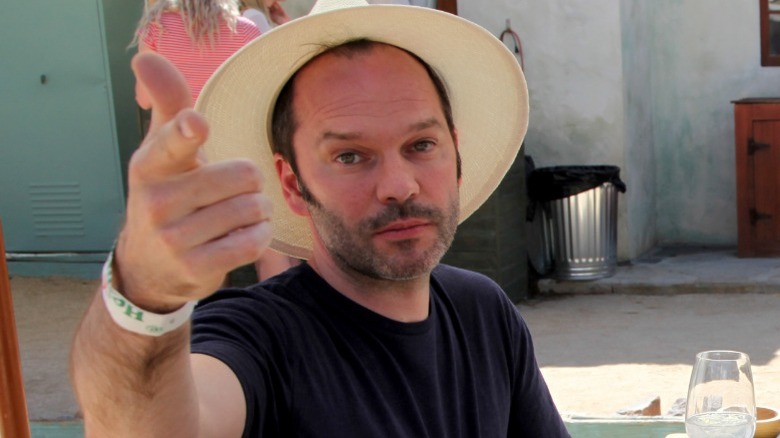 Isaac Ferry/Getty Images
The name Nigel Godrich likely won't mean much to movie fans but those who are into music may well recognize him. The record producer and musician has been a close collaborator of the band Radiohead for more than two decades, having first worked with them on the 1997 album "OK Computer." His success with the group led him to be in demand with other big names, including Paul McCartney, U2, and R.E.M. The year 2010 saw him team up with Edgar Wright for the film "Scott Pilgrim vs. the World," which he scored.
Godrich played a Stormtrooper on Starkiller base in "The Force Awakens." He can be heard shouting in surprise when an elevator door opens to show Chewbacca in the facility. The credits list the Stormtrooper as FN-9330, with Edgar Wright revealing that he was responsible for the music producer landing the cameo. According to the director, he owed Godrich a favor and felt this was a good way to pay him back. Of course, Godrich is never actually seen as he is in full costume during his brief appearance.
Kevin Smith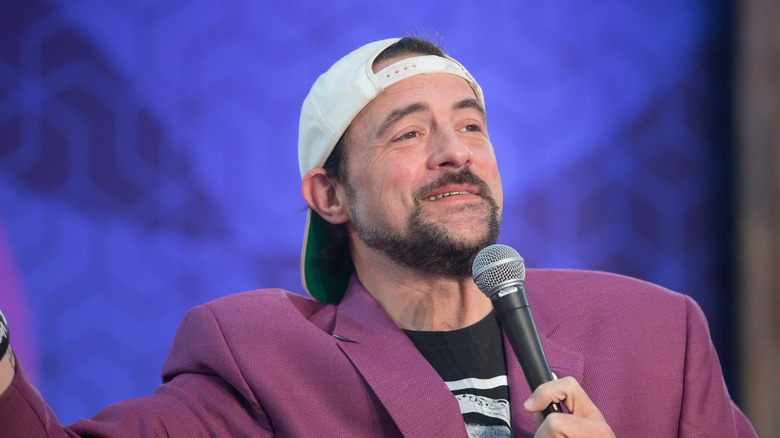 Sterling Munksgard/Shutterstock
Kevin Smith is a director and writer who rose to prominence after releasing the low-budget film "Clerks" in 1994. This began his own interconnected series of films set in the View Askewniverse, although the director has also worked on a variety of other projects. These include the television series "Supergirl" and "The Goldbergs" as well as running the Smodcast podcasting network and writing comic books for DC and Marvel. Smith has seemingly been a fan of the sci-fi series for some time as he included a detailed conversation about the innocent lives that would have been lost when the second Death Star was destroyed in his film "Clerks." He has also spoken about his love for "Star Wars," which he has been enjoying since he was a young boy.
The filmmaker wasn't actually physically portraying one of the bad guys but did provide the voice. The Stormtrooper that Smith voices in his cameo in "The Force Awakens" can be seen when the First Order attacks Maz Kanata's castle. When Resistance fighters show up to provide support the soldier shouts out: "We have incoming at 28.6! Move!" Smith went on to have another cameo in "The Rise of Skywalker," this time playing someone who can actually be seen on screen as a local of the planet Kijimi. 
Prince Harry & Prince William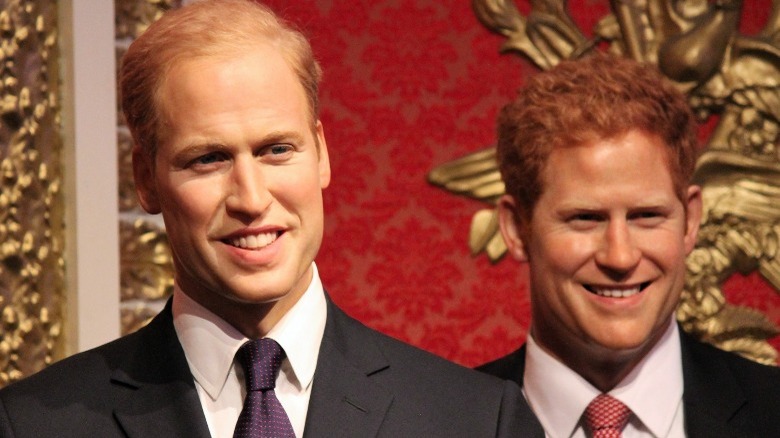 Lorna Roberts/Shutterstock
As two of the most high-profile members of the royal family, both Prince Harry and Prince William have become accustomed to appearing in public. However, they have not usually had roles in television shows or films outside of documentaries or as part of a charitable cause. Things have changed somewhat in recent years, with Prince Harry making numerous television appearances following his very public spat with the rest of his family.
The two princes visited the set where "The Last Jedi" was being filmed in 2016 but it wasn't until later that it was confirmed they had filmed a secret cameo for the movie. The pair had shot a scene where they were dressed as Stormtroopers, appearing alongside Finn. Unfortunately, the cameos didn't make it to the final cut of the movie as the royal family members are taller than average Stormtroopers, with both standing at more than six feet tall, although a deleted scene featuring them has been made available.
Tom Hardy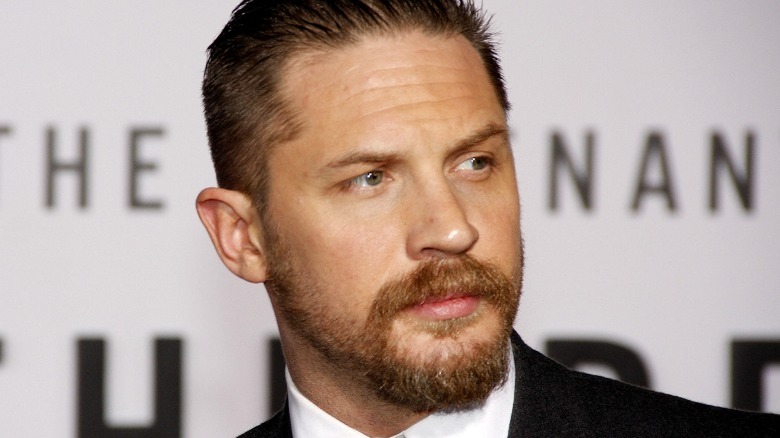 Tinseltown/Shutterstock
Moviegoers will immediately know Tom Hardy as the English actor who has been involved in a number of box office hits such as "Inception," "Venom," and "The Dark Knight Rises." Having started his career as a model in the late 1990s, he went on to star in "Band of Brothers" and "Black Hawk Down," establishing himself in the industry as a screen actor. Since then, he has gone from strength to strength, starring in movies such as "Legend," "The Revenant," and "Mad Max: Fury Road," receiving a number of prestigious award nominations along the way.
Despite all of the issues that the sequel trilogy had, the movies still had some positive moments. Among these were a large number of Easter eggs and hidden cameos, one of which involved Hardy. He appeared in the same deleted scene of "The Last Jedi" that Prince William and Prince Harry were part of, although his role was more significant. The actor played a Stormtrooper who recognizes Finn as he is trying to infiltrate a First Order base. However, rather than coming to the conclusion that he is undercover, the dim-witted Stormtrooper actually believes Finn has simply been promoted to the intelligence division.
Jason Sudeikis & Adam Pally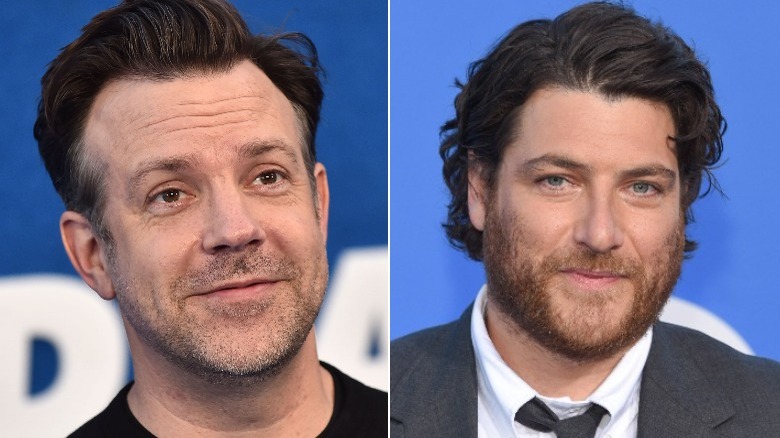 DFree/Shutterstock
Although they are not a double act, Jason Sudeikis and Adam Pally are both comedians and actors who have worked on a variety of television and film projects over the years. Sudeikis is probably best known for his role in the Apple TV+ series "Ted Lasso" but he has also worked in the likes of "The Last Man on Earth," "We're the Millers," and "Horrible Bosses." Meanwhile, Pally is famous for his appearances in the ABC sitcom "Happy Endings" as well as his portrayal of Peter Prentice in the comedy series "The Mindy Project" alongside Mindy Kaling, Ed Weeks, and Anna Camp.
Unlike many of the other Stormtrooper cameos that came in the movies, Jason Sudeikis and Adam Pally portrayed the villainous soldiers in an episode of the Disney+ series "The Mandalorian." The pair can be seen on speeder bikes as the two troopers capture Grogu and attack him. However, the pair are swiftly dispatched by IG-11 as they are competing to hit a target with their blasters. There's even a behind-the-scenes image showing the two in Stormtrooper costumes without helmets. Pally later spoke to Seth Meyers to explain that he had gotten in trouble for punching Grogu too forcefully during the shoot.
Ed Sheeran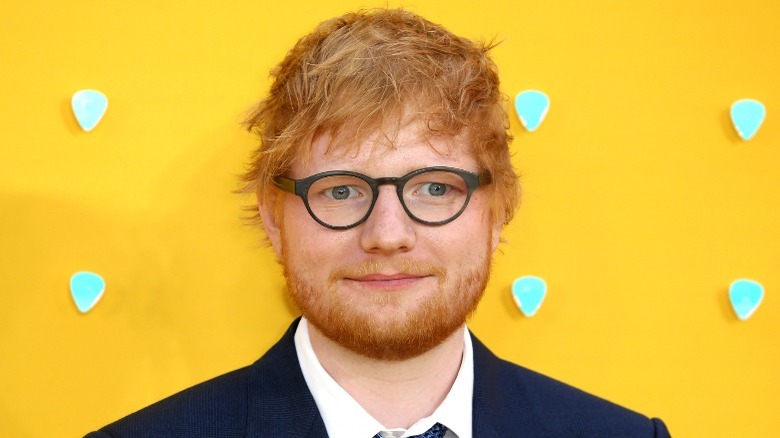 Fred Duval/Shutterstock
One of the biggest musicians in the world, Ed Sheeran has been popular since the release of his debut album in 2011. He has since gone on to have several best-selling records and world tours. Sheeran is no stranger to appearing as a cameo in popular franchises. He had previously had a brief role in "Game of Thrones" during the seventh season, portraying a Lannister soldier as well as an uncredited appearance in "Red Notice."
As an actor, he featured in the 2019 film "Yesterday," portraying a fictional version of himself. The singer-songwriter is also due to have some involvement in the third season of "Ted Lasso," writing a song specifically for the series that he had admitted he is obsessed with.
Sheeran can be seen in a special commercial put together to promote the release of "The Rise of Skywalker." He is wearing a Stormtrooper costume without a helmet in the footage, although it is unclear whether this Stormtrooper appeared in the final cut of the film. Ed Sheeran also has another cameo in "The Rise of Skywalker." He is the person behind the mask of an alien member of the Resistance who fought the First Order at the Battle of Exegol. A former miner, he is an expert in explosives and helped stop the Sith Eternal forces from overwhelming the Resistance.
Karl Urban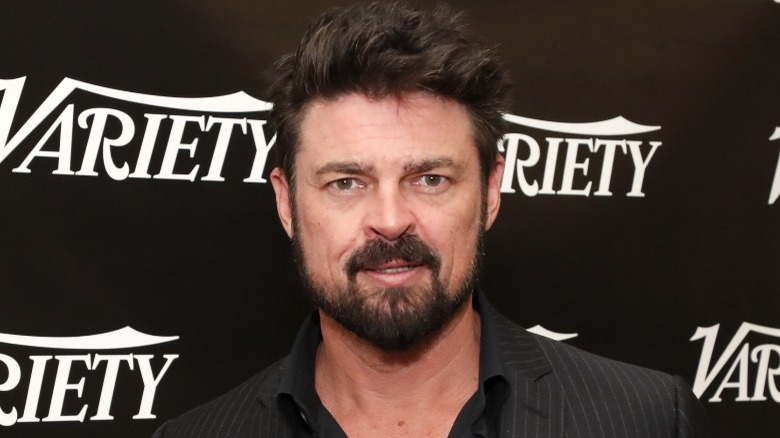 Astrid Stawiarz/Getty Images
Karl Urban is a New Zealand actor who first made his breakthrough in 2002 when he appeared in the horror movie "Ghost Ship." He also had credits in television series such as "Xena: Warrior Princess" before gaining prominence as Éomer in Peter Jackson's "The Lord of the Rings" trilogy. More recently, he has had leading roles in "Thor: Ragnarok" and "Pete's Dragon," as well as playing Billy Butcher in Amazon Prime Video's highly acclaimed superhero series "The Boys."
Urban has a secret cameo in "The Rise of Skywalker" that didn't just involve him wearing the famous white armor of the troops but also say a line that is in the final cut that was released to the public. The actor explained that it had always been a life ambition to play a Stormtrooper and he can be seen as one of two Stormtroopers who witness the Knights of Ren moving through a First Order base.
"Here's the process. I had the good fortune to go and visit J.J. Abrams while he was shooting 'The Rise of Skywalker,'" Urban said in an interview with Digital Spy. "While I was there, he put me in a stormtrooper uniform and we had a really fun day on set."
Dhani Harrison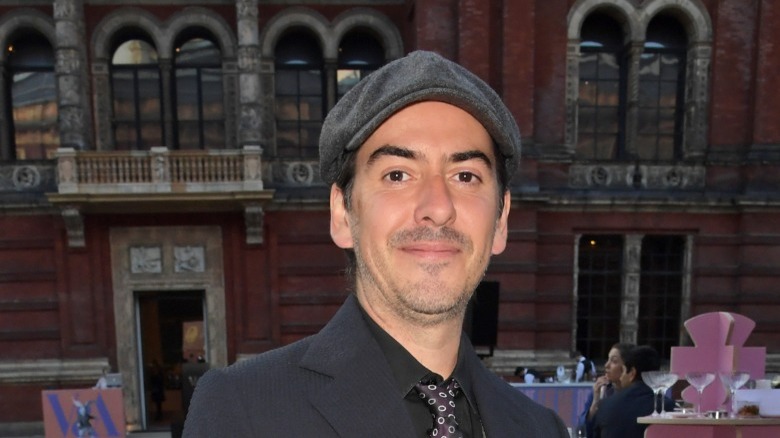 David M. Benett/Getty Images
Dhano Harrison is a musician and the son of guitarist and former Beatle George Harrison. He worked on his father's final album "Brainwashed" and features in his own successful band Thenewno2. As a composer, Harrison has worked on a variety of television series and movies. These include the likes of "Cut Throat City," "Beautiful Creatures," "Futra Days," and "Good Girls Revolt." His acting credits include a character in a single episode of the 2016 series ":Dryvrs" as well as an uncredited portrayal of his father in the video game "The Beatles: Rock Band."
Harrison managed to land a brief cameo in "The Rise of Skywalker" as a Stormtrooper known as FN-0878. Unfortunately, it wasn't ever confirmed exactly which First Order soldier this is in the movie, although a Tweet from the man himself seems to suggest that he may have been involved in the same scene as Karl Urban as the Knights of Ren move past them both.