Young Sheldon And Big Bang Theory Had A Time Travel Type Crossover On Social Media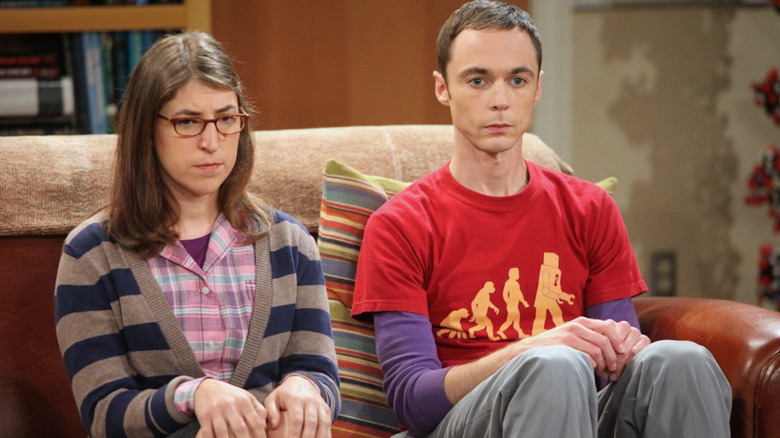 CBS
Because of the strong connections between "The Big Bang Theory" and "Young Sheldon," crossovers have naturally appeared in various episodes — to the delight of fans of both shows.
In a "The Big Bang Theory" episode from late 2018 called "The VCR Illumination," for example, Armitage appeared via videotape, while characters from "The Big Bang Theory" have also made cameos on "Young Sheldon." Amy Farrah Fowler (Mayim Bialik) made a short voiceover appearance in Season 4, Episode 1, and also narrated a Season 5 episode. Howard Wolowitz's (Simon Helberg) voice was heard in Season 5, Episode 7. And Kaley Cuoco, who played Penny on "The Big Bang Theory," played a swimming pool in one of young Sheldon's childhood nightmares.
 Another crossover happened in late 2022 when Armitage posted an Instagram image showing him and his "future wife" together. The adorable image was posted to Iain Armitage's social media in November 2022, when he and Mayim Bialik were attending the same event: a showing of the Disney movie "Encanto" at the Hollywood Bowl. The young actor wrote, "It's amazing when I run into my future wife! Nice to see you, @missmayim ! I'm not sure what kind of time warp/time travel this is, but it was fun!"
Fans loved seeing the two actors together
Fans loved the caption, of course, with some saying that it could definitely be misconstrued in a mischievous "Back to the Future" kind of way by those who weren't fans of either Chuck Lorre-produced and -written show. Others joked that someone in the family had definitely taken their scientific knowledge to invent time travel. "Adorable time travel! Amy solved it in the future for sure," said u/sasameseed in a Reddit thread discussing the post. Meanwhile, on the Instagram post, @sbo9376 commented, "Well it looks like sheldon successfully invented time travel" and got more than 100 likes on it. 
Speaking at a Deadline event before the "The VCR Illumination," "Young Sheldon" co-creator Steve Molaro said, "There's no reason why we can't keep going back and forth in this weird time portal that has been created between the two shows." Of course, it isn't as easy as all that, as executive producer Steve Holland expressed when he told USA Today, "These two shows take place in different time frames so it's not like it's easy to bring characters from one into the other."
There are definite challenges faced by bridging the 30-year gap between the two shows for a real crossover event, so this was a special one-time surprise that delighted fans.
This wasn't the first time Armitage featured Mayim Bialik on his Instagram page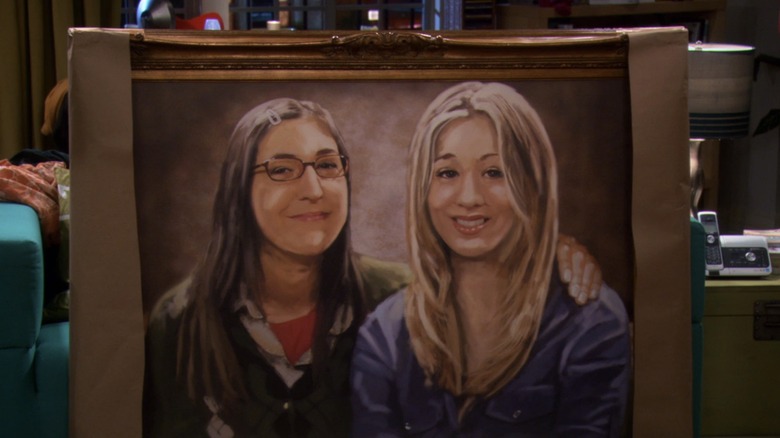 CBS
Still, it's been done, numerous times — well, sort of. Back in August 2021, Iain Armitage took to Instagram and uploaded an image of himself in front of a very specific painting, captioning the image, "Just the three of us ... hanging around ..."  
For those who haven't seen the Season 5 episode "The Rothman Disintegration," the subplot has Amy gifting Penny a giant painting of the two together — it was 12 feet in total area and put Amy back $3,000. When "The Big Bang Theory" ended in 2019, Mayim Bialik's video diary revealed that the painting was hung in a hallway where the cast of the show's dressing rooms were located. It has clearly moved since then, probably a few times; it appeared on "Young Sheldon" star Raegan Revord's TikTok page late in 2022, and it's clearly no longer in a hallway.
In any case, the cast of "Young Sheldon" clearly has at least occasional access to it, as proven by Armitage's Instagram post. This savvy young man knows that fans are always excited about making visual connections between the two shows. Hopefully, more crossovers are in the works, whether official or not.