Why Alan Conway From Magpie Murders Looks So Familiar
The long-beloved genre of whodunit mysteries has found a foothold in American culture as of late. Rian Johnson's detailed "Knives Out" franchise gave the world a gift in the form of Detective Benoit Blanc (Daniel Craig), while Hulu's "Only Murders In the Building" has leaned into long-form murder mysteries. England, however, refuses to be outdone at their own game. In the vein of Agatha Christie, famed author Anthony Horowitz has adapted his murder mystery "Magpie Murders" for the small screen. The series is a meta spin on the Christie model, all centering around the suspicious death of author Alan Conway (Conleth Hill).
Conway may not have been long for this world in "Magpie Murders," but he is contingent on the success of the series. Just like we need to care about Harlan Thrombey (Christopher Plummer) in "Knives Out," audiences need to have an interest in Conway and what would lead to his murder. As his editor tries to solve the case of his death — and looks for the missing last chapter of his manuscript — audiences get a deeper look into the mind of the author by seeing the events of his book play out. A prolific actor in both large and small productions, Hill is a chameleon who melts into any role. Even if you don't recognize him for his previous roles at first glance, you've definitely heard of him before.
He earned the irritation of Doc Martin
For 10 seasons and two decades of content, fans became accustomed to Doc Martin's (Martin Clunes) brusque way of treating his patients. "Doc Martin" is comfort food for the soul, following a surgeon from the big city who has an aversion to basically everyone around him. And still, he finds emotional touchstones despite his rigid personality. The series had a successful run until its end in 2022, but not until Conleth Hill had a chance to guest star.
In typical fashion for the show, Hill appears as an antagonist to Doc Martin and a source of irritation. Already put on the defensive when they first meet because of Martin's social skills, the doctor has little time for Hill's character, Dr. Edward Mullen, who arrives to give Martin's GMC assessment. Martin will have to go through the rigamarole of attending to fake patients as part of the test. 
Mullen is an apt contrast to Martin. The outsider has no experience with Martin's personality and is just going by the book of surgeon procedures. But Martin treats him no different than anyone else, highlighting his quirks. At the end of the day, Martin's real patients are more important than fake ones, effectively pausing the play-acting Mullen is asking for. Though Hill's time as Dr. Mullen was fleeting, his appearance is another notch in relevant pop culture.
He was the best one of us in Game of Thrones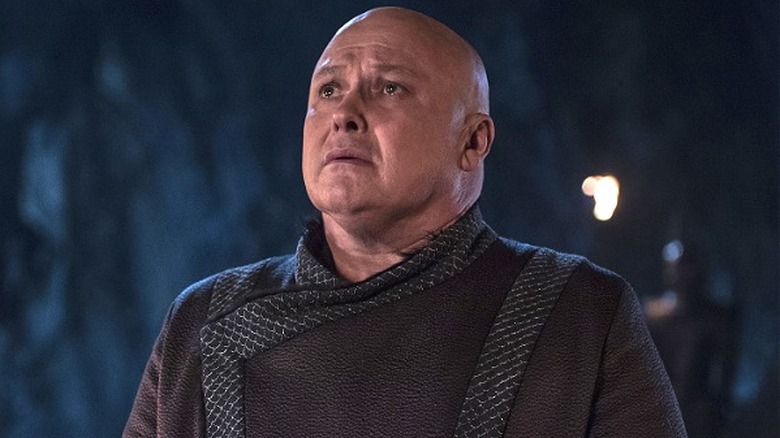 Helen Sloan/HBO
When asked what he wants in the battle for the Iron Throne, Lord Varys only has one answer. "Peace." In the world of "Game of Thrones," that is a rarity. Peace and prosperity is the only thing that Varys is concerned with, a far cry from most of the characters in George R.R. Martin's epic fantasy. Conleth Hill plays the aforementioned Master of Whisperers with emotional nuance. In contrast to the scheming of Littlefinger (Aidan Gillen), Varys doesn't desire power for himself. He is an idealist in a world where idealism is a death sentence. He only cares for the good of the realm and supports whatever leader can accomplish that. But while his intentions make him the character with the most integrity, it is also his downfall.
He was too good for this world, meaning he, of course, had to have a gruesome death. After realizing that Daenerys Targaryen (Emilia Clarke) is following in the footsteps of her mad father, King Aerys, Varys cannot abide her ascending the throne. But despite his efforts to support Jon Snow (Kit Harington), Daenerys discovers his betrayal and executes him by dragonfire. Varys' death is just another example that goodness does not always serve. We learned that with Ned Stark's (Sean Bean) devastating death, and even though Varys was good at playing the game, outright violence seems to win every time.
He was a casual observer of Serena's madness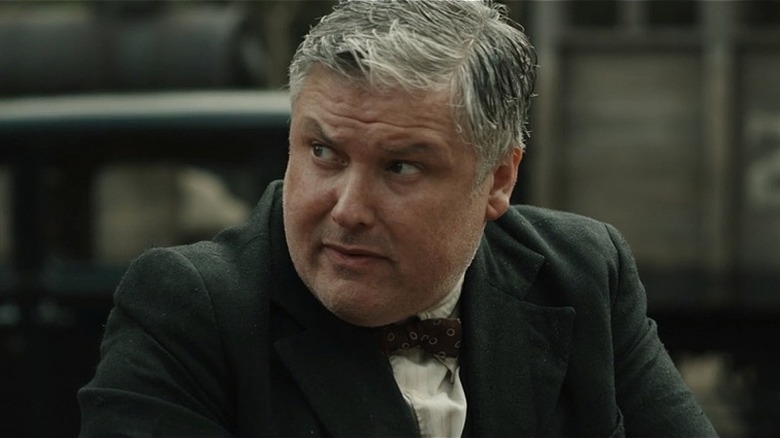 Magnolia Pictures
Despite its dismal reception and reported issues in post-production, the 2014 film "Serena" had a lot going for it. Well into the height of Jennifer Lawerence's fame from "The Hunger Games" franchise, the Great Depression-era film attracted a lot of talent. Co-starring with frequent collaborator Bradley Cooper, "Serena" is a romantic tragedy of epic proportions. After a quick marriage, Serena and George (Cooper) retire to his lumber empire where he attempts to make a living. But the male-dominated atmosphere is taken aback by Serena's modern ways and her attempts to control the business. When bodies stop dropping, everyone has a right to be concerned. George murders his business partner in a ham-fisted way that is transparent to everyone in the town.
Doctor Chaney (Conleth Hill) is one of many whose suspicions are obvious. George claims it was a hunting accident, but as the resident medical professional at the scene, Chaney has doubts. Hill doesn't have to utter a word to get what he thinks across. Everyone knows George and Buchanan (David Dencik) had their disagreements. This simple scene is just a precursor to the death and destruction the Pembertons wreak on the community. Serena becomes more unstable as the film continues, and the only people free from her wrath are those smart enough to keep their mouths shut. Hill's performance in the film accompanies many actors of his like, including Rhys Ifans, Sean Harris, and Toby Jones.
He had a Game of Thrones reunion in Suits
There is life after "Game of Thrones," even in dire circumstances. The Red Wedding still goes down in infamy as one of the most stunning moments of the show. But that wasn't the end for Catelyn (Michelle Fairley), who took the opportunity to pivot to quite a different show. And it had the bonus of acting across former co-star Conleth Hill. The latter appears prominently in "Suits" Season 3 as the managing partner of Pearson Darby, Edward Darby. Having a controlling interest in formidable lawyer Jessica (Gina Torres) doesn't sit right with her, but the two still have scenes of emotional weight together.
The addition of Ava Hessington (Fairley) into the bunch created a powerhouse of acting for everyone involved. Ava and Edward are family friends who have a long history of support between them. This is thrown into chaos when Ava is suspected of murder, and Edward admits to keeping vital information from her. The rift in the relationship is a plot point that motivates Jessica to forgive Harvey (Gabriel Macht) for his respective betrayal, but it also is a moving scene in its own right. Ava has gone the extra mile to protect Edward's relationship with her father, and this betrayal is a bridge too far. It appears that no matter what universe, the politics of "Game of Thrones" are never far behind.
Alfred needed him in Salmon Fishing In the Yemen
Sometimes two actors come together and you can't imagine how they haven't worked together before. So was the case in the British comedy, "Salmon Fishing In the Yemen." The title may be a mouthful, but it aptly describes the events of the 2011 film. In a heartwarming tale about a sheik attempting to introduce fly fishing in Yemen, Ewan McGregor and Emily Blunt are charming in their roles. Director Lasse Hallstrom couldn't imagine anyone else playing the leads, telling IndieWire, "First choices, all the way. They brought the lightness and the humor to the material." Having two international stars in the film would have been reason enough for interest, but the cast is also rounded out by Kristin Scott Thomas and Conleth Hill.
Both actors provide the force needed to get McGregor's character, Dr. Alfred Jones, exactly where he needs to be. A fishery scientist, Alfred maintains that there is absolutely no way that this scheme could ever work. A definite opposition to Harriet's (Blunt) idealism and belief that this has to work, Alfred still needs another push. Hill's role is that of his employer, Bernard Sugden, who practically throws him out the door and toward the project. This gives Alfred a higher salary and what turns out to be a lesson in belief. The comedic turn of the film is a welcome change in Hill's filmography.