Chicago Med: Why Did Dr. Choi And April Break Up?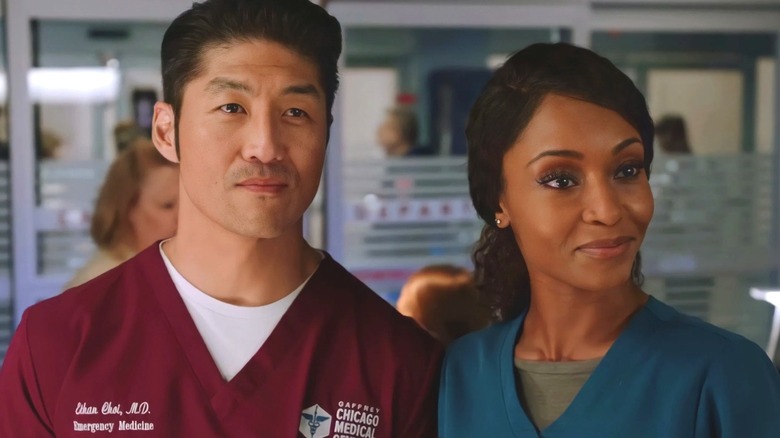 NBC
As evidenced by the title, "Chicago Med" is a Hollywoodified ode to those in the healthcare field — specifically those employed at the Gaffney Chicago Medical Center. Of course, it should come as no surprise that as it chronicles the personal lives of these healthcare workers, it covers their romantic lives as well. One of the more memorable pairings to come out of the series is Dr. Ethan Choi (Brian Tee) and April Sexton (Yaya DaCosta), who officially come together in Season 3. However, their relationship is constantly under personal and professional pressure, leading the two to split up.
This bombshell development in their longstanding relationship came at the end of Season 6, coinciding with DaCosta's departure from "Chicago Med." Therefore, one could infer that Choi and Sexton's storyline split had something to do with DaCosta's farewell. On the show, Sexton had been accepted into a Nurse Practitioners program, prompting her to leave the Chicago Medical Center to pursue a new professional avenue. She would later return during the show's eighth season to reunite with Choi, though they initially made no headway in terms of fixing their damaged relationship.
Luckily, for those rooting for Choi and Sexton, Season 8 brought with it the happiest note possible for the couple.
Despite their struggles, Choi and Sexton are now married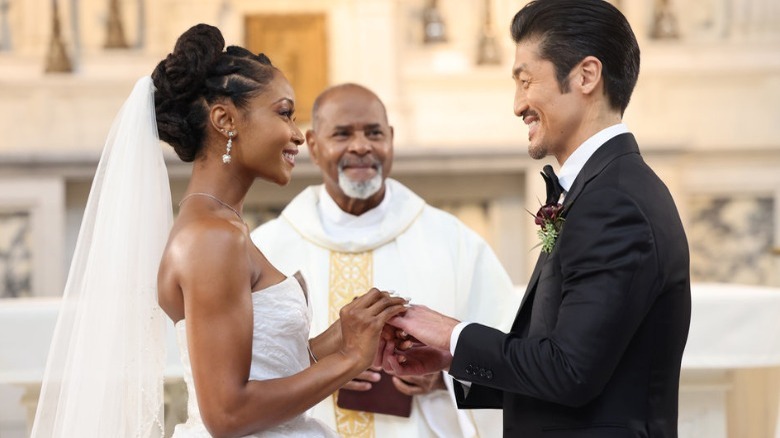 George Burns Jr./NBC
As noted previously, Yaya DaCosta is effectively gone from "Chicago Med." She left her series regular position at the end of Season 6. Following suit, it came to light that Brian Tee planned to say goodbye to Ethan Choi and "Chicago Med" during Season 8, making it seem that fans would be without a proper resolution to Choi and Sexton's storyline. Bearing this in mind, the folks behind the show came up with a heartwarming conclusion for them: Sexton and Choi not only manage to make up, but they get married in a ceremony that left fans incredibly emotional.
The Season 8 episode "This Could Be The Start of Something New" features the wedding of Choi and Sexton, and it's a bittersweet occasion, to say the least. While it's great to see the two "Chicago Med" mainstays tie the knot, it's sad knowing that neither DaCosta nor Tee plans to return to the medical drama any time soon. To give fans a glimpse into what will become of Sexton and Choi after the credits roll, it's explained in the episode that the newlyweds plan to open a mobile clinic together — the catalyst behind Choi's resignation. 
April Sexton and Ethan Choi's relationship goes through numerous ups and downs, with the two even parting for a time. Evidently, they were meant to be together, paving the way for a wedding and business partnership that will hopefully endure.