Why Mel From The Marvelous Mrs. Maisel Looks So Familiar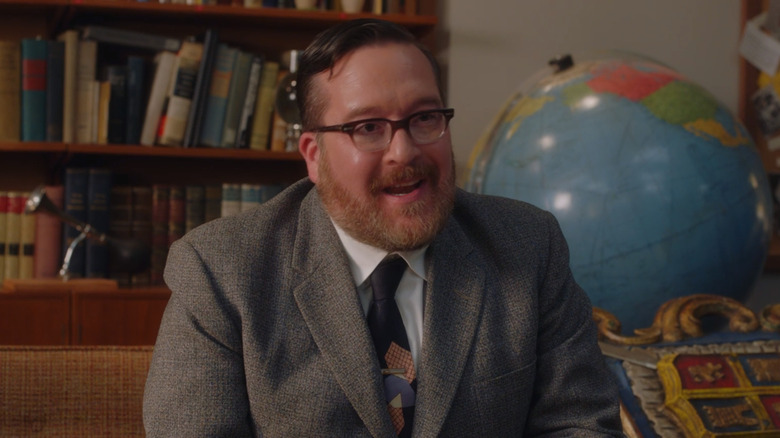 Amazon Studios
Contains Spoilers for "The Marvelous Mrs. Maisel" Season 5, Episode 2
Season 5 of "The Marvelous Mrs. Maisel" finds Miriam "Midge" Maisel (Rachel Brosnahan) juggling her standup comedy with her new job as a writer on "The Gordon Ford Show." That means a new cast of characters is being welcomed into Midge's world during Season 5, Episode 2. This includes a group of enthusiastic writers who are not used to having a woman in the writer's room. Among those shouting out ideas is Mel (Michael Cyril Creighton), who is not afraid to share his opinions or question what a sitting dress is, all while he refuses to quit smoking in a show that is set in 1961.
Season 5 marks Creighton's first time working on the series that continues to dominate television while raking in several Primetime Emmy awards during its run. But this is not Creighton's first time experiencing small-screen success, especially in the world of streaming. It's also not his first time working on a comedy based in New York City — but that other comedy finds him on a whole different adventure that is far from the banter happening in Gordon Ford's writers' room. Here is why Mel looks so familiar.
Creighton has spent years bringing charm and comedy to the small screen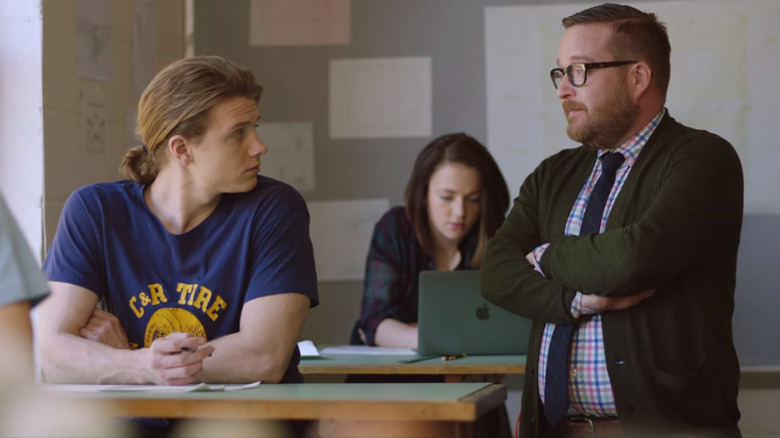 Netflix
Michael Cyril Creighton has seen big screen success, working on projects like the Academy Award-winning film "Spotlight" and the action comedy "Game Night." But he's spent most of his career stealing the small screen with his comedic skills. Some may recall his brief role as a salesman during Season 5 of "30 Rock" or as a store manager in Season 1 of "Orange is the New Black." 
In 2017, his comedic skills and charm would take him into the heist genre as he stepped into the shoes of teacher Mr. Rankin in the Netflix film "Coin Heist," which follows a group of high schoolers as they plan to rob the U.S. Mint. Creighton told Decider, "It's nice to be in something that like, my entire family can watch and I don't have to warn them about anything other than I'm mean."
In 2021, he would be spotted working alongside Michael C. Hall in Showtime's highly anticipated crime drama "Dexter: New Blood," which finds Dexter Morgan taking on the persona of Jim Lindsay 10 years after Morgan's disappearance. Creighton plays Fred Jr., Lindsay's boss at Fred's Fish & Game in Iron Lake, New York. Storylines filled with crime, murder, and mystery continue to pop up in Creighton's credits, including one particular project that gives him the opportunity to explore comedy in the world of mystery.
Creighton is solving murders alongside comedy legends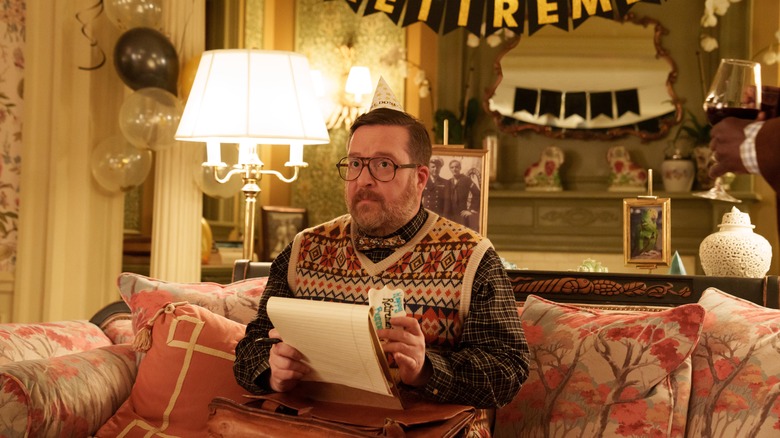 Hulu
Michael Cyril Creighton may be best known for his work on the popular Hulu series "Only Murders in the Building." The show follows neighbors Charles-Haden Savage (Steve Martin), Oliver Putnam (Martin Short), and Mabel Mora (Selena Gomez) as they create a podcast centered around murders happening inside their New York City apartment complex. And these mysteries could not be solved without the help of neighbors like Howard Morris (Creighton), who helps the trio get a confession from Bunny Folger's (Jayne Houdyshell) murderer in Season 2.
Creighton has been playing Morris since Season 1, which introduced the character as he was mourning the death of his cat while Charles, Oliver, and Mabel worked to solve the murder of Tim Kono (Julian Cihi). He told The Hollywood Reporter that he joined the project due to his love of murder mysteries and the fact that the series is steeped in multiple genres. And he shared what it's like playing Morris. "[Howard is] not an easy role to play, but it is something that's very much in my comfort zone. I spent a lot of time believing that the qualities that make me such a specific actor and person were a liability, and that was such a waste of time. Now I've realized, being a little older, that that's what makes roles that I play special — what I bring from my own personality, the things that are inherently me. Howard's got a lot of parts of me in there," he shared.